International Retirement
December 4, 2011 – Note: This profile is one of many in our "Adventurous Baby Boomer Lifestyles" series.
Stephen Anderson and his wife retired to Mexico seven years ago. Speaking to Topretirements recently by phone, Steven told us this was the biggest mistake of their lives. For the last year they have had their home on the market. They intend on returning to the USA as soon as it sells, as many of their friends have already done.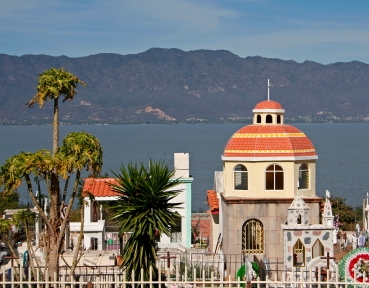 There are currently something like 1,000,000 expatriates that have retired to Mexico and many, many more coming. They are under the sometimes false impressions that it is far cheaper to live here; that it is nothing but beaches, mountains, and margaritas; and they can live better in Mexico than in the US or Canada. The truth is that it is not always less expensive to live here; it is also a country where crime and corruption are rampant. Indeed expatriates are not only the prey of choice, but crimes perpetrated against them are ignored by the authorities and legal system. Stephen just published a book on his adventures, "Retiring In Mexico: The Good, The Bad, and The Ugly", to help warn others about what can go wrong south of the border.
How Stephen and his wife got to Mexico
Stephen is a retired real estate developer. He and his wife had read a lot from International Living about the appeal of living abroad, and particularly a Mexican retirement. So they came for a visit and discovered so many things they liked. The weather was great, medical costs and quality very attractive, and they loved the lifestyle. It wasn't that far from the U.S., either. So seven years ago they took the plunge, bought a home and began to remodel it. Initially the Andersons loved the lifestyle. The "Good" portion of the book covers its many attractions.
Trouble in Paradise
Things went downhill fairly quickly, though. Instead of driving into Ajijic and seeing famous Lake Chapala, they were disheartened by now seeing a Wal-Mart, were overwhelmed by all the gringos moving to Chapala, and didn't like seeing 2 new casinos and now a large casino/hotel complex being built. Prices have escalated on everything and they discovered that the cost of real estate in their expatriate community was close to those in the US; and in fact higher than states like Florida, Arizona, and Nevada (and just like in those overbuilt states, not selling).
But the biggest factor in turning the Andersons against their new community was their continued experience with corruption and scams. They were ripped off by their builder, and then discovered that the government is not only slow, but is rigged in favor of locals who have inside contacts. In fact in Steven's opinion, expatriates are the victims of choice in Mexico (and probably many other countries) because they have more money and less protection. As an example, he says you might order furniture and make a large deposit. Then the furniture never comes. Or you contract with a builder and he delivers supplies to your site so he can bill you, then comes back and moves them to another job.
Anderson runs through a number of examples of ripoffs so other expatriates can protect themselves. One example is realtors who say they are part of a U.S. franchise, but do not provide any of the consumer protections you might expect north of the border. Another came from a friend who paid a 10% deposit on a $140,000 home contingent on a home inspection. The friend lost his deposit when the report came in unfavorably (the contingency was met by submitting the report, but provided no recourse if it found problems).
Getting no satisfaction – but plenty of corruption
When they bought their home, the Andersons chose a US franchised real estate office. The listing and their sales agent told them the house was built by one of the best builders in the area and came with 2 phone lines and city water. Unfortunately, it did not have city water or phone lines and it took 6 months and a bribe to get them. There was no steel in the carport over the water tanks and the house structure was insufficient to support the planned second story. The Andersons went to arbitration over these issues but got no recourse. They told us of friends who were threatened by violence for taking issues to the courts, others who lost titles to their land through corruption, and much more. Dissatisfaction with Mexican authorities over poor treatment and lack of concern for expatriates has recently led to organized protests in the Lake Chapala area and has been brought to the attention of the media throughout Mexico. With all these legal woes, the Andersons are concerned about their property and rights should the unspeekable happen. Having spoken to neighbor and former San Diego probate attorney, the mexican laws are quite different than those of the US. Should one of them pass away, their legal US will, may or may not be honored and inheritance law is different in Mexico. Likely, it would be carried out in a less than fovorable way for expats.
Fed up and want to move
Stephen is a diabetic with a previous heart attack. Although he and his wife would like to move back to the good old USA, ASAP, there are 2 problems. One, with his medical history he can't come back to the States until age 65 and he qualifies for Medicare. Two, selling their home at anywhere near what they have put into it is problematic. If the house would sell soon, they might consider moving to Texas, near the border, so they could continue to access the much lower cost of Mexican medical care and prescriptions.
Medical care – one of the bright spots
As unhappy as Stephen is with Mexican corruption and scams, he raves about the cost and quality of Mexican health care. As an example, his daughter was recently in an accident in Oregon and has no health insurance. So, he flew her to Mexico – for $1100 he covered the dorsal and lumbar MRI, the two complete exams from their family doctor ($15 each), an hour session with a physical therapist, weeks worth of medications, and the plane ticket. Most local doctors are well trained and they, and their staff, speak excellent English. The quality of care is great – in fact, doctors still make house calls. Hospitals in Guadalajara are first world class. Stephen recently paid $50 for a complete heart exam with one of the country's leading cardiologists, including an EKG and something like a sonogram. Just this week, after taking insulin shots twice a day for the last 16 years, he no longer has to do so.
Other costs
Real estate taxes are low in Mexico. The Andersons paid $180 this year on their 6200 sf home. Sales taxes are high at 15%. Electric rates are among the highest in the world – so high that some people have written they use only 1 bulb at a time in their homes and even unplug their refrigerator at night. Stephen provides an excellent cost breakdown of their actual expenses in his book.
Best reasons to move to Mexico:
Weather (at least in the Lake Chapala area)
Lower medical costs combined with a healthier lifestyle.
Lower taxes
People can afford a maid and a gardener.
But those don't compensate for the negatives:
Scams, ripoffs, corruption
Extreme cultural differences that most are not aware of until after they have moved.
Everyone is looking for bribes from the cops to the courts to the governmental officials.
As one person recently wrote on a popular web forum "We have $$$ signs on our heads."
Although drug related violence has not been an issue in the Lake Chapala and Guadalajara areas in the past, it is now becoming one. Home invasions have become a bigger concern as these now often take place when people are home and are increasing in violence. Stephen has designed his home to keep intruders out: using walls, dogs, bars on all the windows, security system, motion detectors, etc. He freely admits he is never more than a few feet away from a gun at home. Both violent and non-violent crimes are on a rapid increase as the economy gets worse and emigration slows down.
Bottom line
Anderson does not want to steer people away from retiring or moving to Mexico. Rather, he simply wants to make them aware of the pitfalls lurking around the beautiful parts of the country. He believes that in order to make the right decision about where to retire, whether in Mexico or somewhere else, individuals need honest advice and facts from someone who has lived it.


About Stephen Anderson
"Retiring In Mexico: The Good, The Bad, and The Ugly" is available for sale online at Amazon.com and other channels. His book is the first of its kind to reveal the truth about life here. He believes that after reading it many people will decide that retirement in the US is a far better and safer life.
Available on Amazon and Kindle:
(print) Retiring In Mexico: The Good, The Bad, and The Ugly
(Kindle) Retiring In Mexico: The Good, The Bad, and The Ugly
For further reference:
More profiles in the Topretirement Adventurous Baby Boomer Lifestyle series

Taking Baby Steps to Retiring in Mexico
The Challenges of Retiring Abroad (Money/MSN)
Comments: What do you think – after reading this would you still consider a move to Mexico or other foreign country? Maybe you already live in such a place, and can share your experiences. Our aim is to provide a balanced coverage. Please do so in the Comments section below.?
Posted by John Brady on December 4th, 2011