International Retirement
February 26, 2020 — There is a small, but significant, number of Americans who decide to move to another country for retirement. Facts on how many do that and the countries they move to are in short supply, so we were happy to see the results from the 2019 Expat Insider Survey (which has a wealth of interesting information). The New York Times was able to get a breakdown of that survey showing the most popular countries by age groups: Millennials, Professionals, Families, and Retirees. Some of the results were very surprising, especially the number one country where retirees move to, Ecuador. Here are their top 10 for retirees:
Ecuador
Costa Rica
Philippines
Thailand
Portugal
Mexico
Panama
Bulgaria
Spain
France
We would have guessed that Mexico was number 1, and would never have put Bulgaria in the top 10. Note that these are the most popular countries, not necessarily the best. Overall, the 5 highest rated countries (for all age groups) were: Taiwan, Vietnam, Portugal, Mexico, and Spain.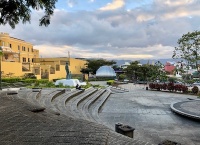 Several other surveys came up with slightly different results. One of those studied the 400,000 American expats who receive Social Security benefits outside of the U.S. In that survey the most frequent countries for U.S. expats were Canada, Japan, and Mexico. A third survey by Investopedia named these 5 countries the most popular for expat retirement: Panama, Costa Rica, Mexico, Ecuador, and Malaysia.
Bottom Line: Proximity to the U.S. and family ties, often related to prior military service in those countries, are two reasons why some countries have so many retired expats. Americans also retire to a different country for economic reasons, trying to stretch their Social Security benefits and savings. Some move for a better climate or a different lifestyle. To get a better idea of the facts on what retirement is like in over 25 countries, see the link to our State and Country mini-retirement guides below.
For further reading:
Comments? If you were thinking about an international retirement, what country(s) would you consider? To start things off, your editor thinks Ireland, Scotland, or France. Costa Rica are very appealing.
Posted by Admin on February 25th, 2020