Retirement Real Estate
May 29, 2019 — We are grateful to Brigitta for suggesting this article on the pitfalls to look out for when buying a home in the Southwest. Here is what she wrote a while back:
"I've been receiving your newsletter for a couple of years. However, I don't think I've ever seen an article about the differences in building practices in different areas of the country. By that, I mean as someone who has lived my entire life on the east coast, I am quite familiar with how homes are/were built going back to the 1700s when my area was settled. I'm also familiar with the types of "pests" and environmental issues, i.e., radon, asbestos, buried oil tanks (for heating) that that NJ homeowners look for.
Now, I am interested in purchasing a home in AZ and I realize I don't know ANYTHING about typical building practices- pro/con, types of homes that one might want to stay away from or might WANT to consider, pests typical to the area, environmental issues, etc as I do about the east coast. "
Thanks Brigitta! It is such a good question we will expand this "pitfalls" article to the Southeast and Florida as well the Southwest, since these are the most common places for retirees to be moving to, and where they tend to lack buying experience. As always, we are hoping for additional Member Comments to make sure we address all the important risks to worry about.
The Southwest
The desert and mountains present inherently different hazards to those found in the Southeast. The Southwest's powerful sun and high temperatures present other differences. This first section will discuss the home buying hazards that can exist in the Southwest. Although many problems in a home can be corrected if you spend money and time, but it is always nice to find a property that doesn't need work.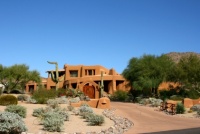 Flooding is possible in the Southwest, especially in areas of low elevation and along large rivers. Geological hazards, including avalanches, earthquakes, landslides, and rockfalls, also occur throughout the Southwest, especially where there is rugged, mountainous terrain. FEMA maps can help alert you to those areas.
Building materials. The traditional home building material in the Southwest is adobe or stone, which is less susceptible to warp and dryness than wood. They can also help keep your home cooler in hot summer temperatures. In areas where there are wildfires, is the roof made of fireproof materials?
Window treatments. Where the windows are located is important. For example, do they offer light and/or a view of the rising or setting sun, but avoid the power of afternoon rays? You can get tints that block solar heat from entering your home.
Temperature control. Are there fans or high ceilings well positioned to keep the home cool? You can add fans but ceiling heights are more problematic to retrofit.
The yard and grounds. You can usually change things outside, but it is nicer if you don't have to. Green plants and a lawn will add to your water bill and don't make sense in the desert. Xeriscaping is the smart way to go.
Solar. Does the home have a well designed solar collection system for electricity and hot water, which can save on your utility bills?
Water supply. Many people are concerned with the long term availability of water in the Southwest. In the area where you are looking, what is the source of freshwater and what is the condition of the aquifers where it comes from?
Pests. Every area has its share of pests. In the Southwest at some times of the year you might have to look out for snakes and scorpions in the area around your home. Coyotes are a danger to your pets.
Florida and the Southeast home buyer hazards
It is probably safe to say that buying a home in Florida comes with more risks than one in Arizona. Most of that risk comes from climate. Hurricanes can hit any part of that state, whereas those in the Southwest mostly have to worry about wildfires, and then only in certain areas. These are some of the major building issues to look for when buying a home in Florida and much of the Southeast.
Construction. When was the home built and according to what code? Building codes are getting stricter and stricter, so more recently built homes will generally stand up to a hurricane better. The construction of the roof, its condition, and its materials are important – affecting not only replacement cost but insurance premiums.
Coastal flooding. As the earth warms and the polar ice caps melt, all of that water means rising ocean levels. Most of Florida's coast is experiencing higher and higher storm and tidal surges. Before you buy it is imperative to know that your new home is above potential flooding.
Insurance. Depending on where you are, when built, and the condition of your home, insurance costs can vary considerably. Ask to see the current policy and get a proposed quote before you buy.
Critters. Termites are ubiquitous in Florida and the South. Termites can be removed, but involve whole house tenting and fumigation. Snakes, cockroaches, fire ants, fleas, spiders, iguanas, and alligators represent hazards that are usually minor and correctible.
Mold. This home hazard is always possible in Florida and the Southeast. Your home inspection needs to make sure there isn't any. A home where the air conditioning has been off for a while probably has mold.
Sinkholes. Many parts of Florida are susceptible to sinkholes, usually caused by water dissolves the calcium in limestone subsurfaces. At least 10 Florida counties are susceptible, but these are the top 3: Pasco, Hernando, and Hillsborough (all three are midway up Florida's Gulf Coast). Fortunately, insurance companies know the areas most prone to sinkholes, so you should be able to avoid them.
Emergency evacuation. From most parts of Florida it is relatively easy to escape an oncoming hurricane. But it is harder in areas like the Florida Keys and certain islands, where there is only one highway available to hundreds of thousands of fleeing tourists and residents.
Bottom line. No matter what part of the country you buy a home in, you need to be careful. Alway get a home inspection from a reputable expert before you get too involved. Go to the building department of your new town and ask about potential hazards, and check out FEMA maps for flood, fire, and other hazard risks.
Comments? We always rely on your experiences to fill in on our research. Please relate your cautionary tales in the Comments section below on buying a home in the Southwest or Southeast, so others can be prepared.
For further reading:
Posted by Admin on May 28th, 2019