Travel
Editor's note: Our thanks to Frank for sending over a detailed dispatch on what he and Caroline just went through. As Connecticut residents who visit their grandchildren in California for a few winter months each year, they had a lot of important decisions to make when their CA rental expired.
April 4, 2020 —Just a few thoughts from our perspective, having recently gone through the "when to leave" conundrum when we were still in California. 
The debate as "to go or stay" was driving us nuts – this was in the early days of the virus hitting California. Unfortunately that also coincided with a diagnosis of  bronchitis and an emergency room visit for me (more about that later). Of course the decision input included words of wisdom ( and I might add some panic) from our kids! After days and days of all consuming debate we finally said "today's the day " and made a decision to fly home.
That decision was based on the following "best guesses":
A – At the time there were a number of flight options but you could tell the options would soon diminish. We have friends from Massachusetts who are having a very difficult time trying to get a flight from San Diego to Boston – three separate times the flights were cancelled, so they have decided to stay for a few more weeks.
B- Flying had risks with the number of people in the airport (diminished significantly at this time), risk of other passengers etc. We solved that to some degree by flying home first class on a flight offering "pods", which we never do, – now we are spoiled !
C- The driving option was negated given it would take us four days of pushing. The biggest concern there was what would happen if we got sick in some god forsaken place on the way. This was well before the stories now of some border inspections ( Rhode Island is doing it up here and my son just left Florida and said driving north on 95 was fine but those going south near Jacksonville were being stopped if you had out of state plates)
D- Being close to our regular doctors was important.
E- A big factor was the issue around just how long this might last – our decision was influenced by the "chance" it may go on for months. Although we love being close to our son and grandchildren, the renting costs and even renting options could become problematic.
A visit to the hospital ER
Must say I could not have been more impressed with the service from Scripps Hospital. I walked in around 5 on a Friday evening – they said what are your symptoms? My response was I am having a hard time breathing and running a low temp. I was expecting hazmat dressed people to show up! Two days ago I had an excellent video conference with our local doctor that felt like I was in his office. In major metropolitan areas when it comes to actual Coronavirus it looks like you get in line and hope for the best.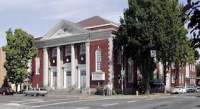 Golf to the rescue
Now to what's important – golf ! I understand that my local course is under a lot of pressure to reduce the visibility of what looks like people not adhering to the six foot rule etc. The starting time process with 15 minute intervals was put in place but this weekend, it will be interesting given the tee sheet is packed! I understand another area course is restricting play to twosomes and my guess is we will see additional restrictions. There is a crackdown around the state on state parks, etc. that are crowded and it feels like the pressure will continue. Personally I have been a self-described social outcast since I am still recovering from bronchitis. So I work with the pro shop to find a time when a one-some has a chance ( off times, early, etc.) – played yesterday and must say the guy I played with had no chance – oh, I forgot I played by myself ! My gut feeling is golf will not be business as usual until early July but that is just a guess. A real shame: some of my friends had tickets to the Masters practice round this year but hopefully their tickets will be honored down the road.
Bottom line
All that said we are glad to be back in CT and don't envy others in that "stay or go" mode. The CT Governor is doing a good job of daily updates with the expectation that the "peak" in Connecticut looks like it's going to be starting now and running through most of April. We are using Peapod for groceries given our strategy to avoid people contact as much as possible (bronchitis combined with just turning 73 puts me on the endangered species list !) The current problem with Peapod is it's about 10 days out for deliveries, but that should improve as they have aggressive hiring plans. The local farm market offers on line orders which we are using but getting a time slot is like getting a tee time at my club! We just picked our second order today but it takes a lot of flexibility, and your never sure what will be in your bag versus the order.
Comments? Thanks Frank for your report, most interesting. Others, please share your experiences as we go through this challenging time.
Posted by Admin on April 4th, 2020