Pictured above:  An aerial shot of Merritt Island and its barrier islands. Photo courtesy of Wikipedia.
We are pleased to publish 2 reader-submitted features this week.  There is nothing better than your real life adventures for insight and useful perspective.
Coming next week: Our annual issue - The 100 Most Popular Retirement Towns.
Betty and Jim have spent a lot of time looking for their best place to retire. They're living in an NC active community, but are very tempted by the size and scope of The Villages. Along the way they've discovered at least 9 things we think you'll want to know.
Click on a state to see reviews of 627 great retirement towns, plus a list of 1,254 active adult communities.  Please welcome our newest Top Listing at Topretirements,
Hillcrest by Jensen Communities
. Hillcrest is ideally located in beautiful Uncasville, CT.
It is amazing how many former gold mining towns have become charming retirement destinations.  Their former wealth often leaves a legacy of beauty and history, now re-discovered by retirees. Jacksonville is just west of Medford in southern Oregon.
In addition to this newsletter, you can now sign up for our Daily Digest, Active Communities East (east of the Mississippi), or Active Communities West (west of the Mississippi). The latter 2 are weekly; they provide a summary of all the 55+ communities listed at Topretirements during the previous week. They are all free, sign up
here
.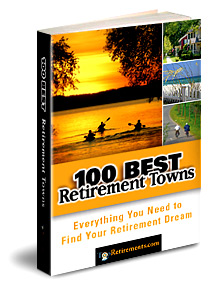 100 Best Towns, at Your Fingertips
Get on track with your retirement planning. Our "100 Best Retirement Towns" provides 300+ pages with the inside stories, facts, and insight on the 100 most popular towns at Topretirements. eBook, Print, or Kindle versions. Quantity discounts.
Brendan Cruickshank has done some impressive research to identify 10 top towns for people who might find themselves restless in retirement. As he points out, a lot of people find in retirement that they miss doing what they love to do - and that means their job!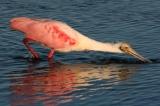 Nature in Merritt Island, FL
Nature and recreation get top billing in the peaceful Merritt Island area. It's a barrier island which means there are plenty of beaches and bays for boating and sunning. The Merritt Island National Wildlife Refuge consists of 22 square miles with more than 300 species of birds. Yet there are many active communities in the area.
List Your Community
Promote your community with a free listing at  Topretirements. Just go to
Add Your Community
. If you already have a listing, update it now to show our new features.
Scottp's Forum post on his search for the (almost) perfect retirement climate has been amazing! In just a few weeks it has been read almost 5,000 times and has 40 replies. That's near the top for all posts.
Having Trouble Logging in?
You might not have confirmed your registration. Look for that email.  Or go to our
Help
page (there is a link to it on the bottom of every page) 

Subscribe via RSS
RSS Feed  Get live updates in your web browser window.

Unsubscribe
If you no longer wish to receive this newsletter you can unsubscribe here.

Last Week's Most Read Articles
Helpful Resources