Welcome to this week's newsletter.  Keep your comments to our articles and posts in the Forum coming - they are very helpfull! Pictured above, an architectural feature in the exciting college town of
Chapel Hill
. 
Do you find this newsletter helpful? If you do, please help us spread the word by forwarding it to a friend. They can get a free subscription
here
.
A new  study confirms what many of us already know - the reality of retirement doesn't always compare with the anticipation. In this article we look at what people said in a recent Facebook poll about their retirement planning, as well as how their retirements are going. 
People looking for the excitement of a college town in a milder climate will find Chapel Hill at the top of many lists. The University of North Carolina and its 24,000 students creates a major presence. The quality of the ambiance, shopping, and restaurants is high. And there are many active communities and neighborhoods to choose from.
Click on a state to see reviews of 769 great retirement towns, plus a list of 1,507 active adult communities. 
If the leaves are about to fall and snowbirds are starting to plan their routes south, it must be the time to dust off our "Leaving for the Winter Checklist". The advantage of the article this year is you get the benefit of all of the wonderful comments from last year!
This inland city between Fresno and Los Angeles is one of California's fastest growing. Real estate by California standards is downright inexpensive, the economy is diverse, and 2 colleges make it interesting. There are several large active communities here to consider.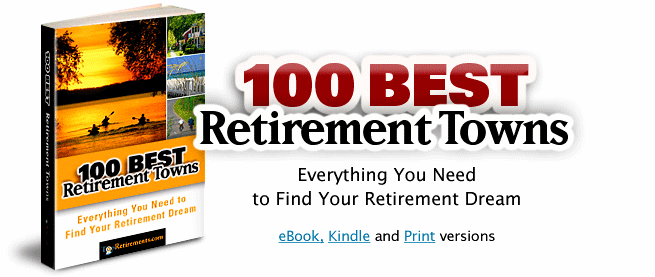 Make your research easier. This handy book from Topretirements gives you the inside facts and data on the 100 most popular retirement towns. Available in eBook (pdf), Print, or Kindle for as low as $9.95.
Did you know we have 3 other eNewsletters to help you in your quest for the perfect retirement? The Daily Digest (headlines and links to new items)
Active Communities East (a weekly update on all new active communities in the East)
Active Communities West (new communities added in the West).
List Your Community
Promote your community with a free listing at  Topretirements. Just go to
Add Your Community
. If you already have a listing, update it now to display our new features.
Having Trouble Logging in?
You might not have confirmed your registration. Look for that email.  Or go to our
Help
page (there is a link to it on the bottom of every page) 

Subscribe via RSS
RSS Feed  Get live updates in your web browser window.

Unsubscribe
If you no longer wish to receive this newsletter you can unsubscribe here.

Last Week's Most Read Articles
Helpful Resources