Georgia Retirement Guide
Overall
If you are thinking of retiring in Georgia, you can find the best places to retire in Georgia on this website. The Peach State, 2015 population just over 10.2 million and growing, is one of the most popular states for active adults in retirement. It has a mild climate in winter and many towns and cities that cater to retirees. Cost of living is below average, and there is plenty of the southern charm and history that is famous around the world. The Wikipedia entry for Georgia has more facts. Updated May 2018.
Bridge near Augusta, Georgia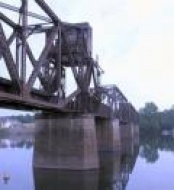 Best places to retire in Georgia
Active adults over 55 will find Georgia communities that will welcome them.
You can live near the Ocean on a barrier island like St. Simons
- one of the earliest planned cities anywhere - charming Savannah
- a college town like Athens
- riverside in Augusta
- - lakeside Gainesville
- in a downstate, Florida-like town like Thomasville.
- a small town in the mountains like Blue Ridge.
- Griffin, which was the set for "Driving Miss Daisy"
- Bustling Atlanta is not only an interesting retirement city
- Scenic and peaceful Lake Lanier offers a laid back retirement for those who like living on or near one of the biggest lakes in the country.
Georgia is home to many active adult communities. At Topretirements.com our mission is to provide the objective facts and peer-reviewed profiles to help you choose the best community. So if Georgia is where you will retire, check out the listings on this site.
Georgia Climate
The Georgia climate is called humid-sub-tropical. Summers are hot and humid and winters are mild.
Economy and Real Estate Prices
Living in Georgia is less expensive than many other states; it is the 13th lowest by the MERIC Index. 2010-2014 Household income at $49,432 is $4000 under the national average. Statewide, the Zillow Home Value Index in early 2018 was $169,753, well under the national median. Median home prices can differ widely by area. In Atlanta the median home selling price in 2018's 1st quarter was $204,500 (NAR- although the range is huge with many houses selling for high prices).
Georgia Taxes for retired people
Tax Burden: Georgia has become very tax friendly for retired people. At 9.1% the total state and local tax burden in Georgia was 32nd highest in the nation in 2012.
Marginal Income Tax Rates. Georgia top marginal income tax rate is 6.0% (which kicks in at a low $7,000), the lowest is 1%. For more about income taxes.
Retirement Income Exemptions. Retirement income for people over 65 can get additional exemptions. See GA Retirement Income Exclusion. Most military pensions are taxable although medical disability pay is generally not.
Social security exemption. Social security income is exempt.
Sales Tax: State sales tax is 4.0%, although some cities have additional sales taxes.
Property Taxes: Property tax collections are below the national average ($1011 per capita).
Homestead Exemption. There are a variety of property tax homestead exemptions at the state and local level, based on income and age.
Estate and/or Inheritance Taxes. There is no inheritance tax and a limited estate tax.
Link to the Georgia Individual Taxes; or for Georgia property taxes.
Certified Retirement Communities
Georgia does not have a certified retirement community program.
Here is more inside information on retirement living communities in the neighboring states of retire in Florida, North Carolina, South Carolina. These pages provide insight and data into economic conditions, climate, top communities, and taxes.
Click on the Georgia Retirement Community reviews on the right. Or to find other state guides to retirement or more on types of retirement communities
Georgia Retirement Communities