Best Places to Retire in Florida - A Guide
If you have been looking for the best places to retire in Florida this website has the answers you need. Choose from over 100 of the best places to retire in Florida that are popular with active adults 55+. Updated April 2022.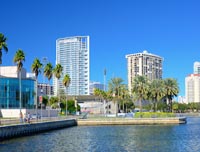 Naples have real very high estate prices along with a significantly higher cost of living. Recreational activities are exceptional in this state with a double coastline on the Gulf of Mexico and Atlantic Ocean. The 2021 household population was just under 21.7 million and growing. Some 20.9% of the population is 65 or over, 4 points higher than the U.S. total. This page will acquaint you with some basic facts about the best retirement places in Florida.
Best places to retire in Florida
Florida is so big that is likely to have the perfect retirement lifestyle for just about anybody. Some obvious picks include retirement places like Venice, Key West, and Winter Park. Other towns to investigate include: Stuart, Delray Beach, Sarasota, and Gainesville. Two other popular retirement towns that are very different but close geographically are Abacoa and Vero Beach. Many people are interested in a Central Florida retirement. See our free mini-guide to The Villages (near Ocala), which is the #1 most popular active adult community at Topretirements.com. For more ideas, see the list at right.
Climate
The Florida climate is characterized as humid subtropical. Summers are hot and wet, winters are warm or mild. Marine air from the Gulf of Mexico and Atlantic controls the climate. Key West is the only frost-free location in the continental U.S.
Economy and Home Prices
In 2015-2019 the Florida household income was $55,660, well below the national median. Home prices declined drastically in Florida after the 2008 recession but have come screaming back since then. Median home value in early 2022 was $348,000, just above the national median of $325,677. (Zillow data). By way of comparison, the National Association of Realtors reports the median sales price of a home in the U.S. to be $361,700. In Cape Coral/Ft. Myers the median selling price was $380,000 in late 2021 (National Association of Realtors), whereas in Miami/Ft. Lauderdale the median was $500,000.
Taxes
Tax Burden: At 8.9% Florida's total state/local tax burden is 34th highest in the nation (Source: The Tax Foundation).
State Income Taxes. Florida is one of the few states with no income tax, which automatically makes it a tax friendly. Obviously, Social Security and other retirement income is not taxed.
Sales Tax: Sales tax is 6%, one of the higher rates compared to other states.
Property Taxes: Florida`s successful Save Our Homes law has attracted tens of thousands of permanent residents from other states. The Florida law caps increases in assessed value for full time residents at 3% a year or the CPI, whichever is lower. Full time residents are also eligible for a $50,000 exemption on assessed value. Local communities in Florida can change mill rates at will, but at least the most volatile component of the property tax, wild swings in appraised values, are moderated. The state is ranked 16th highest in per-capita property tax collections with $1216 per capita collected.
Estate and/or Inheritance Taxes. Florida does not have inheritance or estate taxes.
Link to the Florida Department of Revenue
Political Situation
Florida has a Republican Governor along with 2 GOP senators. The legislature is controlled by Republicans who have passed many culture battle laws, including the so-called "Don't Say Gay Law". Big citeis tend to be progressive, while the interior and the panhandle are quite conservative. Miami, with its strong Cuban-American constituencies, is a unique political case.There are many new residents coming into the state of all ages, it is uncertain how that will affect the political balance.
Certified Retirement Communities
Florida does not have a certified retirement community program.
Get started with reviews of the best retirement communities.
Reviews of best retirement cities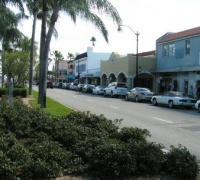 Park near downtown Venice FL - a popular retirement community
Click on the Florida Retirement Community reviews on the right. Or to find information about what retirement is like in different states for example to retire in Kentucky, retire in Georgia, retire in North Carolina, and retire in Tennessee.
Custom Search
Florida Retirement Communities