South Carolina Retirement Guide
Overall
If you are thinking about the best places to retire in South Carolina this website is your source for information and insight into the best places to retire in South Carolina. The Palmetto State is many people's first choice for retirement. This growing state of almost 4.9 million people in 2015 has a mild winter climate, low cost of living, and plenty of recreational activities. Median age is 38.3. There are 4 regions in the state: Low Country near the ocean, Sand Hills, Piedmount, and Upstate - which contains an escarpment of the Blue Ridge Mountains. It also has southern charm and history. Don't miss our retirement duel article: "What is the Best State for Retirement: SC or NC"? (Updated Dec 2016)
Traditional Town of Charleston SC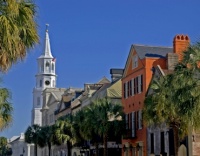 Best retirement towns in South Carolina
Here are some of the top retirement towns in South Carolina:
- Beaufort
- Bluffton
- Charleston
- Hilton Head Island
- The golfing capital of the world - Myrtle Beach
- The college town of Clemson
- Lancaster
- Aiken
- Summerville
Many national and local builders are busy building active adult communities for active adults over 50 in towns all over South Carolina. See our article: "10 Best Places to Retire in South Carolina" and "A Short Visit to Kiawah and Seabrook Island"

South Carolina Climate
The South Carolina climate is called humid-sub-tropical. Summers are hot and humid and winters are mild. It is a bit cooler near the ocean and in the western mountains.
SC Cost of Living and Economy
Living in South Carolina is less expensive than many other states. Inflation adjusted 2010-14 household income of $45,033 was $8000 below the national median. South Carolina's median home value was $140,300 in late 2016, according to Zillow (the U.S. median was $191,200. Prices can be higher in selective active adult communities in places like Hilton Head. The Greenville SC median home price was $191,900 (NAR), Spartanburg's was $155,900, but in pricier Charleston the median was $252,800. South Carolina's cost of living is the 27st lowest in the nation (MERIC).
South Carolina Taxes
Tax Burden: At 8.4% South Carolina is a very tax-friendly state with the 42nd highest tax burden in 2012 according to the Tax Foundation.
Marginal Income Tax Rates. Income tax ranges from 3% - 7%, with the highest bracket kicking in at a low threshold for couples - $14,400. Those brackets are quite low, so for people with significant income, income taxes could be high. Residents can take all deductions and exemptions available on your federal return.
Retirement Income Exemptions. People up to age 65 can deduct up to $3000 of qualified pension income. Each resident 65 and over has an exemption for the first $15,000 of qualified retirement income.Most disability services are not taxable. Here is a link to the SC Dept of Revenue page.
Social security exemption. Social security is not taxable.
Sales Tax: State sales tax is 6%, local communities can additional sales taxes up to 2.5%.
Property Taxes: SC is the 31st highest state for property taxes with $1077 paid per capita in 2013.
Homestead Exemption. People over 65 might be eligible to exclude $50,000 of market value from property taxes.
Estate and/or Inheritance Taxes. The state does not collect inheritance taxes or estate taxes.
Certified Retirement Communities
South Carolina does not have a certified retirement community program.
Free eBook - Baby Boomers Guide to Selecting a Retirement Community - 16 Factors
Download this free eBook and use its fun exercises to help you find your perfect active adult retirement community.
Click on the South Carolina Retirement Community reviews on the right. Or to find other guides to the best retirement states
South Carolina Retirement Communities