Active adult communities
June 17, 2020 — Following up on the theme of a few weeks ago, how stereotypes affect where you might retire, we thought it would be interesting to highlight the amazing range of active adult, 55+, and baby boomer appropriate communities that exist. While to many people all active communities seem alike (clubhouse, golf course, tennis courts, and walking trails), there is, in fact, quite a range. The samples we have selected here are just a few of the many communities added to the Topretirements database since March (we generally add about 6 per week). We tried in these selections for a range of styles and locations across the country.
Our point: Not all retirement communities fit in the same bucket. We encourage you to do a little exploring to make sure you don't miss one that might be exactly what you might are looking for.
Some interesting choices
The selections on this list cover a wide range of types. There are several traditional active adult communities (golf courses, etc.), intergenerational, independent living communities, independent living within a CCRC, Traditional Neighborhood Developments, urban rental loft apartments, Eco-Friendly, mixed use (commercial and residential combined), a cooperative development, and another with different ownership options including fractional ownership.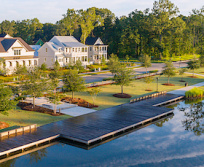 Carolina Park – Mt. Pleasant, SC. A master-planned community just a few miles from Charleston, this development offers several neighborhoods in a park-like setting. The community is connected through a network of pedestrian walkways, with The Residents Club as the central gathering place.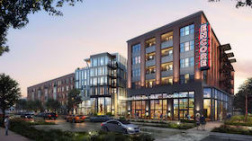 Encore Mid City – Huntsville, AL. Encore is a new health and wellness-focused Intergenerational community in Huntsville, Alabama, set to open in 2021. It will include 232 luxury apartment homes featuring one, two, and three-bedrooms. Amenities include sustainable dining with an integrated aquaponic farm, a health and wellness space and activities, and a visual arts program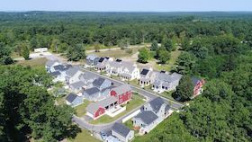 Emerson Green – Devens, MA. A new community-focused neighborhood, it features tree-lined streets, parks and homes with front porches. The community will be made up of 124 single-family homes, duplexes, and multi-family apartments that are sustainably constructed, energy efficient, and intentionally compact.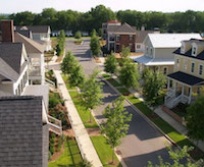 Hammonds Ferry – Augusta, GA. Hammond's Ferry is a traditionally designed neighborhood in North Augusta, Georgia, on the edge of the Savannah River. The houses, buildings, and urban design of the community are advertised as an extension of the genteel architecture, friendly streets, and rich cultural heritage of the area. Amenities include a Greenway trail, a number of small family parks, the Riverfront Esplanade, and the shops at Riverfront Square.
Avondale Senior Residences – Decatur, GA. This Eco-friendly community is a 5-story, certified green building with elevators, and offers one or two-bedroom apartments. Just steps away to the Avondale MARTA station and public transportation, it was recognized by the National Home Builders Association in 2020 as one of the Best 55+ Affordable Rental Communities.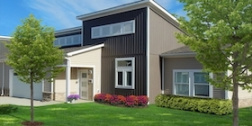 Rosebud Commons – Pickerington, OH. Just southeast of Columbus, this 55+ active adult community features 95 luxury rental apartment homes for empty nesters. The pet-friendly community of single-story homes features amenities including a clubhouse with fitness center and common areas.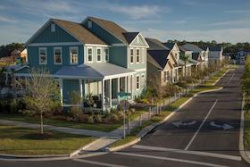 Sweet Bay – Panama City, FL. Open to all ages, this new, mixed-use community is a walkable master-planned development with five miles of bayfront shoreline on St. Andrew's Bay. It will include several neighborhoods with parks, pools, trails, a boathouse and marina. A Town Center with grocery stores and shops is also planned.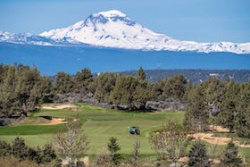 Pronghorn – Bend, OR. A gated community, it features golf courses designed by Tom Fazio and Jack Nicklaus, luxury homes and recreational opportunities designed to offer spectacular views of the high desert. Amenities include multiple restaurants, a world-class clubhouse, the Pronghorn Golf Academy, outdoor heated pools, hot tubs, and customized adventures. There are a variety of real estate options including estate homes, condos, fractional ownership, and furnished short-term and long-term housing.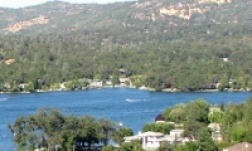 Lake Wildwood – Penn Valley, CA. A large, gated, all ages community in the scenic Sierra Nevada Foothills of Northern California. Nearly 3,000 homes are located in a wooded setting around a man made lake. Framed around the perimeter of the lake are five parks, each with their own beach.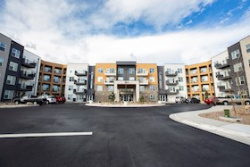 Vintage at the Crossings – Reno, NV. The pet-friendly community for active adult independent living features amenities like fitness center, business center, private dining room, outdoor lounge, resident gardens, and walking trails. Vintage at the Crossings was recognized as one of the Best 55+ Affordable Rental communities by the National Associations of Home Builders, in 2020.
Schroeder Lofts – Portland, OR. An independent living community within the Rose Villa Continuing Care Retirement Community, it is slated for completion in 2022. There are 35 bright, modern apartment homes that feature open-concept floorplans, large view windows and vaulted ceilings.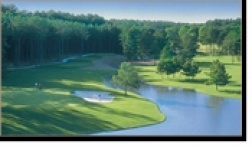 Bentwater on Lake Conroe – Montgomery, TX. Located between Sam Houston National Forest and Lake Conroe, Bentwater is a gated, waterfront community. It offers 54-holes of championship golf, a Country Club, Yacht Club and Marina. Homeowners also enjoy a sports club with pool and tennis, fitness center, and day spa.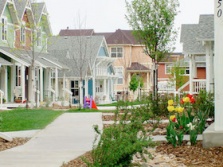 Highlands Village Gardens – Denver, CO. This mixed-use community on the former site of the Elitch Gardens amusement park is located near the mountains and downtown Denver. As a transit-oriented village, it offers urban style and easy living, with shopping only steps away. With environmentally-responsible features, the community features single family homes that exceed the Colorado's Built Green and Energy Star programs' requirements.
Avimor – Boise, ID. Surrounded by natural beauty, it boasts a 23,000 acre backyard which allows homeowners access to miles of trails and acres of open space right outside their doors. The community center and Main Street play host to concerts, events, and festivals, while the Avimor Stewardship Organization sponsors programs to preserve and protect the ecosystem.
Nokomis Square Cooperative – Minneapolis, MN. While this community has been around a long time, it is still very intriguing. It offers senior apartment-style living that encourages independence and cooperation among its members who own shares of the non-profit community. Located between Lake Nokomis and Minnehaha Park.
Comments: Were you of the opinion that all active adult, 55+, and baby boomer appropriate communities are the same? Or have you found some that break out of the box and offer something unusual. Please share where you live and why you think it is a great place to retire in the Comments section below.
For further reading:
Cohousing Is an Interesting Option
Subscribe to the Topretirements East and West Communities weekly Newsletters.
Posted by Admin on June 16th, 2020