Active adult communities
Note: This is the 4th in a series on college town retirements. See Further Reading below for links to the other installments.
November 11, 2014 — College towns are very often great places to retire. You are virtually guaranteed an interesting cultural life with plenty of opportunities to stimulate your mind. In most cases you might be able to take or audit college classes, or perhaps there is a Lifelong Learning program set up with the college. There are sporting events to attend, as well as world class facilities you might be able to use such as gyms or pools. College towns usually have more interesting shops and restaurants than in comparable towns. Lastly, most people find the presence of young people to be invigorating.
What Are College Affiliated Communities
Several colleges and universities have set up or have relationships with active communities or Continuing Care Retirement Communities (CCRC). These are often referred to as university-based retirement communities (UBRC). A PBS Newshour program, "Why Boomers Are Retiring to College Campuses", reported that there are about 70 UBRCs in the U.S., although not all of them meet these ideal criteria:
– Formalized programming. Ability to take college classes or participate to some degree in university life
– Close to campus. Ideally the community is walkable or a short shuttle away from the main campus
– Full range of housing. Most of these UBRCs are CCRCs or offer a continuum of care from apartments to assisted living and even nursing care
– Alumni base. A significant percentage of the residents are graduates or retired faculty of the university
– Financial relationship. Although the university might not own the community there should be some type of formal relationship for strength and stability.

College affiliated communities enjoy significant advantages because of their tie-ins to the campus and its programs and facilities. For example, it might have doctors from the university's medical school on staff, or you can use the campus golf course. Alumni, university employees, and former faculty often find these particularly appealing. On the other hand you just might want to retire to a college town and live wherever you please, not in one of these university-affiliated communities.
Sample UBRCs.
Using our Advanced Search we found 18 university-based retirement communities in the Topretirements database. Not all might meet all criteria discussed above.
Note that most UBRCs are life care or CCRCs, and thus cater to an older population. That doesn't mean younger people should rule them out, particularly if there is independent living. Many of these have waiting lists that can stretch for years. Generally people only start considering CCRCs when it starts to be too late – if you have significant health issues it can be more difficult and expensive. Moving to a continuing care community has one very big advantage – you might never have to move again.
Here are some examples:
The Village at Penn State. This CCRC is affiliated with Penn State in beautiful State College, PA.

University Commons. Part of the University of Michigan in Ann Arbor.

Oak Hammock. A CCRC, Oak Hammock is affiliated with the University of Florida. Although located on a nice campus several miles out of town, there is plenty of interaction with the main campus, including its medical staff and students who intern at the facility. See the article we wrote after visiting Oak Hammock several years ago, "Oak Hammock Brings Retired Gators Back to Gainesville".
The Forest at Duke. Durham, NC. This CCRC in Durham has 370 residents and is 2 miles from the Duke campus. Although residents cannot audit classes for free, it partners with the Osher Lifelong Learning Institute to provide adult continuing education courses, both on the Duke campus and at The Forest. It is a CCRC offering continuing care.
Holy Cross Village at Notre Dame. For die-hard Notre Dame, St. Marys, and Holy Cross College alumni there might be no better place to retire than in the village of Notre Dame, which is within South Bend, Indiana. This community is just 1000 feet from the Holy Cross campus, where residents can attend classes and get a library cared. There are buses to events on the Notre Dame campus. Housing choices range from apartments, duplexes, and villas. Assisted living and nursing care are available.
Kendal at Hanover. Hanover, New Hampshire. This CCRC is located near and affiliated with famous Darmouth University. The 400 residents enjoy living in one of the quintessential American college towns. The Dartmouth-Hitchcock Medical Center host an on-site clinic for residents, and medical students can rotate there.
Lasell Village. Newton, MA. This continuing care community is actually located on the campus of Lassell College. Residents are required to complete 450 hours of learning and physical activity each year. Although most of the residents are not alumni, the college and the community are deeply intertwined.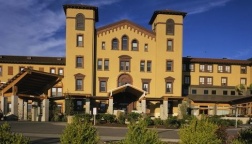 Marys Woods at Marylhurst. This CCRC community is located next door to Marylhurst University in Lake Oswego, Oregon, just outside of Portland. It offers apartments, villas and estate villas along with many amenities including Provincial House, the heart and soul of the community.
Academy Village. Located near Tucson, Academy Village has an astonishing array of programs such as the Arizona Senior Academy to keep you busy and engages. It is near, but not officially tied to the Univ. of Arizona.
Kendal at Oberlin. Ohio is a wonderland of bucolic college towns, and Oberlin is one of them. Kendal at Oberlin is located just a few blocks from campus – residents can audit some college classes with permission of the professor. Kendal has several other university related CCRCs like this one, including Kendal at Ithaca, located about 2.5 miles from the campus of Cornell University.
Longhorn Village. Located in Austin, Texas, the community was developed in association with The Ex-Students' Association of The University of Texas. Longhorn Village is within the master-planned community of Steiner Ranch near Lake Travis and the UT Golf Club. It is open to anyone, regardless of university affiliation.
Capstone Village at the University of Alabama The community offers retirement living in beautiful Tuscaloosa, Alabama. It is located in a setting of magnolias, pines, and cypress trees with The University of Alabama and all its opportunities are right next door.
Active Communities in College Towns with Lifelong Learning Institutes
Many active communities have opportunities for learning without being associated with a college or university. Osher Lifelong Learning Institutes are quite prominent and very attractive alternatives to UBRCs. For one thing, they are often less expensive communities to live in. For another, since the CCRC model usually attracts a much older resident base, more mainstream active communities that have Osher programs will appeal more to younger retirees. In many college towns you can take or audit classes without living in an active community or UBRC.
For Further Reference:
Part 1: Should You Be Applying for an On-Campus Retirement?
Part 2: These College Towns Are Great Places to Retire
Part 3: More Affordable College Towns for Retirement – Sunbelt
Staying Busy All Day: Expand Your Mind and Have Fun Learning
Comments? Do you know about a university or college affiliated retirement community that our members should know about? Do you have experience with one of these? Or have you dreamed about returning to your college town to enjoy the rest of your retirement? Please share your thoughts in the Comments section below.




Posted by John Brady on November 11th, 2014