Active adult communities
By Stephen Anderson
When we first bought our home in Mexico, nine years ago, it was a pretty good decision. Real estate prices were lower than in the US, the Lake Chapala area was known for some of the world's finest weather, the cost of living was substantially lower, and it was safe.
Unfortunately, even before the recent outbreaks of kidnaps, murder, and extortion in this area by the drug cartels, my wife and I had decided to return to the US. Having to deal with all the corruption, the crooked government officials, the unethical business practices, and the courts that do nothing against crimes perpetrated against foreigners made life here intolerable. Add to that the influx of Americans and Canadians that caused prices to rise dramatically on real estate and everyday cost of living. Our conclusion was, as many of our friends have that escaped this area, that one can live in the US for about the same money as it takes to live in Mexico.
Certain things will be higher cost in the US. Medical costs are certainly the primary one. We will no longer be able to afford a maid or get bi-weekly massages. Real estate taxes are higher but, with homes in Mexico more expensive than the US's depressed real estate market, we figure it will take about 30 years in higher taxes before they balance out, and we will be long gone by then. All the other expenses run pretty much the same, more or less. Of course, the weather will always be better in Chapala but that does not outweigh all the other issues.
Our Reentry Plans
So, for the last three years, we have been reading everything we could on retiring in the US. We used Topretirements.com as our primary source as it has been filled with very valuable information, not only on areas, but also great advice on things like checking out the financial stability of communities. Armed with all this data, we started weighing various options and finally decided on Florida. Unlike a recent article, we neither love it nor hate it, but decided it was best for us. So, what prompted this decision?
After much deliberation, we chose central Florida near Leesburg for a number of factors. The weather is more temperate than along the coast with its heat and humidity and less cold than further north. We have many friends and relatives in this area, some of whom left Mexico and now love Florida. Orlando's entertainment and cultural activities are very attractive. And, there is a plethora of 55+ active communities to choose from, something we decided we really wanted.
Priorities
Our determining factors were:
many activities that would suit our particular lifestyle, individual homes with Concrete Block and Stucco (cbs) construction, affordable monthly homeowner's fees, has to allow pets, preferably an indoor pool, financial stability, how residents liked it there, the cost of homes, and taxes. Places like The Villages or Top of the World were eliminated as they were like individual cities, which may well be perfect for some, but we wanted something with more of a community feel and no more than 1500 homes. After many, many hours on the internet doing research, as well as working with a local realtor, we narrowed it down to five communities.
The Legwork
All of them had pretty good websites that provided a lot of information. When we needed more, like copies of their recent association meetings, assessments, financials, etc., we wrote to them and each sent the requested documents in a timely manner. Our next step was to drive to Florida and to look at, as well as investigate, each community. We started out by driving through each one on our own and looking at the condition of the homes, yards, and common areas followed by looking at the amenities. Legacy was eliminated entirely as being too new with no trees and little to offer in either amenities or activities. One was moved lower down the list as being larger than what we desired. So, that left three. From there, we stopped at each rec center to see what activities were listed on the bulletin boards and monthly event calendars, and to talk to residents. Each raved about their respective places.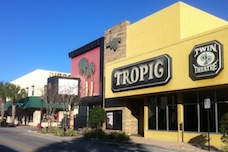 Then it was time to meet our realtor, who then took us to the three communities we had narrowed our search down to. Those were Highland Lakes, Pennbrooke Fairways, and Royal Highlands. We also visited Plantation at Leesburg, the community eliminated earlier because we felt it was too large. We ended up looking at a sprinkling of homes – some we both really liked and a few seemed worth considering. After doing so we were down to two communities: both with golf courses (we do not play), one with two outdoor pools and one with an indoor and outdoor pool (which had higher priced homes). (See section at end with comments about each community).
When we had gone out on our own, before meeting our real estate agent, Sarah and I went to the more expensive of the two communities and visited the recreation building to see how many people were in attendance at the scheduled activities. Both places had lots of people attending. The office staff gave us the new monthly calendar of events that had just come out, as well as a lot of good information on all aspects of daily life along with costs.
That evening we crashed the scheduled dance as potential prospects and were welcomed to join the members. A live band was playing and we learned this was a weekly event, always with live music, and there were actually two dance groups that held dances within the community. Many of the 50 or so people in attendance came over and talked to us and invited us to their tables. We certainly felt welcome and comfortable.
However, $20,000 or so more for a comparable home was nothing to sneeze at so the next morning it was back to the other community. One scheduled activity had been cancelled, another had about four people in attendance, and the big pool party had about a dozen people there. No one could give us a newer schedule of events than January and it was now May. While a beautiful community with very attractive prices on homes, it was just not right for us as the activities were our main consideration.
Suddenly, homes are selling
Here is the surprising part. I had selected homes in each of the five communities to look at, about 25 altogether, in a price range we were hoping for. These included listings as well as for sale by owners. Almost all had sold in the two weeks between the time we looked them up on-line and we arrived in Florida. Some were new listings and some had been on the market for 500 or more days. The realtor told us it had been years since they saw such a spurt in the market.
The final result was we found a home in Royal Highlands. We paid a higher price than we would have paid a month ago, but at still a lower price than in the Lake Chapala area of Mexico. And, with there being little difference in the cost of living, having the safety, a better lifestyle, and all the conveniences that do not exist in Mexico, makes us thrilled and excited to be returning to the good old USA.
Notes about the communities we visited
Legacy at Leesburg was the first one we eliminated. No trees, a small pool and community center, and we did not hit it off with the rec building office. Great prices on houses though.
Plantation at Leesburgwas just too large for us with 3 rec areas, thousands of homes, etc. There were 3 full time activities directors of which we met one, who was really nice as well as helpful.
Highland Lakes was in consideration although the oldest of the communities. Had a nice rec building, indoor and outdoor pool, beautiful trees, lakes. Not too many cbs homes, mostly frame, and all the affordable cbs homes had sold right before we got there.
Pennbrooke Fairways was the runner up and sits next to a new part of The Villages. Nice trees, golf course, 2 outdoor pools, large rec building, really nice people that we met. However, they list a mess of activities on their website but had no indication of them actually happening. We fell in love with one home there at a great price but the community was just not right. For someone that wants to be near everything the Villages has to offer but not be in The Villages itself, this place would be ideal.
We finally settled on Royal Highlands because of all the activities, a lot of people were actually participating in them, indoor and outdoor pools, a lot of cbs homes, the golf course and restaurant, a nice office staff, and so on.
All the communities were actually great and would be perfect for someone, depending on what lifestyle and price range they were looking for. Royal Highlands seemed best for us but the others were all contenders at one time or the other.
I cannot speak highly enough of Nicky Martz who specializes in 55+ active communities in the central Florida area. She spent a lot of time sending us information before we got to Florida, kept us in our price range, only showed us the types of homes that would meet our needs, knew each of the communities, and took her fiduciary relationship to us very seriously. Since we returned to Mexico she continued to go way beyond the call both before and after the closing. Ask for Nicky at Centralflorida55plus.com, 407-252-2596. Here is a list of more Florida 55+ and active communities.

For further reference:
If you liked this article you should also see the articles by Jay Michaels, "Hop on the Williamsburg Tourbus", plus "Sandy's Active Adult Community Adventures".
Mexican Retirement Gone Bad
About Stephen Anderson
Stephen is the author of "Retiring In Mexico: The Good, The Bad, and The Ugly", available for sale online at Amazon.com and other channels.
Available on Amazon and Kindle:
(print) Retiring In Mexico: The Good, The Bad, and The Ugly
(Kindle) Retiring In Mexico: The Good, The Bad, and The Ugly
Comments. We always love your comments and suggestions. Please submit them below.
Posted by Admin on June 9th, 2012