Active adult communities
May 12, 2020 — Not everyone wants to retire in the Sunbelt. One reason is that people who already live in the northeast, midwest, or northwest are reluctant to retire far from where they live now, and would prefer to stay close to the familiar, including their relatives and friends. To help those folks looking for an active community in the northeast or northwest, we went exploring in the Topretirements visitor files for the last six months to find the communities that seem most popular on this site.
The results are a combination of big surprises and pretty much what we expected. No big surprise, Delaware ran away with in this "most popular" sweepstakes with 6 communities in the top 20. Virginia netted 3 places, and Pennsylvania 3. The biggest surprises were a community on a lake in Canada and a Lutheran community near Fort Wayne, Indiana; the popularity for which are not clear. Almost all of these most popular, non-Sunbelt active communities were in the northeast, plus one in Idaho and another in Oregon. It was a bit of surprise not to see a better showing from communities in New Jersey, which has many large developments to choose from.
Most Popular
While these are the 20 most popular active adult communities on this site outside of the Sunbelt, they might not necessarily be the "best". That is for you to determine, based on how well they fit your needs. One big takeaway from this is how important it is to spread your net wide when researching active adult and 55 plus communities. There are thousands of choices of all different types that might work for you, but you won't even find out about them unless you look around. If this list does anything for you we hope it expands your horizons. There are many good choices awaiting you, with 4,148 reviews of communities on this site!
Here are the 20 Most Popular, Non Sunbelt Active Communities at Topretirements.com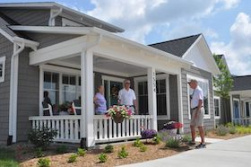 Piper Trail, Fort Wayne, IN. A new cottage community for active adults 55+, sponsored by Lutheran Life Villages. The neighborhood is situated on 12 acres in Inverness Centre and will features 48 single-family homes along with amenities which include a clubhouse with bistro and fitness center, activities, and walking trails. Cottages are clustered in small grouping around a shared green space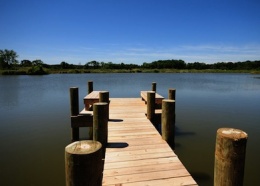 Millville by the Sea, Bethany Beach, DE Christopher Companies, offers a diverse selection of single-family homes, with appointments both expected and surprising, including lavish owner's suites, nine-foot ceilings, plus optional screen porches and patios. Single-level living is a hallmark. Viewed by 370 people.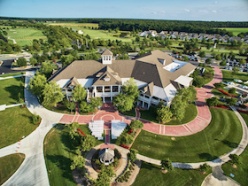 Heritage Shores, Bridgeville, DE. Heritage Shores has been honored as one of the Best 55+ Active Adult Communities by 55Places.com, and is a repeat winner of the Best Retirement Community by Metropolitan Magazine.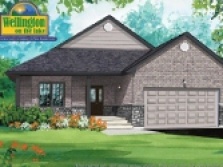 Wellington on the Lake, Wellington, Canada. Along the Shores of Lake Ontario, Wellington on the Lake says that it offers relief from the busy lifestyle associated with big city living. Some properties back onto Wellington on the Lake Golf Course.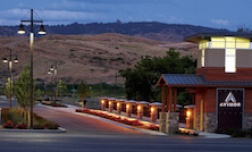 Avimor, Boise, ID. A new master-planned community in the Boise, foothills, it is surrounded by natural beauty. Homeowners get access to miles of trails and acres of open space right outside their doors. The community center and Main Street play host to concerts, events, and festivals.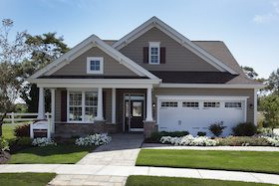 Traditions of America at E. Petersburg, PA Traditions of America at East Petersburg will feature a heated swimming pool, pickleball/tennis courts, walking trails. The 5-star clubhouse is the natural gathering place for homeowners to meet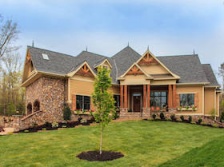 Magnolia Green, Richmond, VA A master-planned community located in Moseley near Richmond. It is made up of several distinct neighborhoods featuring townhomes and single family homes. The beautiful Magnolia Green Golf Club, a recipient of Golf Digest's Top 10 Best New Courses for 2015, is the centerpiece.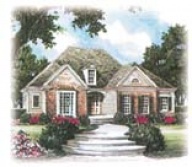 Glenbrooke in Boonsboro, VA Located in Lynchburg's Boonsboro area, Glenbrooke provides the amenities of city living, including tree lined private streets, sidewalks, streetlights and underground utilities. Residents will also enjoy the clubhouse and its fitness center, swimming pool, tennis courts and walking trails.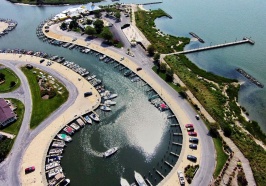 Pot-Nets, Millsboro, DE There are 6 affordable Pot-Nets neighborhoods. New and previously owned homes are available in all different styles, sizes, and varying wooded or waterfront homesites.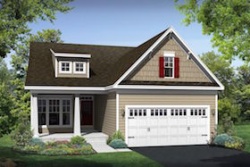 The Villages at Red Mill Pond, Lewes, DE Features single family homes on a large fresh water pond. Homeowners can experience the outdoors with access to a kayak or canoe launch beside the gazebo, and enjoy fishing at the pier. Other amenities include scenic walking trails, and an outdoor pool.
Flemington Fields Estates, Princeton, NJ The home designs in this 55+ community feature convenient first floor laundry room, and gas fireplace, and are priced in the high $300's. Resales only.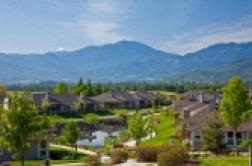 Rogue Valley Manor, Rogue Valley, OR. This is the only Continuing Care Retirement Community on this list. It offers cottage and apartment living. Choose from Residential Living; Skilled Nursing Care; Memory Loss.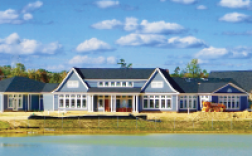 The Villages of Two Rivers, Annapolis, MD. A Traditional Neighborhood Design is a new master-planned community located west of Annapolis surrounded by forest conservation. The community has indoor and outdoor pools, walking and biking trails, parks, community gardens, and a nature center.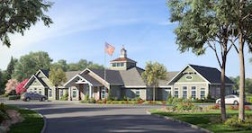 The Vineyards at Bluepoint, Islandia, NY. Located along the South Shore in Long Island, the community offers townhomes and condominiums in a gated setting. There is a clubhouse with a great room with fireplace, wine tasting room, club room and bar, billiard and card rooms, fitness center, and outdoor patio.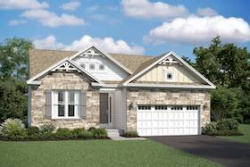 Four Seasons at Belleterre, Lewes, DE. Single family homes and a low-maintenance lifestyle are offered here. Homeowners enjoy amenities including a clubhouse with fitness center, lounge, game room, and billiards. Outside is a swimming pool with tiki bar, and pickleball courts.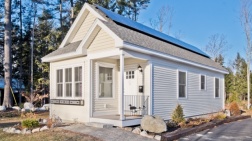 The Cottages at Valley Brook, Bridgton, ME. The 55+ solar single family home community offers energy efficient living for active adults. Zero Heating/Cooling energy cost option. The 60 home community features solar panels and a clubhouse with exercise facility.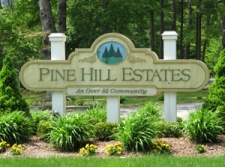 Pine Hills Estates, Plymouth MA. Located west of Plymouth, residents enjoy single level, detached, manufactured home convenience in a picturesque country setting.

High Pointe in Hershey, Hershey, PA. This community of luxury condominiums is located on a wooded hill in Hershey. Open to all ages, residents, can choose from one, two and three story designs, with options for a first floor master bedroom.
Bon Ayre, Dover, DE. This manufactured home development has a Community Center and pool, sidewalks, streetlights, off-street parking and a guest parking area.
The Crest of Alexandra, Alexandria, VA This new 55+ Active Adult Lifestyle community in Alexandria, Virginia offers gardens, a koi pond and paths & trails created with natural landscaping. The feeling is a tranquil, and environmentally sustainable community.
Traditions of America at Green Pond, Bethlehem, PA. This 55+ community of single family homes will feature a 5-star clubhouse, a beautiful outdoor swimming pool, pickleball courts, bocce courts, and scenic walking trails.
A note about how this list was compiled. To develop it we reviewed our site logs from December, 2019 through May 2020. A few of the communities advertise on Topretirements.com, which means they had a better chance of being noticed. Various other factors could have influenced the popularity (e.g.; when they were added or updated), but we believe the choices represent a fair example of the many different kinds of 55+ and active adult communities available.
For further reading:
Comments? Are you interested in retiring somewhere outside of the Sunbelt, or considering it? What communities have we overlooked that we should have considered? Please share your Comments and observations below.
Posted by Admin on May 11th, 2020