Financial and taxes in retirement
March 23, 2015 — It is no secret that there are millions of baby boomers who are wondering how on earth they are ever going to have enough money to retire. From many comments made on this site we know that a lot of you have those worries, so we thought we would help with some examples of reasonable place to retire, along with why it makes sense to downsize.
First, how a cheaper place to live puts money in your pocket
Your home is almost always your biggest expense, usually about 30% of your income. Anything you can do to reduce that is going to help you have a more comfortable retirement. The first thing you need to do in this process is to complete a retirement budget. To do that you need to know how much income you can expect to live on from Social Security, savings, pension (if any), and work. You also have to understand what your current expenses are for housing, food, transportation, clothes, taxes, etc. If there is a shortage of income or a surplus of expenses, you have to do something about that equation – increase the former, reduce the latter, or do a little bit of both.
Lets just take a simple example to how you can make a big improvement in your financial situation. Assume for a moment your current home is worth $200,000, which is close to the median U.S. value. Taxes, maintenance, utilities, and insurance typically total around 3.25% of the value – $6500 in this case. If you sold that house and moved to one that cost $50,000 (not for everyone, but here as a feasible example), here is how that could help:
Add to Your Savings and Income
Difference in house prices $150,000
Cost of moving & closing -$25,000
Net extra savings $125,000
Extra annual Income @ 4% $5000
Cut Your Expenses
Current home expenses @3.25% $6500
New home expenses @3.25% $1625
Net Savings $4875
Total Income and Savings $9875/yr. more in your pocket by moving to a $50,000 house!
However if you do move, particularly to a new state, you should be aware that there are issues to be considered. This article from NextAvenue, "7 Hidden Costs of Moving in Retirement", is quite good on that score.
What is a $50,000 home like?
There can be a surprising variety to what is available for $50,000 or less. You might get a small single family home, a manufactured home, a cabin, or a mobile home. Or more often you will find a condo, perhaps one or two bedrooms. There is a big range of what you might expect. It will rarely be a new home, but if it is it will be a manufactured home and smallish. Most homes at these kinds of prices will be manufactured homes, many of which, particularly newer ones, are built to high standards. Many of the single family homes will be in land lease communities where there is a substantial monthly rent to consider. Sometimes the condominium apartments might be surprisingly nice. Kitchens and bathrooms might be dated and appliances old – or you might be surprised. The homes might need work – but on the other hand with the money you save you might be able to fix it up to where you feel comfortable. Sometimes you can find a surprisingly nice home in an established community with a long list of amenities. And if gets you a nice place to live in good weather that you can afford, that's the point isn't it?

A random list of communities with homes for sale for less than $50,000
We used the Advanced Search at Topretirements to find communities with homes offered for sale for less than $50,0000. Please note that inventories and prices change on a real-time basis, so not all communities might have one available at these prices when you inquire. The point is, however, that this is just a small list of the many communities on Topretirements that have low priced homes for sale. If you are interested in a low cost home, use this site to help you find one. Here is the link to Multiple Pages of Results for "Houses under $50,000 You can also try searching for "homes under $25,000", "$100,000 etc. The communities are there, particularly in Florida and Arizona, if you look!

– 7 Lakes Golf & Tennis Community, Ft. Myers, FL. This long established, resident owned condominium association for active adults 55+ is on over 170 acres . The community boasts an 18-hole executive golf course, 6 heated swimming pools, an exercise room, crafts, woodworking, and the University of Seven Lakes. Homes from less than $50,000. Note that your editor's parents lived here for 30 happy years – it is a lovely community. Most of the homes are condo apartments and are quite spacious.
– Mas Verdes Estates, Lakeland, FL. This community is typical of hundreds like it in Central Florida. Not near the ocean, not fancy, but a basic place to retire that won't break the bank. Mas Verde Mobile Home Estates is a 400 space lot lease 55+ retirement community. The affordable homes that includes a utility shed, carport, and an automatic sprinkler system. The 10,000-square foot clubhouse includes a fitness center, library, game room, billiards and kitchen, and is steps away from the heated pool and jacuzzi. Resales for less than $25,000.
– Parkside Village, Cheektowaga, NY. Parkside Village over 55 community bills itself as a well-maintained neighborhood 55+ community featuring a hometown atmosphere, friendly neighbors, and lovely manufactured homes. Bordered by the beautiful 308-acre Stiglmeier Park, this fantastic retirement community is ideally located in the Town of Cheektowaga, a suburb of the City of Buffalo.
– Sun Valley, Apache Junction, AZ. The 55+ manufactured home community includes three community centers with activities, amenities, and scenic desert beauty. Nearby Lost Dutchman State Park offers hiking trails, and picnic areas. New homes start under $50,000.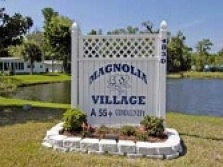 – Magnolia Village, Edgewater, FL. A 55+ retirement community of 196 manufactured homes in Edgewater, which is a very nice town. Home price start under $50,000. Amenities include pool, horseshoes, shuffleboard, library, RV storage and more. Monthly lot rent $547.
– Myrtle Beach Resort, Myrtle Beach, SC. This is a resort community in Myrtle Beach made up of condos prices start in the $40,'s. It is very large and right on the ocean.
– Mariners Cove. Millsboro, DE. This one is nice because they have boat docks. Delaware is very popular as a retirement state because of its tax situation and nearby ocean beaches.
– Kloshe Illahee, Seattle area, Washington. Once you get over the name, this community is nice and has a Top Listing. It is an Equity Lifestyle Community.
– Cypress Greens, Lake Alfred, FL. When Sandy and Roger wrote up their visits to Florida few years back this is what they said about Cypress Greens: "Stayed here – GREAT, senior golf community and mobile homes, best maintained of all the mobile home parks we visited."
– Cherokee Village, Arkansas. A very affordable 15,000 acre resort and retirement community located in the natural beauty of the Arkansas Ozark forest. Amenities include two 18-hole golf courses, 6 swimming pools, a private beach, tennis courts, recreation centers, fitness center, senior center, horseshoe pits, two nature trails, and seven lakes
– Crossroads by Jensens Communities, Aiken, SC. One of the Top listings at Topretirements, Crossroads has new and previously owned homes for sale in a very well maintained community. Each quarter acre treed home site has individually metered city water, off street parking, and underground utilities.
– Pantera Lago, Tacoma, Washington. A manufactured home community for active adults 55+ with a robust resident's association. The club house is often bustling with activity and planned events including dinners, games and get togethers. Residents also enjoy a swimming pool and picnic area to gather with friends and neighbors. Other amenities include on-site RV and boat storage.
This is the link to our Advanced Search for homes under $50,000. It produced several pages of results!
Multiple Pages of Results for "Houses under $50,000

For further reading
Is a Money Pit Going to Ruin Your Retirement
Using Your Home to Pay for Retirement
Affordable Places to Retire on the Waterfront (2 Part series)
The Affordable and More Best Places to Retire
Comments? How do you feel about moving to a $50,000 home? Would that be a big adjustment for you? Would you be willing to do it if it meant a comfortable retirement? Do you have recommendations on communities where it is possible to find such bargains. Please share your thoughts and experiences in the Comments section below.
Posted by Admin on March 23rd, 2015