Best Retirement Towns and States
This article is part of a series. See "For Further Reading" section at end for links to the rest of the articles Updated February 17, 2020 with current prices
Originally published June 15, 2010 — What's not to like about retiring to a place on or near the water – except maybe the price that usually comes with that lifestyle. Until the polar icecaps melt some more, no one is making any more ocean front property, which means that as a rule only wealthy people can afford to pay for the privilege of watching the sun come up and down over the water from their front porches. Fortunately for the careful shopper though, there are different kinds of waterfront, some some of them affordable. To get helpful articles like this on a regular basis, sign up for our Free weekly "Best Places" newsletter.

The first place we started when researching this article was our own Retirement Ranger. When we took our free, 10 question quiz we tried to keep it simple – we specified only 2 environmental selections – "coastal" and "lakefront" and "lower than average" cost of living. The Ranger came back with 100 choices in the USA, from which we chose 11 for this article.
Lakes with big coastlines offer some of the biggest waterfront bargains. Likewise, towns near rivers and bays can offer spectacular views or quick water access without spending mega-dollars. Finally, if you choose a place on the ocean that is far from a big city or in the right region, you might be able to snag a relative bargain. We urge you to use the Retirement Ranger and search on this and other sites for more ideas. Prices are from Zillow unless otherwise noted (the U.S. Zillow Home Value Index was $192,500 in late 2016). Insurance costs do tend to be higher near the ocean, so that is a factor to be considered.
– Boynton Beach FL – Boynton Beach has always been the step-child to its more prosperous neighbors like Delray Beach and Palm Beach. It's the same ocean, just a few miles north or south. Boynton Beach had a real estate meltdown in 2008 but has come back since, although not as much as nearby towns on the coast like Boca Raton. The median home price in 2010 was $150,000 (houses/condos close to the water were more), but that had increased to $264,277 by early 2020. There are many communities not far from or even on the beach that the careful shopper can choose from.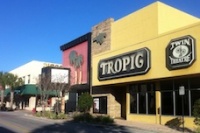 – Leesburg, FL – This waterfront town in central Florida boasts 6 public beaches on 3 lakes, plus a yacht club. The centerpiece of the town is a former WPA project, the Venetian Gardens Waterside Park on Lake Harris. There is a community college plus a number of active adult communities to choose from. Zillow Home Value Index was $180,348 in early 2020.
– Myrtle Beach, SC – Myrtle Beach remains a bargain for a community on the ocean. It offers low-cost housing, 120 golf courses, and of course – the Grand Strand, a great sandy beach that runs uninterrupted for almost 60 miles – from Pawley's Island in the south to North Myrtle Beach. The median listing price on Zillow was $168,120 in 2020.
– Port Charlotte, FL – An amazing 40% of the homes in Port Charlotte have water access, thanks to a maze of canals and estuaries, complete with hundreds of species of marine life. There are dozens of active adult and 55+ developments /neighborhoods to choose from. The Home Value Index was a bargain at $190,726 in 2020.

- Lake Eufaula, OK - This area in east central Oklahoma is a popular resort and a low-key, relaxing retirement spot. Lake Eufaula has approximately 143,000 acres of water and over 600 miles of shoreline. Average home prices were $91,513 in early 2020.
- Paris, TN - Paris is situated between 2 giant lakes, one of them being among the largest man-made lakes in the world. Paris is a small town of about 10,000 in northwest Tennessee, 15 miles from the vast and popular Land Between the Lakes recreation area. The Zillow Home Value Index was $112.111 in early 2020, less than half the U.S. value.
- Murphy, NC - The downtown is beautiful with tree lined streets and many historic buildings restored to their original state. The climate is mild and the scenery is breathtaking with mountains, lakes (several large ones like Lake Hiwassee), and streams. You can find a range of homes from the low to high $100's, with the 2020 Home Value Index at $163,950.
- St. Petersburg, FL - St. Pete offers a happy compromise in a very livable city,with many desirable neighborhoods and plenty of culture and recreation. Since St. Pete is on a peninsula between Tampa Bay and the Gulf of Mexico, almost everything is near the water. Prices were in the low $100's in 2010 but the NAR media sales price in the Tampa/St.Pete/Clearwater Metro was $248,000 in early 2020 (prices in many St. Pete neighborhoods/communities will be less, more in others).

- Toccoa, GA - This small town on giant Lake Hartswell in northeastern Georgia has about 8500 residents. Athens is 50 miles away. The median listing price in 2020 was a very affordable $107,792. .
- Port Isabel, TX - Port Isabel is a beach town and a popular resort, as well as being a retirement destination. Fishing, beach going, and relaxing are popular activities. The area is quiet and the weather is warm in the winter. The Home Value Index was $135,999 in 2020.
- Hayesville, NC - Lake Chatuge near Hayesville has over 130 miles of shoreline, much of which can never be developed. The artists' community in Hayesville is diverse and growing, which gives the town another dimension. Home prices tended to be in the high - $195,403 in 2020.
Drawbacks of Living Near the Water
There are always 2 sides to any story. And living near the waterfront is not a total picnic. Consider these drawbacks:
- High insurance costs. Particularly in Florida, hurricane and flood insurance can be very costly and hard to get. One recent study found that waterfront property is appreciating at a slower rate than those away from the water.
- Natural disasters. Related to above, it is no fun to be evacuated or have your home destroyed. As one of our commenters noted below, hurricanes are a very real threat to just about anywhere on the coast. Some towns have been hit over and over again.
- Man made disasters. The oil spill in the Gulf points out the type of disaster that might await many Florida, Louisiana, and Mississippi owners of property on the waterfront.
- Taxes. Waterfront properties tend to be worth a lot and appraised accordingly for taxes, so your property taxes will be higher than comparable homes inland.
What do you think?
Give us your suggestions for affordable places to retire on the water. Or throw cold water on ours, for that matter. Use the Comments section below - we would love to hear from you.
See Also:
For further reference:
Affordable Places to Retire on the Waterfront, Part 1
Affordable Places to Retire on the Waterfront, Part 2
11 More: Affordable Places to Retire (2020)
10 Affordable and More Best Places to Retire - Part 2
20 Great and Affordable Towns to Retire
8 More Affordable Places to Retire
Most Tax-Friendly Places to Retire
AffordableRetirements.com
Posted by John Brady on June 14th, 2010