Best Retirement Towns and States
September 20, 2016 — So maybe you have been thinking about retiring in The Palmetto State – but wondering where are the best places to retire in South Carolina. Here is our 10 Best Places list, formed from 10 years of experience in evaluating places to retire across the world.
As always, it is important to recognize that this is our list with our criteria – your ideal list of SC places to retire might not be the same. Here are our criteria:
– High "Popularity" ranking on our annual "100 Most Popular Places to Retire" list
– Be an interesting place to live in retirement – is it pretty, have an interesting history, or have a vital downtown?
– Things to do there – are there a lot of activities, restaurants, or cultural resources?
– How about places to live – are there different neighborhoods or communities suitable for a retirement lifestyle?
Should you retire in South Carolina
SC is increasingly a popular choice for retirement, and for many good reasons:
– Mild winter climate
– Varied places to live – from beautiful beaches to lakes to the Blue Ridge Mountains. Charming little towns and some interesting mid-sized cities
– Lower cost of living and taxes. South Carolina is a very tax-friendly state with the 9th lowest tax burden in 2011 according to the Tax Foundation. Social Security is not taxable, and people over 65 enjoy favorable tax status (see our Guide to Retiring in South Carolina).
Our Top 10
Here is our list. All of them made our annual Top 100 list – 6 of them were in the top half (ranking on that list shown in parentheses). Most of these towns have at least 10 active adult or 55+ communities to choose from. To see all of them check out our SC 55+ and Active Adult Community Guide.

1. Beaufort, SC. The Old South lives on in the quaint seaside charm of Beaufort, Known as the "Queen of the Carolina Sea Islands". It lies in the Sea Islands or "Low Country" area of South Carolina, just north of Hilton Head. 304 acres of the town have been designated as a National Historic Landmark. Horse-drawn carriages roll along streets in the town's charming historic district that are overhung with Spanish moss. The area offers a laid back atmosphere that most people find very relaxing. Beaufort is #6 on our 2016 list.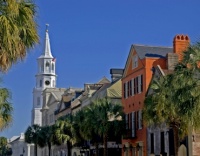 2. Charleston. "The Holy City" is undoubtedly one of the most beautiful cities in the U.S. as well as being one of its top tourist attractions. Located on the coast of South Carolina, until the mid 1800's it was one of the 10 largest cities in North America. The city and the surrounding area up to Hilton Head is developing rapidly with many upscale communities aimed at retiring baby boomers and others looking for vacation homes. The 55+ housing choices are as ample as anywhere in the country. Charleston is #7 on our 2016 list.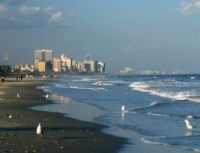 3. Myrtle Beach. Myrtle Beach is a favorite beach and golf resort community as it is home to The Grand Strand – one of the world's longest sections of perfect beach, and boasts over 120 golf courses. There is always something to do for active adults 55+ in Myrtle Beach – from golf to fishing to shopping to more than 1800 restaurants. It also has a reputation as a hot spot for live family entertainment, music, and celebrity concerts. #11 on the 2016 list.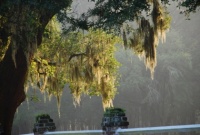 4. Bluffton. Bluffton, located near Hilton Head Island and the coast, is a charming, walkable, old town on the May River. The area is famous for its Bluffton oysters, and in town the oldest continuous oyster-shucking facility in South Carolina is a local attraction. The University of South Carolina Beaufort-New River campus was a welcome new addition to this area. The area is developing rapidly with many upscale communities aimed at retiring baby boomers and active adults 55+. (#22)
5.
Summerville
. Summerville, "The Flower Town in the Pines", has a charming downtown with many restaurants and unusual shops. Tourists flock to the area to see its azaleas in season. The popular town of 45,000 has grown by 62% since 2000, it is fast becoming a city and suburb of Charleston. It is near the coast and many tourist attractions. (#26)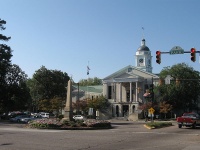 6. Aiken . This town of almost 30,000 in western South Carolina is known as the "Winter Colony", and has always been popular with the horsy set for fox hunting, steeplechase, and polo horses. The town's infrastructure supports active adults 55+. The mountains and beaches are not far away and neither are Augusta and Atlanta. (#49)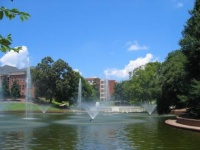 7. Clemson. This town of 13,000 is nestled in the extreme Northwestern corner of South Carolina. Clemson University and its 17,000 students have a major impact as the university is the cultural center of the city. The city has a comprehensive plan with an historic preservation component comprised of two historic districts. The Clemson (train) Depot, built ca.1916 has been rehabilitated and is now occupied by the local chamber of commerce. (#54)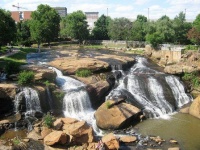 8. Greenville. Greenville has an interesting and walkable downtown and several great neighborhoods. It is also home to a number of colleges and is a thriving community for the arts. Greenville has many wonderful neighborhoods for families and people of all ages. Some retirees are buying condos near the downtown and its 100 restaurants. It also has many developments which are suitable as active adult communities. (#60).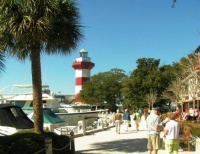 9. Hilton Head. Known for its beautiful beaches and fabulous golf courses, the area tends to be quite exclusive and most of it comprised of planned developments. Of its almost 34,000 population, the majority are active adults 55+ who choose this island and the surrounding area as their ideal retirement community. The Island swells to almost 300,000 during the busy summer tourist season. (#69)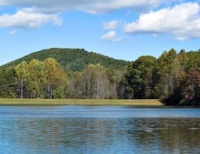 10. Lake Keowee. *Lake Keowee is a very large reservoir in north-central South Carolina, just west of Greenville. It is not a town, but a beautiful region which is a relatively unspoiled area with plenty of water and parks for recreation. It is immediately south of Sumter National Forest, and one of the nicest things about Lake Keowee and surrounding towns is the proximity of Clemson and Clemson University, which is just a few miles away.
Comments? Do you have a favorite retirement town in South Carolina we have overlooked? What do you like or dislike about where you have retired in SC? Please share your thoughts in the Comments section below.
Posted by Admin on September 19th, 2016