Best Retirement Towns and States
Note: Were you looking for our "5 Medicare Mistakes You Don't Want to Make" article? Use the link in the previous sentence or go the "Blog" in the navigation at top.
July 19, 2022 — This is the time of year when life doesn't get much better than living on a lake. With the loons calling, gentle waves lapping at the dock, and the sun setting during dinner on your screened in porch, life is good. Retiring on a lake has so many lifestyle advantages including fishing, boating, and swimming. Not to mention that your kids and grandkids will only be too eager to come for a visit.
Here are 10 great lake towns for retirement. We picked them not only because they are on beautiful lakes, but because many also have an interesting town nearby. We look forward to your suggestions on other "best" lake towns for retirement.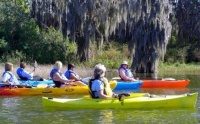 Winter Haven, FL. This suggestion came in from David Lane, a frequent contributor here and big fan of this town. Here is why David suggested it: "Winter Haven is located midway between Orlando and Tampa. The city boast 50 lakes within its limits filled with fish, lots of wildlife and boating opportunities. The city has plenty of housing appropriate for the retiree. Many of these properties, including condos, have sweeping views of the lakes." Real estate here is not as expensive as in Florida's coastal areas.
Lake Frederick in the Shenandoah Valley (near Winchester VA) was nominated by Jan Sedaka. She described it as "120 acres of pure-blue quiet. At the Shenandoah Active Adult Community, where homes surround the lake, only electric motors are allowed. No jet skis, no windshield bugs, no harsh winter winds bearing down on the lake — just sun and lake and sky and mountains. Paradise."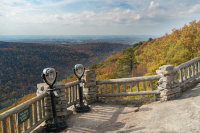 Cheat Lake is a beautiful 13 mile long reservoir in a small town of the same name near Morgantown, West Virginia and the southwestern border of Pennsylvania. West Virginia is a friendly place for retirement, and Morgantown is the home of the Mountaineers of the University of West Virginia. About 8,000 folks live on or near the lake and experience its quiet charm. Cheat Lake has 3 marinas located towards the river end of the reservoir.
Lake Maxinkuckee, the second largest natural lake in Indiana, borders the town of Culver, IN. The shore is lined with beautiful homes and the Culver Academies, a distinguished college-prep boarding school. The Town of Culver is the hub for eating, shopping and living.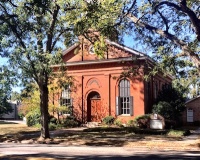 Lake Oconee is the 2nd largest in Georgia, and is home to several very large active communities. Those residents tend to go to Greensboro-Oconee. GA for more fun. The downtown is charming and busy. The lake was only built in 1979 so it is a relatively young area.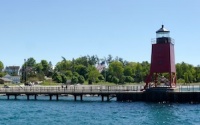 Charlevoix, MI. When it comes to great lake towns it would be hard to pass up this one. "Charlevoix the Beautiful", as it calls itself, is an old seasonal town in northwest Michigan. It is located on an isthmus between Lake Michigan and Round Lake, adjacent to the shores of Lake Charlevoix. In addition to boating the area has extensive rails to trails.
Skaneateles, in New York's Finger Lake Region, has the benefit of being one of the prettiest and most interesting towns in the area. But by no means should you discount the many other lakes here.  Its quaint downtown offers a toy shop, a chocolate shop, unique stores, bakeries, art galleries, pubs and a wine bar. The clear blue lake provides recreation activities as well as the backdrop for the many events that take place in the waterfront park.
Minnesota, the land of 10,000 lakes, has to have a lake that would be perfect for you. Many families here have a lake cottage that has been in the family for 50 or more years. Lake town possibilities are endless, but one good example is Nisswa. With its miles of lakeshore and endearing charm, it is a resort town in the central part of the state. Surrounded by lakes, Nisswa is part of the Brainerd Lakes Area. Some of these are Nisswa Lake, Roy Lake, Gull Lake, Lake Hubert, Clark Lake, Round Lake, and North Long Lake. Summertime visitors have been coming here for more than a century.
Detroit Lake is in Oregon's central region about 50 miles from Salem. The Detroit Lake Recreation Area is big with boaters, fishermen, and other water sports lovers. The nine-mile long lake also feeds creeks and rivers.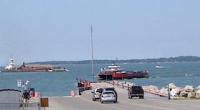 Marblehead, Ohio. Marblehead is a great little town on Lake Erie that is part of the area known as Vacationland. It is referred to as Lake Erie's Shores and Islands, which includes the nearby islands of Put-in-Bay and Kelley's Island, which are very popular during the summer months. These islands offer a unique experience of living on the lake.
Bottom line
Living on a lake in your retirement can be a wonderful experience. While some lakes are expensive places to live, there are so many possibilities you might be able to find one within your budget.
For further reading:
Comments: Did you retire on a lake, or would you like to? Please share your hopes and experiences in the Comments section below, including any suggestions about the lakes you love.
Posted by Admin on July 19th, 2022