Best Retirement Towns and States
January 4, 2020 — (updated December 2, 2021) Who wouldn't want to wake up to a loon calling in the distance. Or the sound from the gentle lap of waves on the shore. Here are 20 great places to retire on a lake where you can do all of these things. Like having the grandchildren up to enjoy some fishing or a boat ride. Not to mention the pleasure of an early morning dip in velvety lake water.
Lakes to retire on are everywhere.
The good news is that the country is filled with lakes and ponds of every size and description. Some are edged by major cities (Chicago or Madison WI), while others have bucolic towns on their shores. There are lakes where you can retire that have nothing around them except the occasional camp or cottage. By choosing just 20 lake towns in this report, it means that we have omitted dozens if not hundreds of other great candidates. We have tried to focus on lakes where it is possible to live on or near the lake, and where there is some kind of nearby town for entertainment and the necessities of life. Some of these lake towns were suggested by members – we would love to hear more suggestions!
Pluses and Minuses of retiring on a lake
The advantages of lakeside living are pretty obvious. Great scenery, year round recreation, relaxation, a magnet for grandchildren – those are just a few. Generally, retiring on a lake is a lot more affordable than living on the ocean. Another is that living on a lake is a lot less treacherous than living on or near an ocean beach, where hurricanes are much more of a serious menace.
There are some downsides to living on the lake. Our members mentioned how noisy they can be, especially from speedboats and screaming kids. Maintenance can be an issue, with docks needing a lot of attention. Many lakes are remote, so if you need a jug of milk or medical attention you could be looking at a long drive. Then there is the expense; the access and views from waterfront property are going to mean higher prices than more inland locations. Particularly in the colder parts of the country, year round living on a lake can be cold, windy, and lonely.
Some Wonderful Lake Towns for Retirement
In the Topretirements.com database we found more than 130 towns that we've identified as "Lake towns", and 325 active adult or 55+ communities classified as being on or near a lake (although some of those are claiming only a small fishing lake). You can see all of those and even drill down by State by using the "Search" feature in the main top navigation of every page, then select "Lake" as an environment (you can narrow your search by selecting specific states, etc.).

Gainesville, GA. Home to Lake Lanier, many people became acquainted with it when it hosted most of the boating events in the 1996 Olympics. The combination of a small city on a lake has lead many active adults here. It has a mild four season climate, and is the gateway to the excellent recreational opportunities of the nearby Appalachian Mountain forests.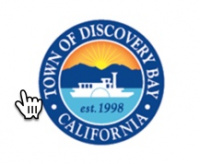 Discovery Bay, CA. This community is actually on the water. There are about 3,500+ homes with private docks and access to the Sacramento-San Joaquin River Delta. Discovery Bay has grown and added Discovery Bay West, which features gated and non-gated "off-water" communities.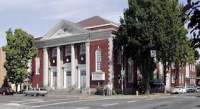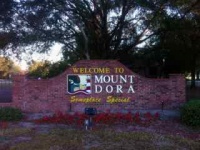 Mount Dora, FL. This beautiful old Florida town was popular with U.S. Presidents. It has a lovely downtown, a yacht club, and an endless array of activities, festivals, and community events.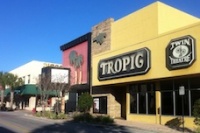 Leesburg, FL. The town in Florida's lake district is almost completely surrounded by 2 different lakes. The Venetian Gardens waterside park on the shores of Lake Harris has been a centerpiece of the community since the project was built by the WPA in the 1930's. The town has at least 6 beaches on three lakes, plus a yacht club.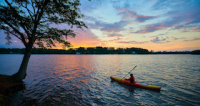 Lake Keowee, SC. The region is named for its huge man made lake near Clemson in western South Carolina. The area is sparsely populated but becoming a hot development spot for active adult/55+ communities, as well as an area for second homes.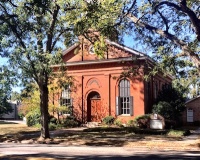 Greensboro-Oconee. GA. Lake Oconee is the 2nd largest in Georgia, and is home to several very large active communities, which tend to go to Greensboro for more fun. The downtown is charming and busy. The lake was built in 1979 so it is a relatively young area.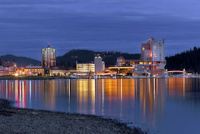 Coeur D'Alene, ID. This beautiful town is right on a gorgeous lake in northern Idaho's panhandle, 30 miles east of Spokane (WA). The population is 52,000. Its location on the shores of Lake Coeur d'Alene attracts retirees and tourists because of its outstanding beauty and outdoor recreation. The population is growing very fast.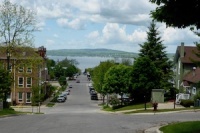 Traverse City, MI. Located right on the lake, the "Cherry Capital of the World" is also a great arts town. The east side of Lake Michigan has many other terrific lakeside communities including Grand Haven, Charlevoix, and Petoskey.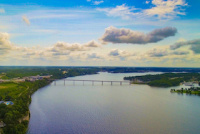 Lake of the Ozarks, MO. Lake Ozark is a small town of less than 2,000 people in the Lake of the Ozarks region of Missouri. Other towns in the area include Lakeland, Lakeview, Lakeside, Osage Beach, Sunrise Beach, and others. Lake of the Ozarks State Park is the largest state park in Missouri.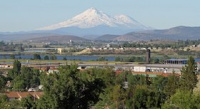 Klamath Falls, OR. The town is right near Upper Klamath Lake, and about 30 miles from the huge Crater Lake.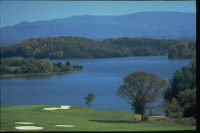 Vonore, TN. This is a little town near giant Lake Tellico. Tellico Village is a giant active adult community here. A plus of living here is being near Knoxville and Chattanooga. Residents enjoy an active lifestyle with boating, swimming, horseback riding, biking and walking throughout the hills and valleys of East Tennessee.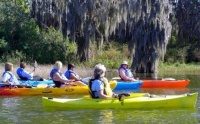 Winter Haven, FL. This suggestion came in from David Lane, a frequent contributor here and big fan of this town:
"Winter Haven, located Florida midway between Orlando and Tampa. The city boast 50 lakes within its limits filled with fish, lots of wildlife and boating opportunities. The city has lots of housing appropriate for the retiree. Many of these properties, including condos, have sweeping views of the lakes. The price is right with many well under $95,000!! There is lots to do in this city of 35,000."

David Lane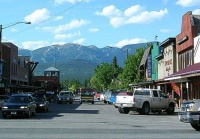 Whitefish Lake in Whitefish, Montana. Many people have described this lake and the surrounding mountains as one of the most beautiful areas in the world. Certainly the pictures make it appear so. There is the lake, a growing town, and superb outdoor recreation including a great ski area, Big Mountain, just outside of town. Real estate is expensive here though.
Lake Norman, mentioned by Jan Cullinane, is near Cornelius, NC, and not far from Charlotte. Jan mentioned its reasonable home prices; nice weather; being close to a friendly, walkable city; and all the amenities a lake has to offer.
Carol Dunn McKay brought Kentucky Lake to our attention, a gigantic lake near Murray, a Kentucky-college town, and Paris, Tennessee, a town located between two giant lakes. Both of these towns are frequent nominees for "best place to retire" lists.
Lake Frederick in the Shenandoah Valley (near Winchester VA) was nominated by Jan Sedaka. She described it as "120 acres of pure-blue quiet. At the Shenandoah Active Adult Community, where homes surround the lake, only electric motors are allowed. No jet skis, no windshield bugs, no harsh winter winds bearing down on the lake — just sun and lake and sky and mountains. Paradise."
Cheat Lake is a beautiful 13 mile long reservoir in a small town of the same name near Morgantown, West Virginia and the southwestern border of Pennsylvania. West Virginia is a friendly place for retirement, and Morgantown is the home of the Mountaineers of the University of West Virginia. About 8,000 folks live on or near the lake and experience its quiet charm. Cheat Lake has 3 marinas located towards the river end of the reservoir.
Lake Martin near Auburn, Alabama is rated one of the top lakes in the country for fun, recreation, and beauty. There are many second homes owned by folks from Birmingham and even Atlanta. Lake Martin includes many popular attractions, including eagles nests, natural sand beaches, restaurants, camping areas and popular islands. The lake has several landmarks, such as the Kowaliga Bridge, and several marinas.
Table Rock Lake is one of the popular draws for the nearby town of Branson, Missouri. There are several commercial marinas along the lake, and Table Rock State Park is located on the east side of Table Rock Dam. Branson, popular with tourists, is of course an interesting attraction in its own right. Known as "Family Friendly" Las Vegas, it features 100 live shows in over 50 theatres, plus museums and amusement parks.
Lake Maxinkuckee, the second largest natural lake in Indiana, borders the town of Culver, IN. The shore is lined with beautiful homes and the Culver Academies, a distinguished college-prep boarding school. The Town of Culver is the hub for eating, shopping and living.
Bottom Line
Living on a lake can offer a wonderful, relaxing lifestyle. It is usually much less expensive option than trying to live near a beach.
Comments and Suggestions. Can you add the advantages and disadvantages we've listed here for retiring near a lake? How about some more great lakes that it would be wonderful to retire on? Please share your thoughts in the Comments section below.
For more information:
Great Mountain Towns for Retirement
Great College Towns for Retirement
Affordable Places to Retire on the Waterfront
5 Big Reasons Why Small Towns Are Great Places to Retire
10 Great Walkable Towns for Retirement
Posted by Admin on January 4th, 2020