Best Retirement Towns and States
May 15, 2020 — Since the reaction to our first "10 Great Places to Retire You Never Heard of" was so positive, here are 10 more to consider. This exercise has been fun and a great way to prove the point that there are so many interesting places to retire that never get the consideration they deserve. One of these just might be the perfect place for you to retire!
To try to spread things around, this time we have looked for best retirement towns that are geographically diverse and add towns from states not represented in the first 10. Most are fairly affordable, while some of the towns in prime locations reflect the cost of living in a very desirable community. Most of these "undiscovered" towns have fairly small populations.
Here we go:
Travelers Rest, SC. This small town near Greenville with interesting little shops got its name from its days as a stopover for weary travelers during the early 1800's. The Swamp Rabbit Trail is a 20 mile multi-use greenway system that follows the old railway system between Greenville and Travelers Rest.
Edenton, NC. This beautiful small town on the Carolina coastline is known for its many lovely homes and pre-Civil War mansions on tree-lined streets. The waterfront and the wide main shopping street are exceptional. Edenton is proud of its history as the first permanent settlement in North Carolina. Residential and the commercial district lead to a picturesque, grassy waterfront that is a favorite spot for residents and tourists alike
Millsboro, DE. Located in southeast Delaware, Millsboro is an affordable place to retire not far from Rehoboth Beach and other Delaware beaches. It is a small and pretty historical town, the market center for the outlying area because of its river location. The town and area is loaded with active communities to choose from.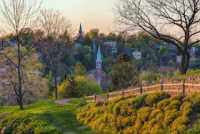 Galena, IL. One of the most beautiful towns in Illinois, this small community is located in northwestern Illinois near the Mississippi River and the Wisconsin and Iowa borders. The town is named for galena, an ore of lead sulfide. It features many beautiful homes and buildings with French Colonial and Victorian architecture.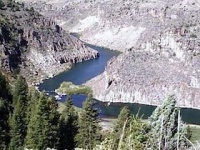 Driggs, Idaho. This very small town on the southeastern border of Idaho has a lot going for it. Located in the Teton Valley, it is home to many artists who come here to paint the scenery. Some see Driggs as a less expensive alternative to nearby Jackson, Wyoming. The Grand Targhee Ski Resort is just 12 miles distant. According to Zillow, the median home value in early 2020, was $366,541.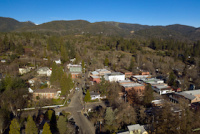 Jacksonsville, OR. As one of the first gold mining towns in the state of Oregon, it retains the legacy great beauty and history. The Jacksonville Historic District is now a U.S. National Historic Landmark. It is a few miles west of Medford in the Rogue Valley. Real estate prices are above the national median with the Zillow Home Value Index at $460,000.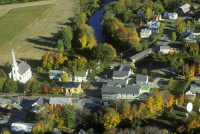 Waitsfield and Warren, Vermont. Often thought of together with the small adjacent town of Warren, Waitsfield is just a few miles from 2 top Vermont ski resorts, Sugarbush and Mad River Glen. The town itself is cute and exudes a New England feeling. The college town of Burlington and Lake Champlain are not far away.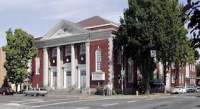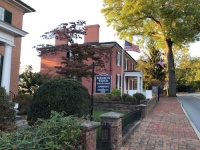 Staunton, VA. Maybe if you are history buff you know about Staunton, but this college town in western Virginia generally has a pretty low profile. The Presidential Library of Woodrow Wilson is here, along with Mary Baldwin University on a hill overlooking the town.
Westerly, RI. The downtown is especially beautiful with classic buildings and churches. It includes a number of lovely little villages including Watch Hill, a watering hole for New York's elite. Misquamicut State Beach is one of the finest public beaches anywhere. The Zillow Home Value Index was recently $368,000.
Oxford, OH. With its 16,000 Miami University students, this college town is an undiscovered treasure. Oxford is famous for the small town feel of its historic Mile Square, the pre-World War II residential area of Oxford. Residents can enjoy a pleasant walk to the Miami University campus or the charming Uptown area for the weekly Summer Music Festival.
Bottom line. Once you start exploring we think you will be pleasantly surprised by how many lovely retirement towns exist that you might not have considered. Is your town an undiscovered treasure? Please add your suggestions for ones we should include in the Comments section below.
Posted by Admin on May 20th, 2020