Best Retirement Towns and States
November 8, 2012 — Weather is a critical input in the retirement happiness quotient for most people. Back in September we provided a list of resources where members could research the best weather conditions to fit their personal tastes. This month we've taken a different approach — we've selected the top 10 places to retire based on our own weather criteria. And because there are lots of good choices, we've also included a few honorable mentions. Note that although our choices are numbered 1 – 10, the choices are so subjective it is better to view them as all good choices rather than one is better than another. This article was prepared in cooperation with WSJ MarketWatch, who published a beautiful slideshow version of the 10 Best Places to Retire for the Weather.
The places on this list all offer good weather, which we define as a combination of relatively low amounts of rain or snow, fewest number of days below 32 or above 90 F., most days with sunshine, and low humidity. In addition to our own research we relied on 2 great sources: the "Camelot Index" (remember the Jay Lerner song from Camelot which includes this lyric: "…The climate must be perfect all the year…", as well as the Milken Institute's Best Cities for Successful Aging project. (Thanks to member Ron M., who turned us on to this great resource).
Thoughts about our selections
We tried as hard as we could to offer some geographic diversity to the list. Although we managed to find finalist on both coasts and along the Gulf of Mexico, retirees looking for good weather destinations in the midwest and northeast will be disappointed – it is just too cold and/or wet in those places. We focused on towns and small cities rather than large cities, figuring more folks are interested in the former for their retirements. We also concentrated our picks on towns that we know to be attractive to retirees.
The top 10 Great Places to Retire for Weather
1. San Luis Obispo, CA. Here on central California's Pacific Coast the average January low temperature is in the low to mid 50's and the average July temperature is in the high 60's.  From December to February you can count on at least 4″ of rain monthly; the rest of the year is quite dry. San Luis Obispo offers the attractions of a college town (Cal Poly), great beaches, as well as several active adult communities to choose from. We chose San Luis Obispo but the fact is almost any California city would qualify as a great weather retirement destination, notably San Diego (the one place in the country where the weatherman can always be right, since the sun is always shining). The Milken Institute also included Santa Barbara, San Luis Obispo, Napa, Santa Rosa in its top 10 rated weather cities.
2. Las Cruces N M. One of the best things about towns like this in the southwest is that their higher altitudes (Las Cruces is 4,000 ft. above sea level) moderate the year round climate. The dry climate is also a plus, which makes Las Cruces especially appealing for people who hate humidity. The town is #17 on the Milken Institute list for weather (Small Metros), which combines such "perfect" weather conditions as heating degree days, cooling degree days, humidity, rain/sleet, and days of sunshine. Locals boast the sun shines 350 days a year in Las Cruces. Plus,attractions like New Mexico State University liven things up and help make it a great place to retire.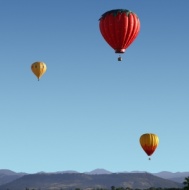 3. Medford, OR. The stereotype about Oregon is that it is so rainy that people wear WD-40 instead of sunscreen. The reality is that the state is a series of climate regions. The farther you get from the coast the dryer it gets. Located in the south central part of the state in the Rogue Valley, Medford is #12 on the Milken Weather list for weather. The climate is great for fruit too, as one of the big local industries is Harry and David of mail order fruit fame. On the negative side, there are complaints about winter fog.
4. Carson City, NV. The capital of Nevada has an elevation of 4,700′, situated as it is in the Sierra Nevada foothills. The amazing beauty and recreational opportunities of the mountains and nearby Lake Tahoe are a big plus, as in the absence of a state income tax. (#19 on the Milken list).
5. Sequim, Washington. Airline pilots gave Sequim its nickname, the "blue hole", because they kept noticing it was the only cloudless spot in this region. Even though it's on the incredibly wet Olympic Peninsula, it gets just 14″ of annual rainfall, about the same as Los Angeles. Outdoor recreation is outstanding, as is the boating on Puget Sound.
6. Key West, FL. The southern-most city in the continental U.S., Key West is also the only frost-free city in the lower 48. The all time low temperature was 41 degrees. Yet even in summer the temp range is in a very small band – the highest temperature ever recorded was 100, and that was in 1886! Key West ranked 10th on the Camelot Index (but don't come here if you dislike summer humidity!). By 1860 Key West was the largest and wealthiest city in Florida (and the wealthiest per capita in the U.S.). Its stock of perfectly preserved Victorian homes and its island atmosphere are two of the city's many attractions.
7. Lake Charles, LA. Water is a big part of Lake Charles' appeal since it is Located on Lake Charles, Prien Lake, and the Calcasieu River in southwestern Louisiana. This booming city boasts warm winter temperatures and a #20 rating on the Milken list, the highest ranking of any city in the central or eastern U.S. High humidity is one of its few weather drawbacks.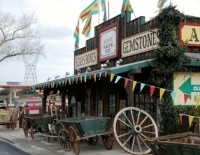 8. Prescott, AZ. Arizona towns don't rate quite as high on weather parameters as other places in the west, mostly because of scorching summer temperatures. But places like Prescott, Sedona, and Flagstaff that are higher above sea level in the northern part of the state aren't quite so brutally hot. Prescott, which was the capital of the Arizona Territory, is a fun place to live and popular place to retire. Whiskey Row and the courthouse are local hot spots. (# 27 on the Milken list).
9. St. Marys GA. We like the location of this up and coming area. Being near the coast moderates temperatures a bit year round, plus you can always escape to the beaches and Georgia's Sea Island. St. Mary's is in very southern Georgia, just above Jacksonville (FL) and not that far from Savannah. It shares similar weather to nearby Brunswick, #33 on the Milken list. Home to a U.S. Navy submarine base, St. Marys is especially popular with military retirees.
10. Asheville, NC. We chose Asheville for this list because it is ideal if you want to retire in a place where you can experience the 4 seasons – in moderation. There is a touch of winter from its location in Carolina's western mountains, but that also makes it cooler than the rest of the state in summer. Asheville is also the perennial most popular retirement spot at Topretirements. The average July high is 84 and the average January low is 27 (the average high is 46). The wettest month is March (4″).
Honorable Mentions [Rank on Milken list shown in ( ) ]
Blacksburg, VA (#46). Blacksburg, home to Virginia Tech University, is in western Virginia west of the Blue Ridge Mountains.
Myrtle Beach, SC or Wilmington, NC. (#50). Both of these towns on the Carolina coast have a moderate climate, great beaches, and plenty of places to live.
San Angelo, Midland or Odessa TX (#32-34). These towns in western Texas near the New Mexico have some of the best weather in Texas. Plus they are quite prosperous thanks to their oil wealth.
Florence, SC (#55). In addition to some pretty good weather the city has a successful downtown redevelopment project along with a diversified economy.
Hattiesburg, MS (#70). This "Certified Retirement Community" is home to 2 colleges and a huge historic district of Queen Ann, Victorian, and Greek Revival homes.

For further reference:
References for finding places with the best weather
Camelot Climate Index
Milken Institute Small Metros Ranking for Successful Aging (General)
Comments?
What is your ideal weather for retirement? And what places are you thinking about retiring to for the weather you like best? Please let all of us know by posting in the Comments section below.
Posted by John Brady on November 8th, 2012