Best Retirement Towns and States
November 5, 2013 — Note: See the 2018 counterpoint to this article: "Five Reasons Why You Might Not Like a Small Town Retirement". Moving to a small town for retirement is a frequent dream for many baby boomers. After battling urban traffic and/or the hassles of suburban living during your working days, the thought of living in a Norman Rockwell-like community might seem like a relaxing alternative. In this article we will give you 5 good reasons why a small town retirement is a good idea, with an example for each. And for good measure we've included 5 more picks for great small towns at the end of this article. Obviously there are a lot more, so please use the Comments section at the end of the article to give us the towns you would have included.
1. I'll Walk, Thank You
One of the top reasons people like small town living is the ability to walk downtown for the necessities of life, without having to get in the car. The charming colonial town of Old Saybrook, Connecticut is a great example of a walkable downtown. Here it's easy to find a home or condo that's just a short walk to the many downtown restaurants and shops. In many neighborhoods it's just a short walk to where the Connecticut River meets the Long Island Sound.
This charming old town of just over 10,000 (founded in 1635 ) was one of the original 3 English colonies in Connecticut. Strategically important, it has the ruins of a fort built during the French and Indian War. Yale University was established here before moving to New Haven a few years back (in 1716). Old Saybrook's most celebrated resident was Katherine Hepburn, who lived in a private community on the point called Fenwick.
2. Social Network
The ease of making social connections is another key attraction of small town life. Located on the other coast, Port Townsend, Washington offers a strong sense of community. Its citizens, many of them artists, share a well-deserved pride in their beautiful Victorian setting.

Port Townsend is located on the northeastern tip of the Olympic Peninsula, just across Puget Sound from Seattle. Port Townsend was a thriving port settlement – unfortunately the Union Pacific Railroad bypassed it. This event left Port Townsend with an incomparable stock of great Victorian buildings and houses that were never "remodeled". Most of the town is preserved as a national historic district. It has an incomparable setting on the water and with views of the Cascade Mountains to the east and the Olympic Mountains on its west.
3. So Pretty It Hurts
Some small towns are just downright beautiful, which is why many people think smaller when it comes to retirement. For a charming environment it is hard to beat Beaufort, SC, the "Queen of the Carolina Sea Islands" near Hilton Head. Tourists enjoy horse-drawn carriage rides through the extensive historic district canopied with Spanish Moss.
Beaufort (pronounced b'yoofurt) was discovered by the Spanish in 1514 and lies in the Sea Islands or "Low Country" area of South Carolina. It has a population of 11,000.
4. The Recreation is Easy
Easy access to recreation is another factor that retirees consider when looking for a place to retire. While not every town can afford to offer recreational options like those of their larger brethren, Evergreen, Colorado, was a popular summer vacation spot for both President Roosevelts, along with other celebrities. Today it is an affluent suburb 15 miles west of Denver. Residents here enjoy the Evergreen Lake and Evergreen Lake House, as well as use of thousands of acres of surrounding parks, so it is a good example of a small town with plenty of nearby recreation. Downtown Evergreen includes a mix of historic buildings and local businesses.
5. Get Cultured
While you might not think of culture as a typical small town draw, many do offer the rich cultural life desired by retiring baby boomers. Mount Dora, Florida is a place with multiple cultural venues. There are 2 theaters including the Mount Dora Center for the Arts, plus many festivals and events on the Town Square.
Mount Dora exudes a comfortable "Southern" charm and hospitality. This central Florida lakefront community is nestled in gentle hills, orange groves, and Live Oak trees. With an elevation of 184 feet, it's Florida's equivalent of a mountain top town! Laid out around a large square, the downtown has shopping, excellent antiquing, and a rich cultural life with many festivals.
Five More Great Small Towns for Retirement
Quasi-College Town – Exeter, New Hampshire. This small town of is home to one of America's most prestigious prep schools, which gives Exeter the feel of a college town. The downtown is beautiful and bustling. Exeter is a beautiful New England town, founded in 1638! It's only downside is that all that charm comes at a price, the median home sold for between $250,000 and $300,000 in 2013.
Inexpensive and a Great Library – Independence, Kansas. This town in southeastern Kansas of just over 9,200 boasts home prices that far less than half the national average. It also has a library that was named the "Best Small" library in the country by Library Journal. Laura Ingalls Wilder grew up near here and wrote her famous "Life on the Prairie" novel based on her experiences.
Charlevoix the Beautiful. Located on one of Lake Michigan's best natural harbors,this town has considerable recreational boat traffic passing through here. Its population swells from about 3,000 people to 30,000 in the summer, when there are many festivals. One of the top recreational attractions for bicyclists and cross country skiers are the rail trails along Lake Michigan between Charlevoix and Petoskey.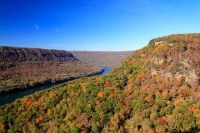 On Top of Old Smoky – Signal Mountain, Tennesee. As the name implies this town on top of a hill was a signal outpost during the Civil War. Then people came here for their health. Today this small town atop the Tennessee River is home to 7,400 mostly affluent residents who come for the views and outstanding community resources. The Signal Mountain Playhouse presents 2 plays per year including an outdoor musical every summer in the natural amphitheatre. The Mountain Arts Community Center offers classes in music, dance, and visual arts from its historic building.
Cowboy Town – Cody, Wyoming. For the adventurous looking for a small town in the wide-open spaces you might consider Cody, a town of 10,000 in the northwest corner of the state. It was named after William Frederick Cody, who you probably know as Buffalo Bill. Cody is home to one of the biggest rodeos in the country. Tourists access the East Gate of Yellowstone National Park from here.

Comments: Small towns can make for great places to retire for many baby boomers. The trick is to find the one that offers the combination of ingredients that can provide you with the lifestyle of your dreams. Some, but not all, of the nicest tend to be pricey, following the laws of supply and demand. Please add your favorites in the Comments section below. And, if you live in or have checked out some small towns for your retirement, please share your experiences with your fellow members.
For further reading:
Best Small Towns for Retirement
Best College Towns
Posted by Admin on November 5th, 2013