Best Retirement Towns and States
February 5, 2020 — For many retirees, getting to where you want to go in a golf cart is just about heaven. For those living in one of the best golf cart communities, they can forget the car; a golf cart (or low speed vehicle) is all they need to get there and enjoy the surroundings in the open air. Most active adult communities allow you to keep a golf cart and drive on community roads to golf, pickleball, or the clubhouse. But the real bonus comes with places where you can get to destinations outside of the community like the supermarket, doctor's office, and movie theatre. In this article we'll review some of the best communities and towns in America for golf carts.
Best Golf Cart Communities in America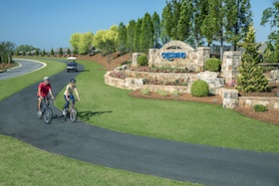 Peachtree City, Georgia is a huge planned community about 25 miles south of Atlanta, Georgia. Although it is famous for its golf cart oriented transportation system, it is not a 55+ community – it is for people of all ages – the median age is 37.5. You probably can't walk to too many places nor take public transportation, but you sure can get about anywhere in your golf cart. There are special roads throughout that let you get to shopping, amenities, or different developments. Cresswind Peachtree City is an example of the type of active community within this city.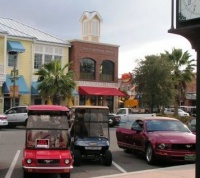 The Villages in central Florida is another community where golf carts reign supreme. Lots of people have customized versions and even enjoy parades. Many couples only have one car, but two golf carts! Since The Villages has 3 town centers and over 129,000 residents, that gives your cart a lot of room to roam!
Laguna Woods Village, California. This is the largest 55+ community in the West. Golf carts and low speed vehicles are permitted in the city of Laguna Woods as well, with special paths and crossings provided. There is even a guide to where and how they can be used. Home choices include high-rise towers, single-family homes and multi-family models. There is every kind of activity and amenity, and those include 7 clubhouses, 5 pools, 230 clubs, and a performing arts center.
Sun City Center, Florida. This golf cart-friendly community near Tampa is big and spread out so a golf cart makes transportation easier. With 250 clubs here, there is always somewhere to go. A popular annual event is the golf cart parade.
Bald Head Island. This small island small off the coast of North Carolina near Southport is only accessible by ferry. Golf carts are often the main mode of transport on islands where space is at a premium. Defauskie Island near Hilton Head and Savannah is an example. Near Charleston, places like Daniel Island are also very golf cart friendly. St. Simons Island is a golf cart friendly town and resort in Georgia.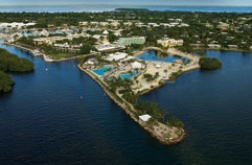 Ocean Reef Club in the Florida Keys. This ultra luxury community offers golf, boating, tennis, shopping, and fine dining. Golf Carts are the preferred way to get around. There is even a rental program for folks who don't own a golf cart.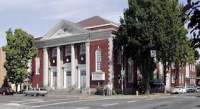 Palm Desert, CA. Permitted drivers are allowed to use golf carts for travel to schools, parks, businesses, shopping centers, and government offices within the City of Palm Desert. The Palm Desert Golf Cart Parade celebrated its 54th anniversary in 2018, with thousands of residents lining the streets to view the passing golf carts.
Sun City, Arizona. Sun City has made it legal for golf carts to drive on the local streets. Estimates are that 40-50% of households own a golf cart here.
Solivita – Kissimmee, FL. Golf carts are the most common form of transport in this Florida community of 5,900 homes. The community itself is huge (4,300 acres) with almost endless amenities, so getting around in a golf cart comes in handy.
Indian River Colony Club, Melbourne, FL. Residents of this active community for retired military personnel rely on their golf carts to get around to all the various amenities.
On Top of the World, Ocala, Florida. Planned for 10,000 homes, this community is huge. It was founded in 1947 and is Florida's oldest privately owned land development. Homeowners enjoy golf, tennis, pickleball, and fitness classes. There is an extensive network of golf cart trails and roads, so it is easy for residents to get to those venues in their own golf carts.
Bottom line. People who live in one of the best golf cart communities in America love the idea of getting around in their golf cart. The convenience, easy parking, and open air are hard to beat. So if you are looking for a place to retire where a golf cart can be your main form of transportation, check out the communities we've listed above.
Comments? Do you know other communities and towns where golf cars are the main form of transportation? Does this mode of transportation appeal to you? Please let us know in the Comments section below.
Posted by Admin on February 4th, 2020