Best Retirement Towns and States
November 26, 2019 — Are you in the camp of retirees who "hate" Florida, or are you among those that "love" it? Most folks thinking about the best place to retire in Florida seem to fall into one of those divisions; not so many have no opinion. In our view, Florida is filled with many great retirement towns, and it is diverse in more ways than you might think. This article will tell you a bit about this very large and populous state, plus give you a list of 12 Florida towns we think make for a great place to retire.
First, a few facts
Florida's 2018 estimated population was 21,300,000, the 4th most populous in the nation. Some 19% of the population is 65 and over, compared to 15% nationwide.
Geographically speaking, the State has a very unusual shape – it is both tall and wide. So tall and wide that it takes over a day to drive from Pensacola to Key West (832 miles). Florida is the 22nd largest state, has the longest coastline in the contiguous states, and the only state to have a coastline on the Atlantic and the Gulf of Mexico. It is a very flat state, which is one of the things that people tend not to like about it (Mount Dora, at 185′ is one of its highest towns).
Florida's median home value in late 2019 was $237,900 – up from $120,600 in 2012 (Zillow), just slightly lower than the U.S. median ($231,000 – Zillow, or $163,500 – NAR). According to Zillow.com the priciest metro in the state for homes is Naples ($329,100) and the most inexpensive is Pensacola ($132,100).
From a tax viewpoint Florida is very friendly to retirees. There is no state income tax. Sales tax is 6%. Florida has a homestead law, Save Our Homes, that protects full-time residents from property taxes above the rate of inflation. One of the few economic negatives about Florida is that in many areas near the coast, property insurance is very expensive. Many private insurers have pulled out of the market after several bad hurricane seasons, leaving the non-profit Citizens Insurance Co. as the insurer of last resort. You can find more facts about Florida in our FL Mini-Retirement Guide.
12 Best Places to Retire in Florida
There are multiple ways to come up with the 10 Best Places to Retire in Florida. One way would be popularity at Topretirements: on that basis the leading contenders in 2019 would be Pensacola, Sarasota, St. Petersburg, Fort Myers, Venice, and Jupiter – all of these towns made our recent "20 Most Popular Places to Retire in the Southeast". But based on some other rating factors – location/geography, charm, walkability/traffic, cultural resources – this a sampler of our top choices, in no particular order.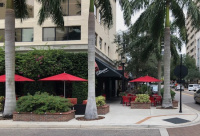 Sarasota, FL. Some consider Sarasota to be the cultural capital of Florida, after Miami. It has one of Florida's best walkable downtowns with many interesting neighborhoods. An impressive array of cultural facilities are available in Sarasota, along with high-rise, luxury hotels and apartments. The barrier islands have great beaches and developments where retirees can live.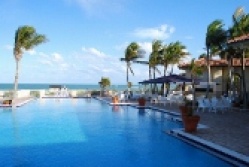 Vero Beach. Located in the middle of Florida's Atlantic Coast, the town is in several parts – a long 'beach" area on the barrier island with a resort feel, and a large downtown across the bay on the mainland. There are types of interesting active adult and 55+ communities offering an array of lifestyles. The Zillow Home Value Index was $214,100. One potential drawback is Vero is relatively far from a big airport. On the other hand, it doesn't have the congestion of some bigger places.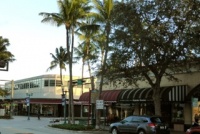 Delray Beach
We love Delray Beach for so many reasons. At the end of the main street is an amazing stretch of public beaches and dunes. Take a boat tour on the Intracoastal…Enjoy the interesting restaurants filled with interesting people of all ages…Live downtown in a condo above the many cool shops… or take in a concert or a museum. Above all you can walk anywhere with ease. Surprisingly, the Zillow Home Value Index was only $209,800, making it a much more attractive alternative than Fort Lauderdale, Boca Raton, or Miami. Properties near the water will be much more.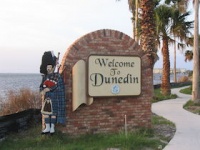 Dunedin
This great little town (pronounced Due need' an) just north of Tampa and St Petersburg still celebrates its Scottish heritage. It has a concentrated and interesting downtown that is easy to walk through. In a State known for its beaches, its easily accessible public beaches are some of the best. There is a 39 mile bike/walk trail system running through town.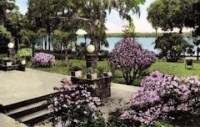 The heart of this walkable town near Orlando is Park Avenue. It is aptly named, as Winter Park claims it has more park space than any town in Florida. The walkable main street includes retail and public civic buildings, art galleries, a private liberal arts college (Rollins), museums, a park, a train station, a golf course country club, a historic cemetery, and a beach and boat launch. The Zillow Home Value Index in Winter Park is $402,700, higher than we expected to see.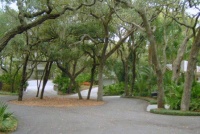 Fernandina Beach
Situated at the very top of Florida on the Atlantic Ocean (just above Amelia Island), this town has a wonderful and walkable downtown. There are great restaurants and shops. Best of all if you live in one of the cute neighborhoods you can be downtown with just a few steps.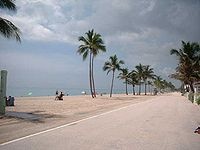 Hollywood Beach.
Hollywood is just south of Fort Lauderdale. It enjoys about 60 parks, seven golf courses, and beaches that run for miles. Hollywood Beach is famous for the great boardwalk that extends about 2.5 miles along the Atlantic Ocean.
Key West. Once the wealthiest city in Florida, Key West citizens have created fortunes over the centuries from shipwreck treasures, turtles, sponges fishing, and cigars. Most recently its economy is based on the tourist trade and folks looking for a warm and artsy place to spend the winter. You can walk or bike anywhere on this small island with nice bike lanes and drivers who look out for pedestrians. "The Conch Republic" attracts artists, musicians, and people of every type under the rainbow.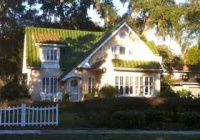 Mount Dora. This central Florida lakefront community is nestled in gentle hills and orange groves. Its elevation of 184 feet makes it one of the higher communities in Florida. It features active shopping, excellent antiquing, a rich cultural life, and recreation. Many festivals and community events attract residents and tourists. See the article we wrote on Mount Dora.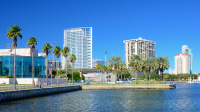 St. Petersburg has long been a synonym for retirement community, which does not tell the real story. This city on a long peninsula has a lot going for it. For one, it has a bustling, big city downtown with thriving businesses and lots to do. For another, it's a peninsula with beaches and water just about everywhere. Then it has many funky neighborhoods and villages, like definitely funky Gulfport and its famous dancehall Casino.


Tarpon Springs is a fascinating little town on the West Coast above Tampa and St. Pete. What makes it unique is its Greek heritage – descendants of earlier immigrants who came here for sponge gathering are still here fishing and operating Greek restaurants for tourists. Another unique feature of Tarpon Springs is that is has 2 downtowns. The main one has a nice area with shops, restaurants, and the old train station. It is charming, but a bit frayed around the edges like a funky town should be. The waterfront area a mile away offers an array of Greek restaurants and views of fishing and shrimp boats.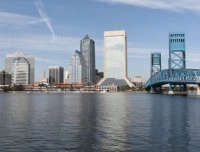 Jacksonville. You might not think you want to retire in the 12th largest city in the country. But this huge city has many very different neighborhoods and areas to retire in – from little beach communities, to an urban setting, to sophisticated new urban style communities. An historic neighborhood that gets a lot of favorable press is the Riverside and Avondale area. Surrounding towns like Orange Park and Fleming Island offer many interesting options.
Bottom line. We hope this whets your appetite for a possible Florida retirement, because there are a lot more towns like these if you get out and explore the Sunshine State. Please let us know your favorite towns in the State in the Comments section below.
For further reading:
Posted by Admin on November 26th, 2019