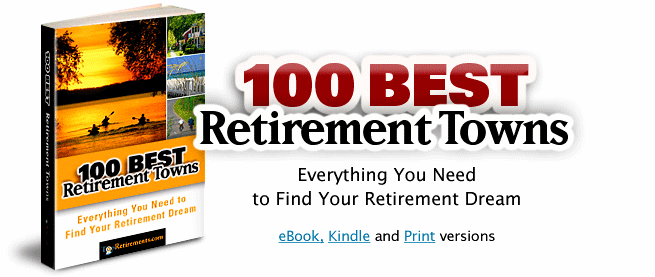 The Perfect Retirement Gift

"100 Best Retirement Towns"
Help your favorite retiree get off to a good start with this fun and practical book
100 Best Retirement Towns, a new guide from the editors at Topretirements, makes the perfect retirement gift for men or women. With all the facts about America's best retirement towns, this practical book will help your favorite retiree find the best retirement spots with lower cost of living and the most interesting lifestyles. They will discover livable towns in the Sunbelt, college towns, small towns, livable cities, etc.
&nbsp
&nbsp
Practical Insight into the 100 Top Retirement Towns - from Asheville to Williamsburg
What is Special about Each Town
Powerful Workbook: 16 Key Selection Factors to Consider
Complete info on Culture, Climate, Medical, Transportation, Taxes, etc.
Average Home Prices
Useful Facts about Each Town
Ratings by Site Visitors
Retirement Community Selection Checklist
The Most Popular 100 Towns at Topretirements - with photos
Retirement Community Selection Checklist
312 practical pages
100's of helpful links
Free Shipping!
eBook or Print Format
Download a free sample here:
Here's What They Are Saying About "100 Best Retirement Towns??
FloridaforBoomers.com - "What I like best about what Top Retirements has done here is the in-depth research they've done for each of the towns listed. The 312-page book is available in ebook, Kindle, or print format. I highly recommend you pick up a copy if you're doing research on places to retire in the coming months or years."
About the Authors:
The Topretirements editorial team has been researching the best retirement towns and communities since 2006. This book helps any retiree get the inside details and practical information to get retirement planning off to a great start.
Your Satisfaction Guaranteed:
We are so sure that 100 Best Retirement Towns will streamline your research and help you find the right community that we offer a 100% money back guarantee, any time.
Choose One of These Gift Options
Paperback and eBook Combo $32.00
Includes the paperback book & ebook in PDF format

eBook – 100 Best Retirement Towns $12.95

Print – 100 Best Retirement Towns $25.52

Free Shipping! Print copies will be shipped next business day by USPS Media Mail. eBooks will be emailed within 24 hours. Sorry, print version shipped to U.S. addresses only.
Satisfaction Guaranteed.
Pay by Check Option.
Send your check along with address and version choice to Topretirements.com, PO Box 1308, Madison, CT 06443
Questions: Please feel free us to email at
Contact Us or Phone (203 415 4792)
&nbsp
&nbsp