Today's Newsletter Sponsored by International Living:
Learn about the world's 6 best places to live or retire. Live well on $30/day. Own an exotic beachfront getaway for $35,000. Or a romantic pied-a-terre for under $60,000. Enjoy fine restaurant dining for $7 per person. Employ a maid or gardener for $6 a day. Buy comprehensive health insurance for $20 per month.
-------
Following up on Part I of this series from September, here are 8 more affordable and nice places to retire. All are in relatively tax-friendly states, all have higher than average cultural interest, and each has a housing cost at least 25% below the national average.
Like a lot of other cities in Oregon, Washington, and Colorado, Portland has long been known as hot spots for people who like to bicycle. But now this fast growing city is setting the bar even higher, with bike-oriented bars, hotels, and businesses that are purposely located on popular biking routes.
Click on a state to see reviews of 750 great retirement towns, plus a list of 1,490 active adult communities. 
Retirement Related Stories
Amortality
(Article on the "burgeoning trend of living agelessly". Thanks OldNassau)
If you have been thinking about living near the water and the beach then you might want to consider Melbourne, located on Florida's Space Coast.  The town has 33 miles of beaches, endless access to the Intracoastal, and plenty of nature preserves. There are quite a few active communities to choose from as well.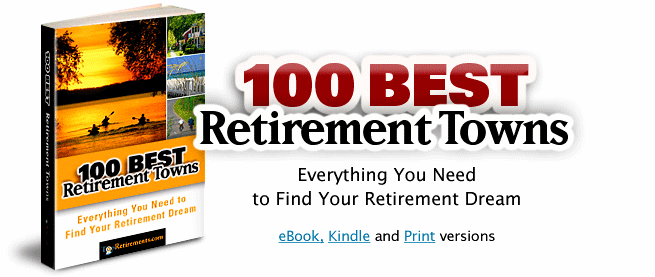 Make your research easier. This handy book from Topretirements gives you the inside facts and data on the 100 most popular retirement towns. Available in eBook (pdf), Print, or Kindle for as low as $9.95.
Did you know we have 3 other eNewsletters to help you in your quest for the perfect retirement? The Daily Digest (headlines and links to new items)
Active Communities East (a weekly update on all new active communities in the East)
Active Communities West (new communities added in the West).
List Your Community
Promote your community with a free listing at  Topretirements. Just go to
Add Your Community
. If you already have a listing, update it now to display our new features.
Having Trouble Logging in?
You might not have confirmed your registration. Look for that email.  Or go to our
Help
page (there is a link to it on the bottom of every page) 

Subscribe via RSS
RSS Feed  Get live updates in your web browser window.

Unsubscribe
If you no longer wish to receive this newsletter you can unsubscribe here.

Last Week's Most Read Articles
Helpful Resources