Pictured above:  Attractive downtown in Huntsville, AL, one of the more affordable (and nice) communities reviewed on this site.
Affordable Retirement Is Not an Oxymoron
Baby boomers, for a lot of good reasons, are really worried about retirement. Will they be able to make that transition, and how will they ever afford to retire in the style to which they have become accustomed?  This article explores affordable retirement lifestyles, strategies, and locations; all to help you get the quality retirement you deserve.
Click on a state to see more towns and a list of active adult communities.
Here's an interesting North Carolina town with a very low profile. As a former river port, Tarboro boasts a 45 block area of historic homes that was created by the National Park Service. Home prices are very reasonable - the median is below $100,000.
The Senate has taken on the task of checking on the financial health of the Continuing Care Retirement Community (CCRC) industry. Their findings recommend that, given the risks confronting the industry, the states should be more cautious in regulating CCRCs, and consumers should retain lawyers to help them understand their protections.  
If you like this newsletter
, why not forward it to a friend? They can get their own free subscription
here
.
Dalhonega, GA
Unless you are a numismatist you might not be familiar with this little town northeast of Atlanta and not far from
Lake Lanier
. Dahlonega was home to the first gold rush in the U.S.; now the coins from the old Dahlonega Mint are quite collectible.  The town has won numerous awards such as being part of the National Main Street program.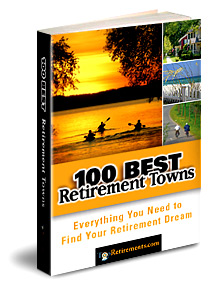 100 Best Retirement Towns
Find out the inside facts about the 100 most popular retirement towns at Topretirements.  Get ratings and information on more than a dozen attributes. Available in print, eBook, or Kindle formats (Kindle works on iPads).  
Sign up and get a digest email every day with links to anything new. Try it!
A vigorous discussion has broken out in our Forum on what people think about their chances of finding affordable housing. It ties in well with this week's feature article about affordable retirements. Weigh in with your opinion.
Topretirements is a great place to promote your 55+ community. Create a free listing at
Add Your Community
! If you already have a listing, update it now to take advantage of our new features.
About our Schedule: This free eNewsletter is published twice weekly. The Wednesday edition focuses on retirement issues and best towns. The weekend edition concentrates on the best active adult and 55+ communities.

Subscribe via RSS
RSS Feed  Get live updates in your web browser window.

Unsubscribe
If you no longer wish to receive this newsletter you can unsubscribe here.

Last Week's Most Read Articles
Helpful Resources