Pictured above:  The magnificent Pacific Coast at Mendocino, CA
Happy Thanksgiving to all of our subscribers in the USA.  We are grateful for so much, including all of you!
Nobody loves a good list of retirement places more than we do. But we have some issues with Money-Rates's new list of the worst states for retirement. Read on to see why we disagree with 8 of their 10 choices.
Click on a state to see reviews of 608 great retirement towns, plus a list of 1,166 active adult communities. 
The Research Triangle area of North Carolina is one of the hottest retirement areas in the country. So much so that the locals joke that CARY stands for something about Yankees (click on full article to see what). The city has won awards as a best place to live as well as being bicycle-friendly. Carolina Preserve, one of the largest active communities in the country, is located here in Cary. 
If you like this newsletter
, why not forward it to a friend? They can get their own free subscription
here
.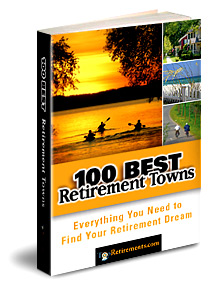 100 Best Retirement Towns
Get the inside story, facts, and opinions on the 100 most popular towns at Topretirements. eBook, Print, or Kindle versions.
The President's bipartisan deficit commission has published a draft plan for how to eliminate the deficit. Our article explores how those ideas might affect you. And, it contains links to the NY Times' amazingly popular "You Fix the Budget" interactive exercise.  We suggest you take it, it is most interesting!
Don't miss anything new with this digest email. You get links to every new story, community, or review from the day before. It's totally free and you can cancel anytime.
Mendocino, CA
It is hard to find a more beautiful spot than Mendocino. And if it looks kind of familiar, that's because you have probably seen Jessica Fletcher ("Murder, She Wrote") solve countless mysteries along its rocky cliffs. This town in Northern Califorina is also known for art.
List Your Community
Promote your community with a free listing at  Topretirements. Just go to
Add Your Community
. If you already have a listing, update it now to take advantage of our new features.
Having Trouble Logging in?
You might not have confirmed your registration. Look for that email.  Or go to our
Help
page (there is a link to it on the bottom of every page)