Click on a state to see reviews of 672 great retirement towns, plus a list of 1,307 active adult communities. 
This World Heritage Site is famous for art and now for literature as well. After WWII a number of American GIs came here to study art on the GI Bill. This beautiful town has a large expatriate population.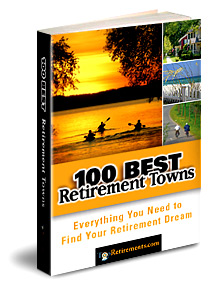 Get on track with your retirement planning. Our "100 Best Retirement Towns" provides 300+ pages with the inside stories, facts, and insight on the 100 most popular towns at Topretirements. eBook, Print, or Kindle versions.
Consumer Reports compared the CNN and U.S. News lists of best places to retire and found only one town common to both lists, Columbia.  One of the reasons is its very successful urban renewal effort.
List Your Community
Promote your community with a free listing at  Topretirements. Just go to
Add Your Community
. If you already have a listing, update it now to display our new features.
Having Trouble Logging in?
You might not have confirmed your registration. Look for that email.  Or go to our
Help
page (there is a link to it on the bottom of every page) 

Subscribe via RSS
RSS Feed  Get live updates in your web browser window.

Unsubscribe
If you no longer wish to receive this newsletter you can unsubscribe here.