Our apologies if you were unable to access Topretirements last weekend. A server crashed at our webhost and it took some time toget everything running again. Meanwhile, keep your comments coming toour
Blog articles
- they're great! 
Today's Newsletter Sponsored by International Living:
Get the details in your
FREE report
now.
-------
Understanding the baby boomer mindset is the first step in trying to sell us something. Some marketers get us, while others might be too young to understand what makes us tick.  In this article we lay out 10 retirement appeals that aren't going to cut it with many baby boomers. Plus, how to tell if a new community is a good fit for you.
Located in Florida's alpine district (at a height of 184' above sea level!) is the totally charming town of Mount Dora. Just this week the New York Times raved about its lakeside Victorian charm. If you think you hate Florida, Mount Dora has the best chance of changing your mind.  
Click on a state to see reviews of 796 great retirement towns, plus a list of 1,561 active adult communities. 
Over at our sister site, BestAssistedLiving.com, we have a helpful new article written by Amber Paley on how to spot nursing home abuse.  Unfortunately this problem is all too prevalent; you need to know the causes and what to look for.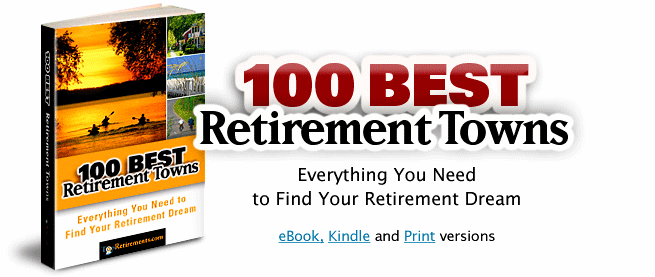 Make your research easier. This handy book from Topretirementsgives you the inside facts and data on the 100 most popular retirementtowns. Available in eBook (pdf), Print, or Kindle for as low as $9.95.
Mississippi is working really hard to become a retirement destination. And one of its stars is Hattiesburg, a Certified Retirement Community and home to 2 colleges and numerous active adult communities. William Carey College has an excellent Institute for Learning in Retirement program. 
List Your Community
Promote your community with a free listing at  Topretirements. Just go to
Add Your Community
. If you already have a listing, update it now to display our new features.
Having Trouble Logging in?
You might not have confirmed your registration. Look for that email.  Or go to our
Help
page (there is a link to it on the bottom of every page) 

Subscribe via RSS
RSS Feed  Get live updates in your web browser window.

Unsubscribe
If you no longer wish to receive this newsletter you can unsubscribe here.

Last Week's Most Read Articles
Helpful Resources