Best Retirement Towns and States
Editors Note: This is part of our series comparing various states as places to retire. Don't miss the first, Florida vs. Arizona Retirement, or the second, Delaware vs. Maryland vs. Virginia vs. New Jersey. There are many more "Dueling" comparisons listed at the end of this article. We welcome ideas for future ones.
Updated April 23, 2021 — The Carolinas are a red-hot retirement destination; both North and South Carolina are popular with baby boomers for retirement. As great places to retire, both have become as popular as Florida. In this comparison we will evaluate various factors for both states that affect retirement, letting you draw your own conclusions from the facts. As always, reader input is extremely important, so we encourage you to use the Comments section below. (Note: The first version of this article was originally published in 2010 and since then has been updated many times. Because it goes way back to 2010, there are a LOT of comments which are worth reading. The latest comments are at the bottom.)
Population (Data from American Fact Finder-U.S. Census Bureau).
One obvious difference between the two states is the number of people. In 2019 North Carolina's population was about double its southern neighbors (10,488,084 vs. 5,148,714). The over 65 population in both states is increasing: in South Carolina it was 18.2%, North Carolina is slightly younger at 16.7% (the national percentage was 16.5%). Both states attract significant numbers of retirees from beyond their own borders, usually from the Northeast or Midwest. In fact, you will hear comments from native Carolinians who are concerned that their states are changing due to the influx of newcomers from the north.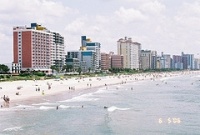 Home Prices and the Economy
One reason why the Carolinas are popular for so many retirements is a lower cost of living. On a statewide basis both states have significantly lower home prices than the entire U.S. The Zillow 2021 Home Value Index for South Carolina has the median home value pegged at $213,450, about $20,000 lower than North Carolina's ($234,934). Both states have home prices significantly lower than in the overall U.S, $276,717.
Home prices in some North Carolina Metros have been increasing fast over the past few years and in many cases have caught up with or exceeded the U.S. figures. In Durham the median home selling price at the end of 2020 was $340,000; in Charlotte it was $312,000, and in Raleigh it was $341,000 (per NAR). Meanwhile in South Carolina, the Greenville median was $252,000, Spartanburg was $215,000, but in pricier Charleston the median was $339,000.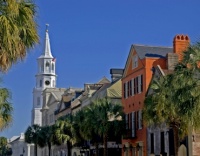 The economies of both states are very similar. Manufacturing, services, and agriculture are important in both. In fact you might also add retirement to the list of growing industries. The 2019 median HH income in North Carolina was $54,602, not much different than South Carolina's $53,199. By comparison the national household income median was $62,843. South Carolina's cost of living is the 22nd lowest in the U.S. while North Carolina's is very similar at 24th. According to the Bureau of Labor Statistics, unemployment for both states in March of 2021 was 5.1%
Climate
There are no significant climate differences between these 2 states. The most northern parts of North Carolina will have slightly colder winters than the most southerly part of SC, but the difference will only be a few degrees. What differences there are mostly stem from the varying climates present within each as they go east to west – from beach to mountains. Here are a few representative temperatures for cities within these states:
City
Asheville (NC)
Charlotte (NC)
Wilmington (NC)
Greenville (SC)
Columbia (SC)
Charleston (SC)
Tax Environment
Overall
Many retirees look to tax comparisons to help determine what they view as a retirement friendly state. Until a few years ago South Carolina would undoubtedly have won that comparison – it had lower taxes in almost every category. However, beginning in 2014 comparing taxes between the two states is much harder, and the bottom line difference is probably not that great. According to the Tax Foundation, SC had the 40th highest tax burden in the nation in 2019, whereas NC's was 32nd.
To make a few observations, we would start by saying that the individual characteristics of your tax situation have so many ramifications that you should have someone prepare a hypothetical tax statement for you to get the real picture. But here are some things to consider:
SC has a much higher marginal tax rate, with slightly higher exemptions
Neither state taxes Social Security
SC taxation of retirement income is more advantageous
The sales tax in NC is 1.25% lower than in SC, but local taxes can narrow this difference
Neither state has an inheritance or estate tax
NC has slightly higher property taxes as a % of home value..
Income Taxes
South Carolina has a (very high) maximum tax rate of 7% that begins at a quite low income of $15,400. South Carolina accepts the adjustments, exemptions and deductions allowed on your federal tax return ($24,000 for a couple filing separately). North Carolina's income tax is much lower, as it was recently lowered to a flat 5.25%, and a couple receives a standard deduction of $21,500.
Social Security and Income Tax Exemptions for Seniors
Neither state taxes Social Security payments.
Although South Carolina has slightly higher income tax rates, its retirement income exemption levels are more tax-friendly than North Carolina's. Each resident over 65 is entitled to an exemption of $15,000 ($30,000 for couples) for retirement income in addition to Social Security.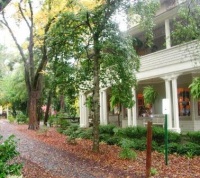 Beyond the standard deduction, NC does not have any pension exemptions for retirement income other than Social Security.

Sales Taxes
An initial comparison of sales taxes would makes it look like NC is more friendly when it comes to sales taxes. But when you add in local taxes, they are quite close. In SC the sales tax is 6%, but the average combined state and local rate is 7.46%. In NC the rate is 4.75%, although the average combined rate is 6.98%.
Estate and Inheritance Taxes
There are no estate or inheritance taxes in South Carolina or North Carolina (NC repealed its estate tax in 2013).
Property Tax
SC residents pay one of the lowest property taxes as a % of home value (ranked 45th) in the country. NC is ranked 31st. SC residents pay an average of .56% of their home's assessed market value, compared to .85% in North Carolina (figures from the Tax-Rates.org). Homeowners in SC over 65 can usually deduct $50,000 of valuation on their property taxes. In NC there is a property tax homestead exemption of $25,000 of valuation for people over 65 who meet certain income criteria.
Note: Taxes are complicated and the laws change quickly. Consult state Department of Revenue Guides and/or your tax professional before making important decisions. This brief overview is not meant to give any advice.
Physical Environment and Diversity
As with population, North Carolina also has a much bigger geographical area – 54,000 square miles as compared to SC's 32,000 miles. Both have a long coast line with beautiful beaches and/or waterfront on large bays. The Cape Hatteras region of NC is quite remarkable, as is Myrtle Beach and Hilton Head in SC. North Carolina has a larger and more pronounced western mountain area with four seasons and the Blue Ridge, Great Smoky, and Black Mountain ranges. The highest point in NC (and the eastern U.S.) is Mt. Mitchell at 6,684 ft.; Sassafras Mountain is SC's highest peak at 3,560 ft.
Political Environment
Up until 2020 both states would be considered "Red" (Republican). However that is changing as NC becomes more evenly split, often attributed to an influx of young people and retirees from out of state. In the 2020 election 55% of SC went for Donald Trump vs. 43% for Joe Biden. In NC the vote was 49.9% for Trump and 48.6% for Biden, almost an even situation between Red and Blue. Charleston (SC) is one of the few Democratic leaning areas in that state. Rural areas in both states are heavily Republican, while almost all NC's urban areas vote Democratic. People moving from Democratic strongholds in northern or western states into areas dominated by the other party have commented that living in a different political environment required some difficult adjustments.
Places to Live
Both states have several important cities and numerous interesting mid-sized cities. Both states have college towns, such as Chapel Hill and Durham in NC and Clemson in South Carolina. Both Carolinas have many towns that Topretirements' lists of Best Retirement Towns. ( Asheville (NC), Brevard, Murphy and New Bern.
South Carolina's most popular places to retire include Beaufort, Charleston, and Bluffton. See our State Directories for more.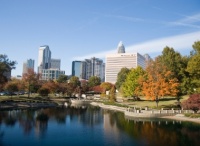 Choice of Active Communities
North Carolina and South Carolina are both loaded with active adult communities. At Topretirements we count over 200 communities in our North Carolina Directory of Active Communities and over 180 in the South Carolina Directory of Active Communities. Whereas the active communities in NC are dispersed throughout the state in areas like Asheville, New Bern, Charlotte, and the Research Triangle area; South Carolina's are clustered mostly along the coast, from Myrtle Beach to Charleston. In both states the choices are many and varied, with many of them relatively new.
Comparing living in the two Carolinas
North Carolina and South Carolina share numerous similarities in addition to a similar climate and topography. Indeed, many retirees say they are contemplating moving to the "Carolinas" for retirement, and don't often specify one of the states.
Looking for differences, we could generalize and say North Carolina is a bit more diverse. It has more large cities to choose from, such as Charlotte or Winston-Salem. NC has taller mountains and more towns in mountainous areas, if that is what you are looking for. South Carolina might have the most interesting city, Charleston. NC's cities and college towns, particularly those in the Research Triangle, tending to be progressive. Its rural areas are more conservative. North Carolina has made recent strides in getting to more a tax friendly par with South Carolina. South Carolina, which tends to be quite conservative, is probably less of a melting pot than its northern cousin, and remains more of a "southern" state in many areas. While North Carolina recently became much tax friendlier, many liberal leaning residents are not happy with the attendant cuts to social services, education, and other programs. Both states have had an influx of northern retirees, a fact sometimes lamented by locals.
So which state is more popular? Regardless of which state wins the retirement sweepstakes, both are doing very well. A Del Webb study a few years ago found that the Carolinas had become a more popular retirement destination than Florida. At Topretirements our South Carolina retirement guide is visited slightly more than is our NC retirement guide (in fact they are the #2 and #3 most popular state guides after Florida). The differences between the Carolinas are subtle. Both contain some wonderful places to retire, if the mid-Atlantic region is the region where you would like to retire. Rather than take sides on the issue, we recommend that you visit cities and towns in both states and see if you can't find the place of your dreams. Fortunately, the two states are contiguous- in a few trips you should be able to get a good idea of the places that could offer you a happy retirement experience.
Sources: In most cases we used Tax-rates.org. as the source for tax information in this article, American Fact Finder for demographic information, and Zillow or the NAR for home pricing. Some additional tax burden figures are courtesy of the Tax Foundation.
For for further reading:
My Southern Retirement Adventure
State Retirement Guides
Gulf Coast Retirement: Sun, Tax-friendly, and a Lower Coast of Living
Retirement 101 Mid-Atlantic States: MD, DE, VA, NJ
Florida Retirement 101
Dueling Carolinas: NC vs. SC
Dueling States: Arizona vs. Florida
Dueling States Mid-South: TN, GA, KY, AL
California Retirement 101
Retirement in the Southwest: AZ, NM, and Utah
The Mountain States: CO, ID, MT, NV, UT, WY
The Pacific Northwest: Oregon vs. Washington
What state do you prefer? Let us know in the Comments section below. (Note: This article has been updated numerous times and has many interesting comments. To find the most recent ones scroll down and look by date).


Posted by John Brady on November 15th, 2010