Best Retirement Towns and States
September 1, 2021 — Easy walking to town, parks, and shopping always emerges as a top consideration for choosing a retirement destination when we survey our members. Here are 10 small cities and towns in the southeast where walking is easy and a joy. Since almost every small town is by nature walkable, we have concentrated on larger places of at least 20,000 people.
These are towns where you can live downtown or close to it, and walk to everything that is important to you, day or night. In fact, in most of these towns the walking (and biking) is so good that you could even survive without a car.
Our Top 10 Walkable Towns in the Southeast
It is no coincidence that the towns that are best for walking tend to be ones designed before the advent of the automobile. Or that planned communities are usually more walkable than ones that developed haphazardly. Most of these towns are very popular with tourists as well.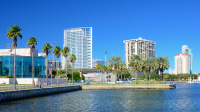 St. Petersburg, FL. When we published a list of Florida's most walkable cities a few years ago, we did not include St. Pete. Ed D wrote to us, outraged that it was omitted – and he was right – St. Petersburg is a delightful and most walkable small city. Among other things, here is some of what he said about it: "Downtown St. Pete is beautiful. They have done a great job rebuilding this area, with an arts area that is very up and coming. There are lots of little communities too, from Gulfport, Safety Harbor, Dunedin, etc." Carolyn added: "We live in South Pasadena, right next to St. Pete Beach, very walkable/bike riding area, easy access to major highways, Tampa airport, cruise lines, AMTRAK. And, you can't beat the weather here." What is especially nice is that the harbor area is completely open to pedestrians and loaded with all kinds of attractions, including the St. Petersburg Pier.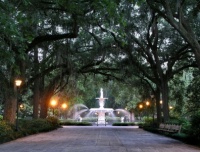 Savannah, GA. One of the most beautiful places in America, this city of 145,000 was planned in England by founder James Oglethorpe in England before it was settled. He laid out a grid with 22 park-like squares; homes and stores are placed along the squares. Tourists and retirees both love to come here and walk around to take in the charm and enjoy the restaurants.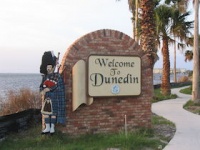 Dunedin, FL
This great little town just north of Tampa and St Petersburg still celebrates its Scottish heritage. It has a concentrated and interesting downtown that is easy to walk through. In a State known for its beaches, the easily accessible public beaches here are some of the best. There is a 39 mile bike/walk trail system running through town on an old rail line. The population is just over 36,000.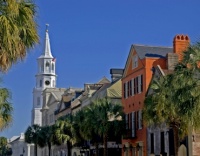 Charleston, SC. Undoubtedly one of the most beautiful cities in the U.S., it was founded in 1670. Until the mid 1800's it was one of the 10 largest cities in North America. Today the city has a population of just over 137,566. The College of Charleston and The Citadel are located here. The walkable streets are lined with majestic live oaks draped with Spanish moss. Historic pastel-colored homes look out over the waterfront.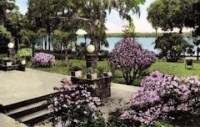 Winter Park, FL. The heart of this walkable town near Orlando is Park Avenue. Aptly named, Winter Park claims it has more park space than any town in Florida. The walkable main street includes retail and public civic buildings, art galleries, a private liberal arts college (Rollins), museums, a park, a train station, a country club, historic cemetery, and a beach and boat launch.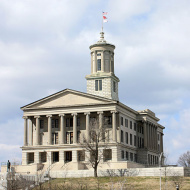 Nashville, TN. "The Music City" is the capital of Tennessee and is located on the Cumberland River. Nashville has a vibrant music scene as the center of the music industry and the home of country music. There are many walkable neighborhoods. As a cultural center is has an array of museums, art and entertainment venues, and schools of higher education. Nashville also has many parks and greenways.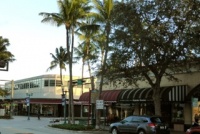 Delray Beach, FL
We love Delray Beach for so many reasons, but being able to walk around the downtown or stroll to the beaches are top ones. An amazing stretch of public beaches and dunes await the casual stroller at the end of Atlantic Avenue. Interesting restaurants are filled with lively people of all ages. You can live downtown in a condo above the many cool shops, or in one of the many developments west of town.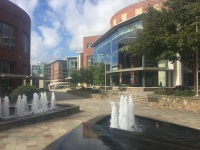 Greenville, SC. Downtown Greenville is unique in that the downtown is centered at a scenic waterfalls. Steps go down to a beautiful park and trail system. Home to many restaurants, boutiques, and weekly festivals, the walkable downtown is busy even on Sunday mornings. The Haywood Mall is a major mall in the area. The downtown has been the subject of successful redevelopment efforts, winning the Great American Main Street awards.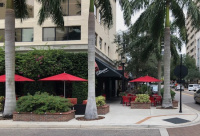 Sarasota, FL. Teresa commented that Sarasota is a wonderful and walkable city. It has miles of walkable streets downtown, an iconic bridge that hundreds use every day to walk to St. Armands Circle and the beaches. Downtown there is the great Selby library and all kinds of open air restaurants. Not to mention all of the wonderful art museums and performance venues here, the legacy of the Ringling Brothers' philanthropy.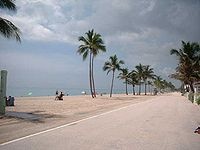 Hollywood Beach, FL. Hollywood is just south of Fort Lauderdale. It enjoys about 60 parks, seven golf courses, and beaches that run for miles. Hollywood Beach is famous for the great boardwalk that extends about 2.5 miles along the Atlantic Ocean and the Anne Kolb Nature Center.
More about walkability and where you retire
A lot goes into being walkable community. There is more than just having a compact downtown or quiet pedestrian streets. A primary consideration is how safe it is to walk there – are the sidewalks wide and smooth, are there barriers between cars and pedestrians, are crosswalks set up well with the right equipment, and do drivers respect pedestrians' right to cross (particularly at marked crossings without stop lights? Also, a city might be great for walking during the day, but if the downtown becomes deserted at night, it is not such a great place to be on foot.
Bottom Line
If being able to walk around in your town is important to you for leisure and for the essentials of life, check out these towns for walkability.
For further reading
Our Members Speak: Easy Walkability Is a Top Retirement Priority
10 Walkable Towns in USA
Florida's Most Walkable Towns and Cities
Part I: 10 Funky Florida Towns
Funky Towns in Florida, Part II
BikeWalkAlliance 2016 Benchmark Report
Bicycling.com's Top 50 List
10 Most Walkable Florida Towns
10 Great Walkable Towns for Retirement
Comments? In your experience are these good towns for walking? Are there some we missed? How about great towns for walking in other states? Please share your thoughts in the Comments section below.
Posted by Admin on September 1st, 2021