Best Retirement Towns and States
February 10, 2014. You've probably seen lots of different kinds of lists of the "best places to retire" by now. Those include the likes of: the most affordable places to retire, the most tax-friendly states, and best retirement towns for the arts. Plus there are the best places to retire for…. biking, golf, culture, bookstores etc. So, get ready for yet another sub-category – the best places to retire for livability.
Livability means many things to different people. So although this is our list of 10 great places to retire for livability, your own personal list might be quite different. To help you work on your own list we have tried to identify some of the key factors that make living in a community a pleasure. You might want to add, or subtract your own factors. After you have come up with the ingredients that make for perfect livability, you can take it one step further – weight each factor by how important it is for you. The result will be your personal livability equation – the ideal environment where living is a pleasure for you.
Common criteria for livability
Here are some of the common criteria for livability, although you might have others. The question for you is, how important is each factor in your selection criteria? Are there some that are absolutely critical, or others that are merely a plus? For some people, for example, the absence of good medical care might be create a veto for any community, no matter how good the other factors were. Spend some time creating your own weighting system – it will help you make a better retirement choice.
– Transportation. Is there good public transportation that is convenient and reliable? Can you ride a bike anywhere you want?
– Walkability. Can you walk to the store, recreation, the movies, parks, etc.? Or do you need to drive everywhere.
– Restaurants. Is there a good selection nearby – a variety of places where the food selections offer you more than fast food and chain restaurants?
– Libraries and museums. Are there places to go for cheap entertainment or social interaction?
– Culture. Theaters, performing arts, music, or history
– Weather and climate. The right mix of winter and summer temperatures and humidity – not to mention sunshine and precipitation
– Scenery. Is it a pretty town or is the nearby scenery special
– Recreation. Are there accessible parks, tennis courts, golf courses, bridge games, recreation centers, bike or walking trails
– Healthcare. Is there a good hospital? How about medical specialists that you might need for your particular medical condition?
– Good neighbors. Are the locals welcoming to outsiders, and a good fit politically and religiously for you. Are there a lot of other transplants, who probably are interested in making new friends? Is there the right blend of diversity/homogeneity?
– Safety. Would you feel safe out at night in your new neighborhood
– Shopping. Is there a variety of interesting stores where you can get the necessities of life, as well as have some shopping fun? How about a farmers market?
– Housing. Can you afford to live here, and do you get good value for your housing dollar. Do you like the types of housing choices and the neighborhoods where housing is available? Obviously, if you can't afford to live there, other livability factors are meaningless.
– Potpourri. What else is on your list that must be in your best place to retire? Please use the Comments section below to share your ideas on what makes for livability.
7 great places to retire for livability
This list was drawn up recognizing that everyone's idea of livability is going to be a little different. To give variety we've picked 7 places to retire that are great for a specific aspect of livability. If that aspect of livability resonates with you, great. If not, use the factors you consider important for your retirement lifestyle to go in another direction.
1. Transportation – New York City. Most big cities have great transportation infrastructure, but few have as extensive a subway and bus system as the Big Apple. Consider 3 major airports and rail service to NJ, CT, and NY. And of course Citi Bike – an inexpensive program that lets you pick up a bike and drop it off, whenever you need it, using the greatly expanded system of bike lanes across the city. Needless to say, NYC also has many other attractions that make it a great place for livability, balanced by the very high cost of living.
2. Restaurants – Lafayette, Louisiana. Some mid-sized cities and smaller towns stand out when it comes to food, and Lafayette is one of them. "The Cajun Capital City" was selected by thedailymeal.com as one of the 10 best small towns for food because of its strong Cajun restaurant choices. It named the French Press specifically for Cajun cuisine, and Pamplona for (Spanish) tapas. TripAdvisor.com shows 460 restaurants in Lafayette, the 4th largest city in Louisiana. Housing prices are reasonable – there are museums and a Performing Arts Center.
3. Culture – Naples, Florida. This beautiful city on Florida's southwest coast has so many things going for it, including culture. It was cited by Smithsonian.com as one of the 20 best small cities for its culture. They mentioned the Naples Zoo, the Naples Players, a community theater now in its 59th season; and the Von Liebig Art Center in Cambier Park. The Naples Philharmonic has a full season for you to enjoy. Plus you will find beautiful art galleries. Beyond culture, Naples features a walkable downtown, many great restaurants, and perfect white sandy beaches that you can walk to.
4. Walkability – Boston, Mass. You would think that small towns would be more walkable than large or mid-size cities. But Boston is a pretty good example of a city where the walking is easy – and interesting. Boston has a very high Walk Score® of 80 from Walkscore.com. If you are not going too far it is easy to get around by foot in Beantown. And if you need to go further, just jump on the T or one of many city buses for a reduced senior (65+) fare of $1 or $.75 respectively. For further attractions there are the world famous Boston Red Sox, Old Ironsides and many shrines of the American Revolution.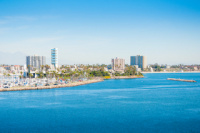 5. Weather and Climate – Long Beach, California. It is really hard to ignore California when it comes to a discussion of best climate. The sun shines most of the time and the temperature range throughout the year is quite narrow. Daily high temps stay at least in the mid 60s in winter and rarely go above 85 in the summer. Long Beach is quite walkable for a California city, has miles and miles of lovely beaches, and the price of real estate, although by by most any other state's standards, is much less than most of its pricey neighbors.
6. Friendly people – Asheville, NC. It is fairly natural that areas that attract people from outside regions tend to be high on the friendliness scale – outsiders don't have the cliques or inward focus that more homogenous towns tend to get. No town has a better reputation as a retirement town than Asheville, and people from all over the country consider and move here in western North Carolina. It has an incredible array of neighborhoods and developments to live in. Plus the Asheville branch of the University of North Carolina even has The Osher Lifelong Learning Institute, a major attraction for many.
7. Scenery and Pretty Environment – Portsmouth, New Hampshire. We admit this is a completely subjective pick – there are dozens if not hundreds of American towns that could be contender for pretty place to live. But Portsmouth, an important and well-preserved colonial seaport, is certainly one of them. It was named as one of the "Dozen Distinctive Destinations" by the National Trust for Historic Preservation. The charming brick buildings date from the American Revolution. Inland from this beautiful harbor town are the rolling hills of New Hampshire. As a tourist town there are plenty of good restaurants and things to do.
Comments? Please share your thoughts about the most livable places for retirement in your experience in the Comments section below. What aspects of livability are most important to you?

For further reading:
Best Towns for Walkability
How About a New Urban Community for Your Retirement
10 Affordable, and Highly Livable Places to Retire
Top 10 Retirement Towns for Amenities
Posted by Admin on February 10th, 2014