Best Retirement Towns and States
December 7, 2020 — With the pandemic putting a damper on travel, many people are postponing their winter time retirement explorations. As a partial substitute for those travels, here in Part 1 of this series we will provide a virtual tour of some of the best places to retire in Southwest Florida. In Part 2 we featured a tour of Arizona places to retire. Future installments will cover Florida's East Coast, Central Florida, the Carolinas, and others suggested by our Members.
Best Places to Retire in Southwest Florida
Southwestern Florida starts just above Tampa and goes south to Marco Island. This 180 mile stretch probably has more places to retire than anywhere in the world, with the possible exception of the southeast coast of FL from Vero Beach to Miami. Here on the Gulf Coast there are barrier islands, 3 good sized cities (Tampa/St.Pete, Sarasota, and Fort Myers), fabulous beaches, endless waterfronts and waterways, and a variety of towns that make for interesting places to retire. There are thousands of active adult and 55+ communities, ranging from budget RV/Mobile Home parks to exclusive refuges catering to the 1%.
Anyone looking for a warm winter retirement should definitely at least consider this area – when safe travel resumes again a leisurely exploration would be well worth it. While you are there, if certain towns and areas appeal, you might consider a Stay and Play package or monthly rental to see if you really like the place. Note: Most of the names of the cities and towns in this article are linked to more detailed reviews as places to retire.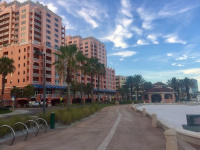 Tampa is the biggest city in this area. It has professional sports teams, a busy airport, and big businesses. Across the huge Tampa Bay on a huge peninsula is St. Petersburg, an old city on the water that is having a major resurgence with many interesting neighborhoods like Gulfport. This little town on the bay has a very cute downtown worth exploring and a stop for lunch or a little shopping. The Casino is a dance center and is usually busy night after night. Clearwater and Clearwater Beach, a bit more relaxed and less urban, are located just to the north on the same peninsula.
Above them are charming little beach towns like Dunedin, spring training center for the Toronto Blue Jays. Tarpon Springs, the former sponge fishing center with a Greek heritage is a definite stop there to have a meal at one of the Greek restaurants on the harbor. New Port Richie was originally planned to be a home for Hollywood stars, but never quite developed like that. It is lower key than many of the towns in the area. Gene Sarazen invented the sand wedge while living here.
One idea for exploring the vast area around Tampa is to book an extended stay hotel or AirBnb in St. Petersburg and use that as a base of operations. Just south of here is the small town of Ruskin, founded as a utopian socialist community inspired by John Ruskin. It is home to the long established Sun City Center, a vast active adult community which is also worth a detour to explore.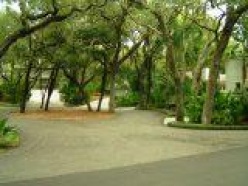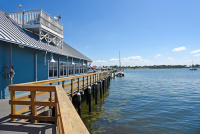 Heading south from St. Pete is a barrier island that stretches through exclusive Longboat Key all the way to Sarasota. Life on the barrier island at places like Longboat Key revolves around the beach and boating. Sticking to the mainland from St. Pete you will pass through Bradenton, not the most exciting town on the West Coast, although it does have an excellent Village Arts Center, the Pittsburgh Pirates training facility, and many affordable active communities.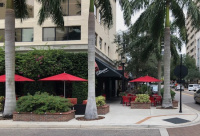 Sarasota is definitely one of Florida's most interesting cities. The walkable downtown is fun and filled with restaurants and shops. Or walk around the bay and admire the boats. The John and Mable Ringling Museum of Art is one of the most impressive museums in Florida. Downtown is the fabulous Selby Library, built to resemble a circus big top. Theater goers have many options in Sarasota. Outside of town just to the north is giant Lakewood Ranch, a sprawling and growing master planned community with just about every type of development and commercial enterprise. There are dozens if not hundreds of other developments and neighborhoods in the Sarasota area – many on or near the water and others extending out to I 75 and beyond in search of inexpensive land for development.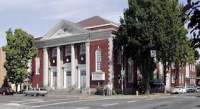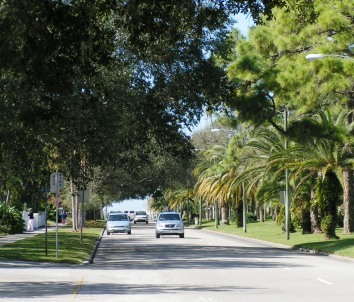 From Sarasota you will pass through little towns to explore like Vamo, Osprey, Nokamis before arriving at the next big retirement center, Venice. The downtown is very cute and walkable and the city has 31 municipal parks. The beach is beautiful and walkable from the downtown. Sprinkled around the area are dozens of active adult and 55+ communities of every type and description.
After Venice Interstate 75 veers east and away from the water towards affordable Port Charlotte and then Fort Myers down the road. But instead, if you continue along the Gulf there are some tiny towns and parallel barrier islands to explore, including the famous Englewood Beach at Englewood. Two little villages near Englewood are Placida and Rotonda West. At the end of the barrier islands is the old money town of Boca Grande, a favorite of former presidents and wealthy leaders of industry. For sure you should stop and try to have a drink or meal at the Gasparilla Inn and experience its understated elegance from another era.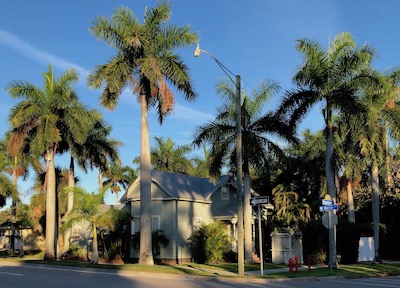 Punta Gorda is one of our favorite Florida towns for retirement because it has such a nice downtown right on the water. Beautiful residential areas extend along Charlotte harbor. Affordable Cape Coral is just to the north of the next big area here, Fort Myers. One of the big attractions in Cape Coral are that most of the residential areas are laid out alongside canals – just about everybody has a dock and boat in their backyard.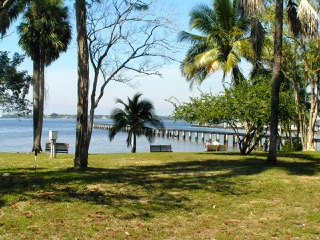 There are multiple barrier islands that extend east of Fort Myers, including laid back Pine Island and affluent Sanibel/Captiva with its miles and miles of perfect beaches and J.N. Ding Darling National Wildlife Refuge.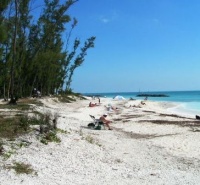 Fort Myers is a huge area with hundreds of developments that range from posh ones along the Caloosahatchee River to sprawling communities east of I 75. Downtown Fort Myers is a cultural hub that is striving to recover from former glory. Fort Myers Beach is a narrow strip with white sandy beaches, seafood restaurants, condos, and hotels. You can take the high speed ferry from here and be in Key West, the southernmost point in the U.S., by noon!
A little to the northeast of Fort Myers is Babcock Ranch, a new planned community and America's first solar-powered town. Greenways, parks, and lakes will make up half of the 18,000-acres development. The walkable town also emphasizes healthy living and will have 50 miles of biking and walking trails. Another stop on your tour has to be Ave Maria, a massive new planned community that is aimed at Roman Catholics but open to anyone. Ave Maria University is the central focus, connected to the Town via La Piazza, anchored by the landmark Oratory and retail and commercial space.
South of Fort Myers you will hit Estero, with many active developments to be considered, but no real downtown other than the massive Coconut Point shopping complex. It and Bonita Springs are located slightly inland, but the towns also include sections on the barrier island that continues south from Ft. Myers Beach. Both of them have large numbers of active adult communities, many of them quite large and affluent.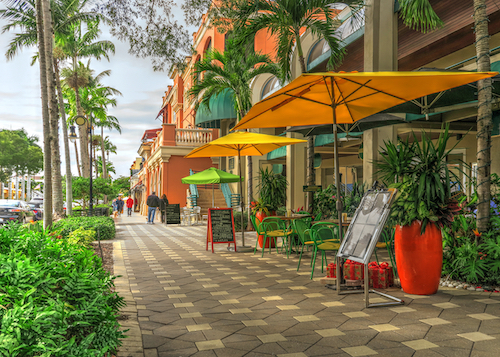 The last two towns on our tour are both very upscale, but quite different from one another. Naples is huge and can mean many things. There is the fancy downtown area with theaters and high end shopping and restaurants. Many beautiful neighborhoods along the beach are just steps away from the downtown. But extending above and below the city center and going east to I 75 and beyond are dozens and dozens of communities of every stripe – most catering to the wealthy but also RV parks for those less well endowed.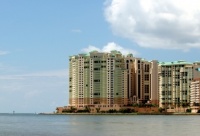 Below Naples you will head into Marco Island, the last real town before the Everglades begin. It is a popular resort as well as home to many active communities. The average age is 60.
That concludes our tour. We hope you enjoyed it. Please provide your comments on this tour and suggestions for other regions to explore in the Comments section below.
For further reading:
Posted by Admin on December 6th, 2020