Health and Wellness Issues
March 23, 2019 — This is the 5th module in our "Retirement Preparation 101" online course. The social aspects of retirement was one of most frequently requested topics for the series. Here is where you can see all of the Modules and all the Member suggestions for the course.
Here is a sample suggestion which led to this Module:
Katie: Loneliness in retirement. Whether single, divorced or widowed, loneliness is something that many of us will face as we retire from our work lives. Many of us spent our lives with people at work and any free time with spouses, children or other family. Friendships may have been with neighbors, our kids' friends' families, spouse's work friends, etc. With retirement and a loss of the people around us, retirees can find themselves alone. Surely there are other good ideas and stories from people who have gone through this.
Overview – one step at a time
One short article cannot possibly address all the strategies or be a magic bullet to solving the problem of feeling alone. We encourage you to to view these tips as something to experiment with. A lifetime of habits cannot not be overcome in a day or a week or a month, but if you gradually apply some of these ideas in your daily life you just might be able to make a difference. Here we go:
Singles vs. married couples. A later module in this series will specifically address loneliness for singles. But we firmly believe that the strategies presented here are useful no matter what your state – single or married.
Men vs. women. It is pretty much a given that men usually have a harder time with loneliness in retirement than women. Men are often fixated on their jobs, and when that is removed, feel rudderless. They also tend to rely on the women in their lives for their social connections, and lack the skills and attitude to make new friends. They are going to have work harder to have a social life, but it can be done. The "Further Reading" section at the end of this article has some completely different suggestions on this topic just for men, with links to more.
Where you live. Some places to retire make it a lot easier to make friends than others. Of course you can make friends anywhere, but it sure is easier in active adult, 55+, cohousing communities, etc. There, everyone is in the same boat – they are displaced from their old friends and support networks, and looking for new ones. The activities and the proximity to others makes it almost impossible not to make new friends. On the other hand, if you live in the suburbs, it is going to be harder. As you become the "old folks" in the neighborhood, you tend to have less in common with the young families likely to be moving in.
What you do. Activities are the universal great way to meet people. Golf, pickleball, crafts, or yoga group – activities like these often lead to new friendships. Ditto with churches, benevolent associations, volunteer groups, men's lunch clubs (ROMEO – Retired Old Men Eating Out), etc. It's possible that no one may come up to and invite you to join something, so then the initiative has to come from you. In volunteer work, realize that even though you might have had a very important job in your previous life, what you start out doing very mundane. Take your satisfaction in knowing that you are making a small difference in someone's life, and if something bigger comes along, great. The important thing is to take a risk and try different things until one feels right. You will be glad you did.
Your attitude. Following up on the last point, we have a friend who has a bad attitude about making friends. He is disappointed that no one taps him on the shoulder asking him to become a volunteer or to give a talk in his field. To be successful, you have to make an effort – you can't rely on someone else doing it for you.
Improve your conversation skills. We credit Lisa with the observation that being a good conversationalist is like being a good ping pong player. You hit the conversation over the net to the other person, they hit it back. Then you return the ball, and soon it will be on its way back to you. For topics ask about the other person's interests, family, past, hopes, dreams. Pay attention to what you hear.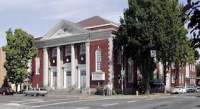 You're not a joiner? Some people just don't feel comfortable joining organizations. But that doesn't mean you have to be a hermit. For starters, get out of the house. As people age, it is shocking how little time some people spend outside of their own four walls. Go for a walk or bike ride, shopping, to the senior center, start a hobby, or strap on your Silver Sneakers and go to a gym class. You'll have a chance to meet people that way, and maybe make some friends. Call up an old friend and have coffee.
Friends of all ages. A friend once impressed us with by saying how much she enjoyed having friends of all ages. Each age group has something to offer. Younger folks bear the gift of youthful energy and enthusiasm. Older folks can offer wisdom and might have more motivation to make some friends. When you meet someone you think might be a potential friend, no matter who they are, make an effort to cultivate them.
It's not all about you. Of course you are an interesting person with interesting stories, but no one will ever care if you don't show interest in them too. Appreciate what others have to say, and learn from them.
Making friends. The classic book on this topic is by Dale Carnegie. His How to Make Friends and Influence People was required reading in our Applied Psychology class in college. It remains one of the best sources of personal advice ever written. Here is a summary that paraphrases some of his main points on how to make friends:
Show genuine interest in other people.
Smile.
Remember: Every person's favorite topic is himself.
Be an active listener. Ask questions to get them to talk about themselves, and pay attention to what they say.
Make the other person feel important – and do it sincerely.
Restrain yourself from leaping in with "your" story – let the other person have a turn.
Suggestion from Members:
On loss (Jean). It seems to me that loneliness can be a sign of depression or grief stemming from the loss of a spouse/friends/ loss of independence, loss of control of one's life, fear of missing out, etc. A person who feels lonely even when around others might find benefit from discussing those feeling with a mental health professional. Therapy / medication are effective and for those who prefer a more natural approach, research has shown that regular outdoor activity (walks, gardening, etc.) and eating a lot more vegetables and fruit can improve depression.
Exercise #1. One of the best ways to make friends is to be someone who others like to be around. Here is an exercise for you, the next time you meet someone new.
It's all about you – and about others too. The point of the exercise above is to assess your ability to make friends. Of course you are an interesting person, but no one will ever care if you don't show interest in them. If you just have to tell all your stories, you might be pretty boring. Learn and appreciate what others have to say, and we guarantee you'll have an easier time making friends. But please resist the temptation to judge others in this exercise, if you don't like what you see, move on.
Exercise #2. Make a list of the activities or clubs you might have an interest in. Then make a commitment to trying out your favorite one.
For further reading:
Comments? What techniques have you used that have been helpful to combat loneliness and make or retain friends? What concerns do you have that hold you back? What would recommend? Please share your thoughts in the Comments section below
Posted by Admin on March 22nd, 2019