Retirement Real Estate
March 14, 2016 — Every year about this time a significant segment of the snowbird population, the portion that rents instead of owns their own place, share a common worry. The concern boils down to this simple question – where on earth are we going to stay next winter? In this article we will attempt to explain the many issues that come into play when boomers go about seeking a snowbird rental, and how those factors often drive them to start thinking about owning a place vs. continuing to rent.
The rental worries
Here are some of the major problems that repeat snowbird renters can face – assuming they were lucky enough to find a rental in the first place.
– Will we be able to rent the same place next year that we had for this season?
– If not, how are we ever going to find a different rental?
– Can we get it for the weeks/months we would prefer?
– What is the price going to be?
– Is there a better place somewhere, in this town or community, or another?
Here are a few anonymous case studies that illustrate some situations that baby boomers experience in the snowbird rental market. Obviously these stories are just that – a small sampling. They will differ by where you spend the winter, because some regions have plenty of rentals, while in others the supply is very tight. We look forward to hearing your rental issue stories, and how you coped with them.

The difficult landlord
This couple found their dream rental on Florida's West Coast. It was a beautiful home with a hot tub, and they were able to get it for the months they wanted. The rent was reasonable. The fly in the ointment was the difficult agent who managed the rental. She repeatedly brought prospective renters and contractors to the home, unannounced. She criticized the way the home was cleaned, and was very reluctant to discuss or agree that they could stay there again next year. All of these difficulties produced a dilemma for the couple – should they hang in there and try to push the agent to a new rental agreement for the next year, or would it be a better tack to find a rental with a different landlord, knowing this was a limited and expensive rental market.
The evaporating deal
Other folks we know were extremely diligent about finding their 2016 rental. After weeks of searching during a 2015 visit, both online and on the ground, they found the perfect apartment on a quiet street in a pleasant neighborhood. After some dickering, they signed a contract, enjoyed the rest of their stay, and then returned north in March. All was well until they heard from the landlord in July. It seems that the apartment complex had been sold, and the rental was no longer available. Suddenly, despite all their due diligence done well in advance, they were nowhere. Discouragingly going back to the Internet, they resumed their search, only to find that prices had gone up and almost nothing was available. At last giving up their quest, they found a much cheaper rental in another town.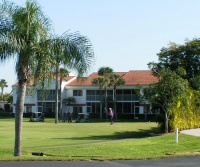 Hopping from place to place
Unfortunately in many parts of the warm-weather country this year the snowbird market has been very tight – availabilities are just about nil. To cobble together a whole snowbird season a couple we know had to rent 3 different places – each for one month. That meant they had to pack up and move every month of the winter. Their back up rentals were nice enough, but not in the properties they were looking for.
Buying vs. Renting – Pros and Cons
The rental problems and situations discussed above contribute to the snowbird dilemma – is it better to buy a place than to continuing to rent? Countless snowbirds are now wrestling with this issue. Here we will attempt to lay out some of the key issues to help cope with this conundrum.
Cons of Buying (which generally make them pros of Renting)
These are some of the big negatives that come with buying a place for the winter. Most of them reflect the negative sides of the beauty of renting, which is truly Lock and Leave. When renting if something bad happens to the property, like a hurricane – it is not your problem! Perhaps our members can add more.
– Cost of entry. The biggest disadvantage that comes with buying is, obviously, the cost. Assuming you are a snowbird and live somewhere else the rest of the year, you have to have sufficient free capital or borrowing power to own two homes.
– There is risk. If there is a hurricane or other natural disaster, and these do tend to occur fairly frequently in areas with warm winters, you will have to pick up the pieces. If the damage is severe enough, you might not even be able to repair it sufficiently to be able to live there yourself the next season.
– Your investment sits idle a great part of the year. Although in some resort markets you might be able to rent your home or condo in the summer months, that is generally rare. Which means you have a valuable asset that costs money in taxes, air conditioning, utilities, and maintenance, even when you are not there. You also have to insure the property and pay Community Association fees all year.
– Maintenance issues. Whereas if the pool malfunctions when renting it is the landlord's responsibility to fix it, if you own the place you now have a big headache. This also applies to your landscaping, pest control, etc. And, every so often you are going to have to upgrade your furnishings, paint, put on a new roof, or replace an expensive air conditioning unit.
Pros of Buying (and negatives of Renting)
– Number 1, you will have a place to live. That brings considerable peace of mind. It also eliminates the danger of losing your place – like from the owner who wants to spend more time there or rent to his brother-in-law.
– Minimum hassle. You don't have to wait to hear back from landlord, or scramble through VRBO or realtor sites trying to identify possible rentals. It also avoids traipsing through multiple inspection tours.
–No rent increases or annoying landlords. You are the landlord and in control.
– Plenty of storage. Unless you have pets, you can usually fly back and forth in the spring and fall. You get to avoid a 3 day drive in an overloaded car carrying all your stuff.
– Room for your pets. It is generally quite hard to find a rental that will accept pets. And although most developments have some pet restrictions even for owners, you stand a much better chance of bringing along Felix or Fido if you own your own place.

Bottom line
After learning about all of the problems our friends have had with rentals (although there are plenty of happy situations too), we can understand why many boomers are tempted to buy a winter home and avoid the rental market. It is, however, a difficult decision with many competing factors. To help everyone understand these issues more clearly, we hope our Members will share their experiences and outlook in the Comments section below.
PS – one of our readers asked about how to find a rental in a new location. Here was our advice:
First of all, i think renting first is a great idea. We recommend you read some of the Blogs we have done on renting, if you haven't seen them already:
How to Find a Vacation Rental for Your Retirement
How Anyone Can Find an Affordable Warm Winter Retirement
Your Best Place to Retire Might Be a Rental
There are lots of good ideas in those articles and they probably have links to more. Now that there is AirBnB and VRBO HomeAway it can be pretty easy, particularly for short term rentals. Seasonal and monthly rentals can be tough in hot snowbird markets.
Posted by Admin on March 13th, 2016