Pictured above:  Sign welcoming people to
Pensacola
at Florida's western end.   Pensacola made the 100 best list for the first time, coming in at #88. Photo courtesy of Wikipedia.
We hope you enjoy our annual issue - The 100 Most Popular Retirement Towns for 2011. As always, please know that we appreciate your suggestions and ideas - keep them coming!
Don't miss the 5th edition of our 100 best places to retire list. As always, Asheville came in #1. In what turned out to be a rout for the sunbelt, all 10 of the new towns joining the list were from those warmer regions.
Click on a state to see reviews of 627 great retirement towns, plus a list of 1,261 active adult communities.  Please welcome our newest Showcase Listing at Topretirements,
Arlington Ridge
in Leesburg, FL. This community by DR Horton offers championship golf and lots more too.
Up in  the Blue Ridge Mountains near Georgia's border with Tennessee and North Carolina you will find the beautiful tourist town of Blue Ridge. The arts scene is surprisingly strong for such a small town. It's been discovered as a retirement destination; now there are several active communities to choose from.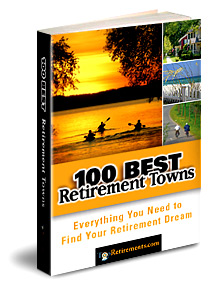 100 Best Towns, at Your Fingertips
Get on track with your retirement planning. Our "100 Best Retirement Towns" provides 300+ pages with the inside stories, facts, and insight on the 100 most popular towns at Topretirements. eBook, Print, or Kindle versions. Quantity discounts.
Santa Rosa, CA
Maybe you like wine, perhaps you are a foodie, or maybe you just like beautiful scenery. If that is the case, Santa Rosa might be the retirement area for you. It's in the rolling hills north of San Francisco.
List Your Community
Promote your community with a free listing at  Topretirements. Just go to
Add Your Community
. If you already have a listing, update it now to display our new features.
Scottp's Forum post on his search for the (almost) perfect retirement climate has been amazing! In just a few weeks it has been read almost 8,500 times and has 4 pages of replies.
Having Trouble Logging in?
You might not have confirmed your registration. Look for that email.  Or go to our
Help
page (there is a link to it on the bottom of every page) 

Subscribe via RSS
RSS Feed  Get live updates in your web browser window.

Unsubscribe
If you no longer wish to receive this newsletter you can unsubscribe here.