Best Retirement Towns and States
June 19, 2021 — If you are a retiree looking for a place to retire that offers superior outdoor recreational opportunities – you are in luck! There are countless towns in this country where mountains, lakes, rivers, or trails are just outside your door. In addition to traditional activities like tennis, golf, and fishing, these retirement destinations usually provide great hiking, skiing, water sports, etc.. Here are our top 10 picks for great outdoor places to retire.
10 Great Retirement Towns for Outdoor Activities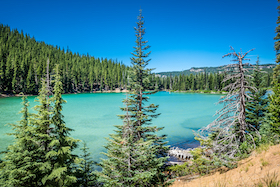 Bend, Oregon. Located on the Deschutes River on the eastern edge of the Cascades, the area offers great scenic beauty, skiing, mountains, golf, fishing, and more. Word about how nice this city is has gotten out: the population keeps increasing by leaps and bounds.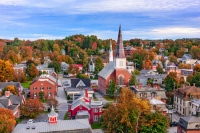 Burlington, Vermont. On the eastern shore of Lake Champlain you will find this town, home to the vibrant University of Vermont. Burlington is very popular with outdoor loving retirees who also want the youth and enthusiasm provided by a major university. Mountain bikers enjoy many great trails such as "The International", which is about 20 minutes outside of town. Nearby ski resorts including Sugarbush, Mad River Glen, Smugglers Notch, and Stowe, which now offer year round recreation. For the recreational bicyclist/walker/jogger there is the Island Rail2Trail path, which has 8 miles right along Lake Champlain.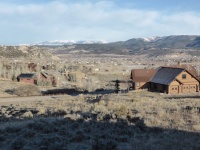 Eagle, Colorado. The town is working hard to become a vital community. There are 2 compact downtowns; one old and one new. Both have good shopping and some restaurants and parks. The newer part, Eagle Ranch, is built around a public golf course and extends up into the hills up above. The town is very much oriented towards an outdoors lifestyle: it has aspirations to be a mountain biking center like Moab, as well as a water sports center. Eagle is located in Colorado's Banana Belt (a warmer part of the State). We have friends who have retired here and their Facebook feed features one beautiful and amazing hike or outdoor activity after another.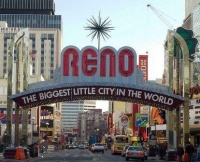 Reno, Nevada. The Sierra Nevada Mountains and deserts make this a great area for people who like the outdoors. The University of Nevada-Reno and Truckee Community College are both here. In 2004 the city completed a $1.5 million whitewater park on the Truckee River in downtown Reno – the facility now attracts paddlers from all over the region. There are 18 ski areas within 2 hours. Reno is near 3 major bodies of water – Lake Tahoe, the Truckee River, and Pyramid Lake.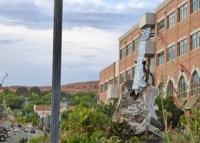 Saint George, Utah. Located in extreme southwestern Utah, it has spectacular red rock bluffs overlooking the town, a mild climate in winter, and terrific recreational opportunities. Hiking in the nearby Zion National Park is a big plus. The Metro area is one of the fastest growing areas in the U.S.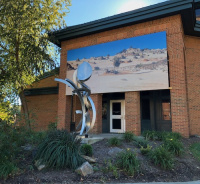 Boone, North Carolina enjoys its location in the Blue Ridge Mountains of northwestern North Carolina. The town is named for Daniel Boone. A college town, Boone is the home of Appalachian State University, which is very large and very much a part of the town. On a recent visit the streets were thronged with students, tourists, and residents, many of them visiting outdoor stores and coffee shops.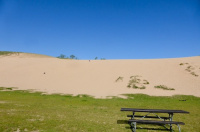 Traverse City, Michigan enjoys a reputation as one of the top arts towns in the country. In addition to arts and music, it has terrific golf, skiing, and other outdoor activities on Lake Michigan. Traverse City is on Grand Traverse Bay and connected to the Boardman River and Boardman Lake. The fishing is some of the tops in the U.S. The Sleeping Bear Dunes National Lakeshore and many bike trails are nearby.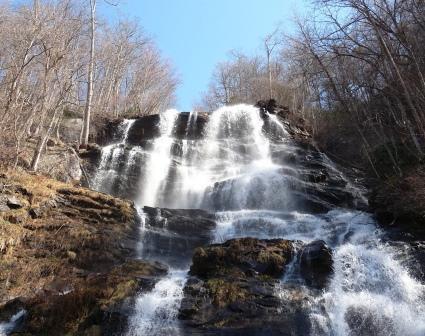 Dahlonega, Georgia. Northeast of Atlanta and near Gainesville and Lake Lanier, Dahlonega was the site of the first major gold rush in the U.S. It is popular both as a tourist town and for residents who want to be near Lake Lanier. There is a town square filled with shops and galleries and a few really nice festivals each year including the amazing Gold Rush Days. One visitor to Topretirements called it the "nicest town in Georgia". There is good hiking because the Appalachian Trail is very close.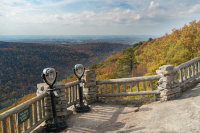 Morgantown, West Virginia. Home to the West Virginia University, its 28,000 students are a major influence on the community. Cost of living is low and recreational activities in the nearby mountains, the Monongahela River, and Cheat Lake are extraordinary. There is a nice downtown and an emerging high tech business center. Other attractions include the Hazel Ruby McQuain Riverfront Park and its Pedestrian Walking and Recreational Trails System.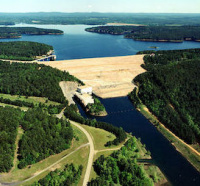 Arkadelphia, Arkansas is an outdoorsy, mountainside rural community in one of the oldest areas in Arkansas. The cost of living is lower than the national average. Lakes, rivers, and a national park make Arkadelphia a great place to enjoy the outdoor. There are two universities here.
Bottom line. By no means are these the only possibilities for great outdoor towns. In each of the states represented here there are undoubtedly many more great choices, not to mention in the states that did not have a selection. Please share your thoughts about great outdoor towns for retirement in the Comments section below. Are you looking for towns like these, or do your retirement tastes run differently?
For further reading:
Posted by Admin on June 18th, 2021