Best Retirement Towns and States
August 17, 2016 — Note: We are pleased that MarketWatch published a version of this story on their site with beautiful photos – "10 Prettiest Places to Retire".
Talk about job for King Solomon, how could anyone judge the 10 prettiest retirement towns in America? There are just so many pretty towns, so many different ways to judge beauty – the task is impossible. That said, we are still going to make a good effort in this article to list some incredibly beautiful towns that make good places to retire. In fact we have 2 lists for you: 10 towns that we selected on our own and using some research from CNTraveler, plus 12 more that came in as great suggestions from your fellow Topretirements members. We welcome more ideas in the Comments section below.
What makes a town pretty
The dictionary defines pretty as being pleasing to the eye. What makes something pleasing is hard to define and usually very personal, but here are some of the more obvious characteristics:
– A town square or green. A lot of our older towns have these, a sward of greenery surrounded by older homes. Savannah, GA, with its series of beautiful squares, is a perfect example.
– Pleasing architecture. Cities with well-preserved colonial buildings or Victorian homes tend to be really pretty. Charleston, SC is a great example. Newer towns with consistent design standards can also be lovely.
– Interesting streets and plenty of parks. Imagine New York City without Central Park or Washington Square, or its broad avenues going north and south. Or the complete opposite – the random nature of streets that makes colonial towns like Boston so charming.
– College towns or natural setting. A pretty campus can make almost any town beautiful. The same goes for a beautiful natural setting against mountains or a coastline.

10 really pretty towns from Topretirements
Above all, pretty is personal. We offer these towns as suggestions for you to explore. We stuck to smaller towns because we wanted to emphasize charm. We only included towns that have a reputation and the resources to be reasonable places to retire from a housing and services viewpoint. We did not include budget as a factor – if you want to live in a pretty town you will undoubtedly pay more for housing than in a place that is not so nice (although that doesn't mean some towns on this list don't offer good value). Lastly, we tried to offer some geographic diversity.
– Fairhope, AL This lovely town near Mobile got started as a Utopian community. The Fairhope Single-Tax Corporation still operates. Fairhope is lush with trees, plantings, and flowers, and the long town pier is a community gathering point.
– Franklin, Tennessee. The town is surprisingly affluent, one of the richest towns in the state. The New York Times called it a "…southern gem hiding in the shadow of Nashville". There is a 16 block historic district, cute stores and independent businesses, brick sidewalks, and nicely landscaped sidewalks. The extensively renovated 300 seat Franklin Theatre, an Art Deco marvel, is the pride of the town.

– Portsmouth, New Hampshire. Located on New Hampshire's tiny coast just below Maine, this old colonial city Portsmouth was so important as a seaport and shipbuilding center, its early days were as a very wealthy town. The beautiful homes and buildings constructed during that era represent the colonial, georgian, and federal styles, all laid out along cobblestone streets. It is popular with tourists and retirees too. New Hampshire is loaded with pretty towns for retirement including Exeter and Hanover.


– Guilford, Connecticut. Connecticut, perhaps not the ideal state for retirement from a tax and expense state, does have an amazing number of really pretty towns. Guilford is one of its prettiest. The downtown retail area is set around a huge "Green", which in colonial days was open to everyone's livestock. Now there are restaurants, shops, and fantastic churches to admire. Beautiful homes of every era radiate out on quiet streets. The harbor is a mile away and lovely too.
– Woodstock Village, Vermont. Ladies Home Journal described this town as "The Prettiest Small Town in America" , and few could debate that. It includes a town green surrounded by private homes, churches and the courthouse, with many of these properties listed on the National Register of Historic Places. The Ottauquechee River flows through the town, complete with covered bridges.

– Annapolis, Maryland. This is one of America's oldest, most distinguished, and charming communities. ts wonderful charm as an 18th century colonial capital, preserved in the Colonial Annapolis Historic District. The community dates back to 1649 when some Puritan exiles from Virginia settled here. The community boasts that it has the largest collection of 18th century buildings of any U.S. city

– Homer Alaska. The 49th state has a number of pretty towns like Sitka and Seward. But Homer is spectacular with the Spit that curves out to the Sea, as well as the mountains towering above.
– Breckenridge, Colorado. CNTraveler thought Breckenridge is unusually beautiful, and we agree. Like some other ski towns out west, Breckenridge started out as a gold mining town. That history gives it a stock of old buildings to lay on the charm.
– Taos, New Mexico. An artsy and entertaining place, Taos has a long history. Pueblo Indians lived here 500 years ago, followed by the Spanish in the 1500s and white settlers in the late 1800s. Taos has been home to a long line of famous artists and writers, from Georgia O'Keeffe to Thornton Wilder.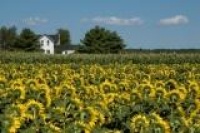 – Traverse City, Michigan. "The Cherry Capital of the World" enjoys a reputation as one of the top arts towns in the country. It also has terrific golf, skiing, and other outdoor activities. Traverse City is also all about water – it is on Grand Traverse Bay and connected to it by the Boardman River and Boardman Lake.
Part Two: 13 great suggestions by your fellow members
When we published our recent article about beautiful Edenton, NC, we asked for suggestions about the towns are members feel are exceptionally pretty. These are their recommendations, and we think you will agree we are glad we asked!
Conway, SC is a lovely little town. Located on the Waccamaw River, Conway boasts a thriving downtown full of eclectic shops and eateries. Streets have ancient oak trees with flowing Spanish Moss. It boasts of a wonderful Riverwalk and CCU's college world series winners. Cultural and educational offerings and festivals drew my husband and I to settle here in retirement. Of course, we are 15 minutes from lovely beaches and none of the tourists. – From Martha F:
Between the hanging moss-covered trees on the boulevards as well as in the numerous town squares, old town Savannah, Georgia is an awfully pretty place to spend some time. My wife and I discovered it 4 years ago and have returned on vacation every summer since. Now it is on our shortlist for a possible retirement location. – From Dave B:
We are retired in Knoxville, TN and just came home from a vacation in South Dakota. we stayed in Spearfish, SD for two weeks and visited all there is to see in South Dakota – Mt. Rushmore, Custer state park, Badlands and on and on and on…. Spearfish is an awesome place. – From George M
I think that Waynesville, North Carolina is worth exploring for a pretty retirement town. It is 25 miles west of Asheville in the Smokies. Population about 10,000. Beautiful views of the mountains everywhere you look (even from the parking lot of the Ingles grocery store!). Very appealing Main Street. A beautiful lake nearby (Lake Junaluska) with a beautiful walking path all the way around it. One town over (Clyde) is Haywood Community College which offers a wonderful selection of affordable continuing education classes. Of special note is their craft classes in their wonderful, new Professional Craft building. There is a growing retirement population here. Housing is still affordable and the weather is very nice with long falls and springs, and short, mild winters. – From Anne B
If you love New England charm and want to be on the Atlantic, try Bristol, RI. It is an ideally located college town, surrounded by the bay and has retained its historic charm. Very pretty! – From MaryNB

Little Compton (RI) is so pretty. I just love the little old General Store in the center of town. It is quite rural and exclusive and a ride to anywhere, but beautiful! Tiverton is also a cute town next to Little Compton. Bristol is right over the bridge and much more affordable and more a part of the mainland with public transportation that runs regularly between Providence, and Newport. – From Sandy SW
For consideration as one of the country's prettiest towns: Hendersonville, NC. – Patty MacD
As for cute places Eureka Springs, Arkansas has charm in and around the town. I wouldn't live in town per se but the town sits in a beautiful location. – From Gregory M

Small college towns are usually beautiful and delightful places for retirement. The upper midwest has several, but the prettiest is Decorah, Iowa. Nestled in the Oneota Valley with the Upper Iowa river running through town, Decorah is known for canoeing, kayaking, biking and hiking. There is even a 180? waterfall right in town. Trout fishing opportunities are abundent and the state Fish Hatchery is located just south of town. Decorah is also an artsy community with strong local music groups and plenty of opportunities to hear people perform. Several groups like the Luren Singers travel internationally. Home to Luther College, there are first rate auditoriums and many musical events or speakers to hear each week. Drawback — winter, unless you like skating, cross-coutry skiing, and lots of indoor events. – From Rich L
The small rural town in eastern NC that I moved to is Washington, NC. A town of less that 9000. I came here to finish out my career at the Medical center in Greenville. I have loved the area from the first day here. – From Ben R

I visited Tuscaloosa Alabama for a wedding recently. My cousin had relocated there when she married after college in the 1980s but this was my first opportunity for a visit. This is a beautiful college town and we found plenty of local color over the weekend. – From Joan
To me, Sacramento qualifies as a Pretty City and still affordable. If I could bear to move, it would be my next choice, tree- lined streets and red brick buildings downtown, a beautiful park in front of the Capitol, the Sacramento River, and a neat Old Town area that was the end of the original Pony Express route. – From Sandy SW.
Comments? Please share your thoughts about these towns, as well as the ones you think we should have included. We look forward to your ideas and points of view in the Comments section below.
For further reading
See many other lists of pretty towns in the links below:
Where Are the Prettiest Places to Retire
A Retirement Town So Pretty It Hurts
Where Are the Prettiest Places to Retire
Prettiest Towns in Florida
MarketPlace.com – 10 Prettiest Places to Retire
5 Reasons Why Small Towns Make Great Places to Retire
Best College Town Retirements
Posted by Admin on August 16th, 2016