Best Retirement Towns and States
July 8, 2020 — It is a familiar question… what is the best state for retirement? There are many ways to answer that question, and in fact over the years we have tried several. There is the the lowest taxes viewpoint. Or, a comparison of other economic factors like cost of living. Alternative approaches include best climate, absence of natural hazards like hurricanes, geographic features like beaches and mountains, political climate, financial health of the state, medical care, etc.
Ultimately, identifying the best state for retirement is a very personal question. In the end it boils down to what is the best state for YOUR retirement. It is very possible that your best state is where you live now, if it meets your desires, since 80% or more retirees do not cross state lines after they retire.
The rubber meets the road approach comes from SmartAsset.com. Each year they analyze Census data to find out which states have the highest net immigration of people over 60 – states where more people move in than move out. Their list is presented below, which uses 2018 Census Data. Then, for sake of comparison, we also looked at the states that attract the most reader interest at Topretirements, based on views of our State Active Community Directories and mini-retirement guides.
Where people actually move
For several years running the top three spots on this list have not changed, with Florida, Arizona, and North Carolina experiencing the most positive net immigration. Florida had by far the most net immigration of people over 60 – over 69,000 retirees, double Arizona's in the #2 spot and quadruple what third place North Carolina experienced. Two new states climbed onto the 2020 list, Tennessee and Delaware. Both states enjoy a favorable reputation as retirement destinations. Dropping off the list were Oregon and Alabama. Here is the SmartAsset list:
1. Florida
2. Arizona
3. North Carolina
4. Texas (was #6)
5. South Carolina (was #4)
6. Idaho (was #8)
7. GA (was #10)
8. Tennessee (new to the list)
9. Nevada (was #5)
10. Delaware (new)
Visitor Interest at Topretirements
Just for comparison sake, it is in interesting to see what our visitor logs had to say about the states our members are interested in exploring. We looked at data from the first six months of 2020.
In almost all cases our visitor logs agree with the net migration data from SmartAsset.com. Some small exceptions were Colorado and Oregon, which had more online interest than net migration, while Idaho and Nevada had positive net immigration but did not inspire so much online interest.
So why did these states gain over 60 population?
Here are some thoughts on why each state might have made the list (they are ranked in order of the most net immigration – links for each state go to our mini-retirement guide for each state).

Florida. There a lot of good reasons to retire in Florida: no income tax, no estate tax, its friendly Homestead Law, warm winters, plenty of nice places to live, etc. It has a very long coast on both the Atlantic and the Gulf of Mexico, plus countless lakes and rivers. There are big cities like Miami, Jacksonville, and Sarasota. Or charming small towns like Dunedin or Fernandina Beach. Pensacola had the second most online visitors at Topretirements for the first six months of 2020. Of course there are also people who don't like the state, who tend to cite humidity, bugs and critters, summer heat, and overcrowding as their reasons. See "11 Iffy Reasons Not to Retire in Florida" and "The Most Walkable Towns in Florida" for different points of view. Cost of living is slightly below average.
Arizona. The Grand Canyon State also has warm winters in most of its regions, beautiful scenery, and a choice of affordable (and not so affordable) places to live. AZ is relatively tax-friendly – it doesn't tax Social Security, has relatively low property taxes, and has the 36th highest Tax Burden from the Tax Foundation. Mesa, home to many active adult communities, was the city with the most positive net immigration per SmartAsset. Three cities in the Grand Canyon State were in the top 10 most popular places at Topretirements in 2020.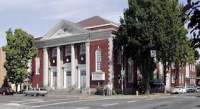 North Carolina. The Tar Heel state has a reputation as a relatively tax friendly place to retire. Although its tax burden was ranked 20th in 2012, that ranking has probably improved due to changes made in the past few years. There are some exemptions for retirement income. The State has an unusually wide range of geographic choices. You can live at the beach, an inland city or town, or in the mountains around Asheville, which is always one of the most popular places to retire.
South Carolina. The Palmetto State is also considered tax-friendly with a state and local tax burden ranking of 42. People over 65 get a $15,000 exemption on qualified retirement income. The State has slightly warmer winters, plus beaches and lakes, and there are many interesting places to retire – small cities like Greenville or towns like Beaufort (which was the #1 most popular retirement town on this site for the first half of 2020).
Texas. One of seven states with no income tax, its state and local burden is low, ranked #46 by the Tax Foundation. Cost of living is low, ranked #14. Texas has a range of places to retire from college towns like Austin to its Hill Country towns. There is a long coast on the Gulf as well.
Idaho. This up and coming state for retirement has a lot more to offer than its famous potatoes. For one, its outdoor recreation is hard to beat. Cost of living is relatively low (ranked 20th), as are property taxes (people over 65 get a significant break on their primary residence). Coeur d'Alene, on the shores of Lake Coeur d'Alene, attracts retirees and tourists because of its outstanding beauty and outdoor recreation.
Georgia. Warmer winters, lower cost of living (10th lowest by the MERIC Index), and lower taxes are some of the reasons why people over 65 are moving to the Peach State. College towns like Athens are a big draw.
Tennessee. New to the list this year, it also generated a lot of online interest at Topretirements. Interest and dividends are the only kinds of income taxed here, resulting in a very low State and Local Tax Burden. Cost of living is 11th lowest in the U.S. Crossville's popularity as a retirement destination has led to the development of several very large active adult communities here.
Nevada. It was not much of a surprise that the Silver State benefitted from net over 60 immigration. It has warm winters and a huge number of active adult communities with all kinds of amenities. Spring Valley held the #2 spot for the city with the most net immigration. It is one of only three states with positive net over 60 immigration that has no state income tax. Henderson had the distinction of being the U.S. city with the most net over 60 immigration last year. Cost of living is above average, ranked #38th by MERIC.
Delaware. The State has a great location with beaches and rural areas like the Delmarva Peninsula. Its tax burden is not the greatest (16th highest), but the combination of tax breaks for older citizens and very low property taxes make it attractive. The state is ranked 35th lowest for cost of living. Lewes is the fastest growing region of Delaware with many retirement communities located here and the surrounding area.
Interest in Retirement States at Topretirement
Chart of the Best States by attribute
The chart below attempts to show how these states stack up on factors like taxes, climate, natural disasters, etc. Some of the climate rankings might be slightly arbitrary, but hopefully the whole chart will give you a place to start your comparisons.
The best state for retirement is still a personal decision
It is useful to look at the states and towns where people actually retire because there have to be some good reasons why they are choosing them. But in the end, your own considerations might be more important.
Bottom line
Our advice is to carefully consider the factors that matter to you when choosing a retirement state. Then go there to visit and stay awhile, to see if your hunches were correct, before you do anything drastic like buying a home. The truth is, according to MarketWatch, most Americans don't go anywhere in retirement: "Some 6% of those ages 55 to 59 moved anywhere between 2014 and 2015…. Among 65 to 69 year olds, just 4.5% moved during that year and of them, 10% moved to a different region. according to U.S. Census Survey data", and only a tiny fraction of them relocated to a different region of the country.
An article from the New York Times,"The Best Places to Move in Retirement: They're All Over the Map", makes interesting reading on the sometimes silly and inconsistent choices that show on up on "Best Places to Retire" lists. It is a good article worth reading with a lot of background on best places to retire lists.
Comments? What is your answer to the question, what is the best state for your retirement? Why is that? Is it where you live now? Please share your thoughts as to why in the Comments section below.
Posted by Admin on July 7th, 2020